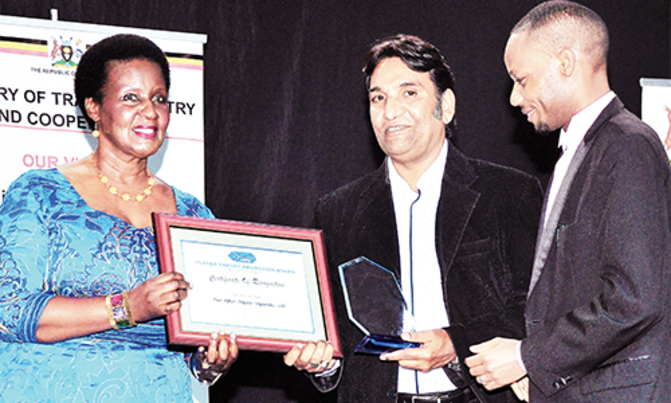 THE 9TH ANNUAL SECTOR REVIEW
Govt unveils interventions as trade deficit widens

By Norah Mutesi

Despite registering increase in Uganda's exports, the imports have continued to outgrow the exports, leading to a persistent trade deficit.
According to the trade ministry, Uganda registered a trade deficit of $2.599b (about sh9.746 trillion) in the 2017/18 financial year, an increase from $1.993b (about sh7.473 trillion) registered in 2016/17.
Uganda's exports in the 2017/18 financial year increased by 7.23%, to $2.89b (about sh10.8 trillion) from $2.696b (about sh10.11 trillion), according to the ministry's figures. On the other hand, the country's imports increased by 16.42%, to $5.48b (about sh20.55 trillion) from $4.71b (about sh17.662 trillion).
According to Hadijah Nakakande, the trade ministry senior spokesperson, the trade deficit has been caused by the continued importation of machinery and equipment while exporting unprocessed and primary agricultural products.
Exports
According to the trade ministry, coffee remained the main merchandise foreign exchange earner of the country, raking in $492.47m (about sh1.85 trillion) in 2017/18 financial year, an increase from $490.5m (about sh1.847 trillion) the previous year.
However, its share of total formal exports slightly reduced from 18.19% in 2016/17 financial year to 17.04% in 2017/18 financial year.
Coffee was followed by gold and gold compounds, whose earnings have tremendously increased since FY 2015/16, when it rose from $0.23m (about sh866m) in FY 2014/15 to $204.26m (about sh769.2m) in FY 2016/17. Gold and gold compounds exports increased to $337.29m (about sh1.27 trillion) last financial year. Other major exports were fish and fish products, oil re-exports, base metals and products, beans, maize, tea and sugar, among others.
Export destinations
In the year under review, trade ministry statistics show that the COMESA trading bloc remained the main destination for Uganda's formal exports with the share in total export earnings of 51.32% ($1.48b) in 2017/18, an increase of 17.48% from $1.26b in 2016/17.
Of these, Kenya and South Sudan were Uganda's main trading partner with both counties constituting 63.34% ($939.81m) of the Uganda- COMESA export earnings. The EU market ranked the second destination for Uganda's goods and services with 19.68% ($568.96m) of total formal exports in 2017/18, posting a 12.26% increase from 2016/17 value of $506.83m. These were followed by the Middle East, Asia, the rest of Africa, the rest of Europe and the Americas. CLICK HERE FOR MORE ON THIS SUPPLEMENT


Challenges traders face in moving across EAC


By Eddie Ssejjoba
The Single Customs Territory (SCT) is one of the trade systems fronted by the East African Community (EAC) and the EAC Business Council as the final steps in pushing for the regional customs union.
Other systems include the Mutual Recognition Agreements (MRA), which allow traders from partner states to sell duty-free goods in the regional market without restrictions, as long as they meet conditions and standards from their respective countries.
Recorded progress
Although the implementation of the systems was still facing challenges in the partner states, of Uganda, Kenya, Tanzania, Rwanda and Burundi, there has been some progress.
Traders say the SCT has enabled them to use one single customs entry, which is credited for eliminating a lot of paper work that used to bog down business transactions across the region.
It has also improved the use of technology through the introduction of the electronic Cargo Tracking System (eCTS), which enables traders to mount electronically monitored devices for the safety of cargo in transit and for the avoidance of diversion and dumping of goods.
The SCT and the eCTS have substantially reduced the cost of doing business in the region and traders credit the systems for saving on time they used to spend on the way. This has cut down costs and it is reflected in reduced final consumer prices.
Regional traders say instead of the 21 days a truck used to spend between Mombasa port and Kigali, this has reduced to five days. Transporters are now able to predict their movements, make more routes and arrive faster and safer.
System still lacking
However, analysts and players say there is still a lot to be done to perfect the systems, which should, once the hurdles are removed, pave way for the East African political federation and single currency.
Traders say corruption, which still exists among customs officials of the various countries, was holding back what would be a perfect system. In Burundi, apart from issues which include challenges with English, the language used by the rest of the partner states, traders say they have faced problems with corrupt officials at the Uganda-Rwanda border point at Katuna.
Denis Nshimirimana, the secretary general of the Burundi National Chamber of Commerce, says traders are uncomfortable with documents indicating that they cleared their goods at Mombasa under the SCT, only to be told that data concerning their cargo was not available in the system. CLICK HERE FOR MORE ON THIS STORY


RIIP: EU secures sh4b for export zones


By Benon Ojiambo

Close to 10 years since the Border Export Zones Programme was conceived, at least Euros 1m and $2m (a combined total of about sh11.7b) has been secured for the development of the border export zones to boost Uganda's trade.
In 2009, the Government developed and adopted the Border Market Programme (BMP), which was later named the Border Export Zones Programme aimed at strategically positioning Uganda and harnessing regional market opportunities.
This was expected to be achieved through increasing competitiveness and penetration into regional markets and formalising the largely informal trade between Uganda and neighbouring countries.
Statistics
According to the trade ministry figures, informal cross-border export earnings in the financial year 2017/18 were estimated at $595.51m (about sh2.2 trillion), representing 17.08% of Uganda's exports.
The main informal commodities included beans, maize, sugar, other grains, bananas and fish, among others. DR Congo was Uganda's main informal partner with total informal export trade amounting to $291.48m (about sh1 trillion) in 2017/18.
It was followed by Kenya at $149.94m (about sh563b); Rwanda at $54.41m (about sh204b); South Sudan at $54.17m (about sh203b) and Tanzania at $45.52m (about sh171b), in the same period.
Through the Border Export Zones Programme, a total of 18 export zones are expected to be constructed at different Ugandan border points with the neighbouring countries of Kenya, Tanzania, Rwanda, DRC and South Sudan.
The export zones shall eliminate bureaucratic tendencies and other non-tariff barriers to trade. The export zones include Bibia, Malaba, Mpondwe, Katuna, Lamya-Busunga, Ishasha, Mirama Hills, Mutukula, Amudat, Lwakhakha, Suam, Vura and Oraba, Busia, Lumino, Ngomoromo and Madi Opei and Kikagati. Since the commencement of the programme, progress has been registered. CLICK HERE FOR MORE ON THIS STORY


Uganda's coffee dream achievable
With an ambitious plan to export 20 million (60kg) bags of coffee annually by 2025, Uganda is on the right path to achieving her target despite some challenges, writes PRISCA BAIKE
In 2013, Uganda Coffee Development Authority (UCDA), through Operation Wealth Creation (OWC), rolled out a programme that saw farmers receive free coffee seedlings in an attempt to boost the country's coffee production.
With 2,250 coffee seedlings from OWC in 2013, Boaz Ahimbisibwe, a farmer in Kyarokoka village in Kibaale district expanded his farm from three to eight acres of coffee. Over the years, his farm has grown to 33 acres.
"When my coffee matures, I will have a huge harvest," Ahimbisibwe says. Wilber Tumwesigye, a farmer from Mujungu village, Kakumiro district, started his coffee farm with 2,000 free coffee seedlings from OWC. "My farm has grown and I am looking forward to expanding it further," Tumwesigye says.
Ahimbisibwe and Tumwesigye are among the farmers who are being targeted to drive the production and earnings from the world's most traded commodity after oil. CLICK HERE FOR MORE ON THIS STORY


ADVERT