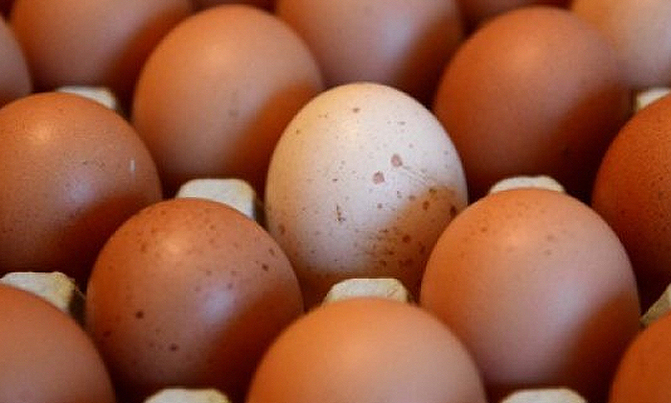 The unscrupulous entrepreneurs no longer wait for a hen to lay eggs. They make them using machines and chemicals.
HEALTH

Next time you step out to buy eggs, be cautious enough to check whether they are real and not man-made.
In a disturbing case, the Police is hunting for four Chinese men who are reportedly making and selling fake eggs that look like chicken eggs.

The unscrupulous entrepreneurs no longer wait for a hen to lay eggs, they make them using machines and chemicals. The fake eggs are made from concoctions that make them look like real eggs and are hard to distinguish.

This was revealed during a sensitisation conference on the mandate of Uganda National Bureau of Standards (UNBS) at Silver Springs Hotel in Bugolobi, Kampala.

Tip-off

A senior Police investigation officer blew the lid on the puzzling practice that is raising concern about the safety of eggs available on the local market.

"We got a tip from a lady who was mistreated by the Chinese and later dismissed. She gave us information that her former bosses were manufacturing eggs in Kawempe along Ttula road. We stormed the place but, unfortunately, the Chinese detected our officers and took off. We managed to arrested the two Ugandan men who were working with them," Charles Twine, an economic crimes and anti-corruption officer at CID headquarters, said.

According to Police investigations, the Chinese were detected in Tanzania and they shifted to Uganda. They used to import the chemicals for making the egg york and shells.

"It is hard to distinguish between the fake eggs and the real ones. But when you crack the fake one, the shell comes off easily without leaving particles. When you salt it, the salt does not stick well because of the oil they use. It is hard to digest and has a funny taste," Twine said.

The chemicals which were picked from the Chinese factory are to be sent to the Government Analytical Laboratory to find out exactly what they contained and the dangers. The fake eggs are often sold at a slightly lower price compared to the market rate.

A tray of normal eggs costs sh12,000, while the fake ones goes for sh8,000. The fake eggs are usually found in supermarkets and big markets like Kalerwe, Nakawa, Owino and Nakasero.


Slow court process

Twine said they get so many people with deadly products, but the court punishments are so weak. "The punishment for food adulteration is weak, yet the products cause death. That is why these days people have so many strange diseases. We need strong regional co-operation if we are to fight these economic crimes," Twine said.

Consumers have been called upon to be vigilant while buying eggs from supermarkets, shops, vendors and markets. UNBS comments Denis Odur, the UNBS market surveillance officer, confirmed the fake eggs report, saying they were waiting for Police investigations.

"We received the information and when we visited the premises, we found some of their products wrongly packed with tampered expiry dates. We seized all the products and we are waiting for Police to finish investigations in order to pursue the case," Odur said.

Martin Imalingat, the UNBS head of market surveillance, called upon people to be mindful of other people's lives, instead of focusing on getting quick money. "Money is not everything. Why do you manufacture eggs using chemicals?" Imalingat asked.

How to recognize fake eggs

In 2011, a Chinese newspaper in Shandong Province, Qilu Evening News, asked Yi Junpeng, assistant professor for biological engineering at Henan University of Science and Technology, for advice on how to identify fake eggs at market stalls. Yi warned of eggs that are too perfectly shaped and smooth. "They have an unnatural unblemished shells which are also slightly harder and shinier than real eggs.



Real eggs have a faint smell which fake eggs lack. Tapping a fake egg makes a hollower sound than a real egg. Once cracked open, egg white and yolk would quickly mix," he said.

He also said fake eggs yolk appears more yellow and has chalaze, which is the white string that holds the yolk. In fake eggs, the egg yolk and egg white tend to mix almost instantaneously when the egg is cracked open, while in genuine eggs, the egg yolk will stay apart from the egg white for a longer time.

It will sound watery when you shake it because the chemicals inside do not solidify together.




"If you break the egg and keep it for some time, the egg white and the yolk will soon mix with one another, since they are essentially made from the same ingredients. "The fake eggs do not stink even if cooked and kept in the open for days, and do not attract ants or flies. When you fry a fake egg, the yolk will be spread without being touched unlike a real egg," he said.