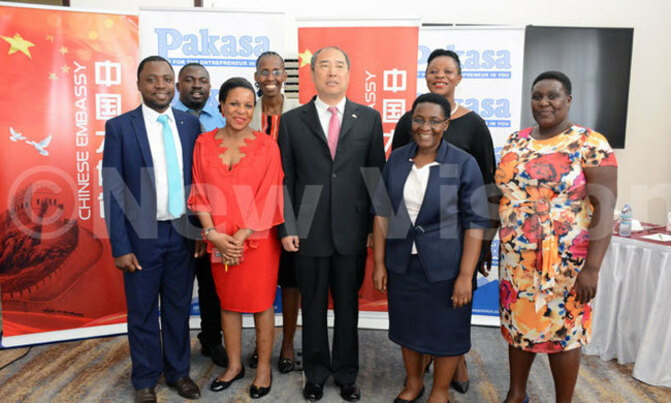 The Pakasa Youth Awards are an initiative of Vision Group aimed at inspiring a mindset change among the youth to regard entrepreneurship as a viable source of income.
FIVE young entrepreneurs will travel to China on a one-week all expenses paid trip after emerging top in the 2018 Pakasa Youth Awards competition. They include 31-year-old Maxima Musimenta, Stephen Ssembuya (34), Victor Kalenzi (35), Ashar Cheptoris (35) and Fred Nsubuga Bakka (34).

The winners of the competition which is an initiative of Vision Group were announced yesterday at Golden Tulip hotel in Kampala. This year's edition of the awards was sponsored by the Chinese Embassy in Uganda.

The event was graced by the Chinese Ambassador to Uganda Zheng Zhuqiang who urged the winners to use their stay in China to learn best business practices from young Chinese entrepreneurs.

"I believe you will be able to get first-hand experience on how young people start their own businesses in China. I wish you could enjoy your trip and broaden your horizon," Zheng Zhuqiang said.

The Ambassador also thanked Vision Group for championing such an initiative because it nurtures a culture of entrepreneurship among the youth and in the end builds the country economically. He pledged continued support to Vision Group on such initiatives.

Vision Group's CEO and Managing Director, Robert Kabushenga urged the winners to ensure that they pick something about how China managed to transform its economy through entrepreneurship. "When you come back from China make sure that you transform your businesses using the knowledge you will pick from there," Kabushenga urged the winners.

The Pakasa Youth Awards are an initiative of Vision Group aimed at inspiring a mindset change among the youth to regard entrepreneurship as a viable source of income.

Who are the winners?
Maxima Nsimenta emerged the best in the category of Most Innovative Entrepreneur.

She quit a well-paying job to pursue her dream of enhancing African women's beauty. She runs Livara Cosmetics, a sh1b company making organic hair and skin products from Shea butter.

According to judges Nsimenta won this category because she identified a challenge and came up with a practical solution. Her products are internationally certified, well packaged and there is a lot of value addition in the processes.
She has a good marketing strategy, was patient during incubation and she has a big international market for her products. Her story was especially inspiring because she quit a very well-paying job and started her business.

Stephen Ssembuya was the winner in the Social Entrepreneur category. Ssembuya, the founder of Pink Foods Ltd, whose chocolate manufacturing business has transformed the community in his home district of Buikwe where he runs one of the biggest cocoa farms in Africa.

He has been producing chocolate for close to five years and is putting final touches to his factory in Kyanja, Wakiso district , which he hopes will produce the first large-scale made in Uganda chocolate by the end of the year.

Victor Kalenzi, the proprietor of Fort Portal International Medical University won the Portfolio category, which according to the judges targeted someone who has managed to transform his business into several other interrelated businesses.
After losing both parents at a tender age, Victor Kalenzi ended up in an orphanage. As an orphan, he struggled to make ends meet. He tried out different businesses before acquiring some capital to realise his dream of starting a nursing school. Today, he owns Fort portal International Nursing and Midwifery School, a facility worth sh8b, with over 660 students.

Ashar Cheptoris, 35, emerged best in the Professional Services category.

The young dental surgeon is the proprietor of Sinai Dental Clinic worth sh400m. The only female graduate dentist from Sebei sub-region said the award has motivated her to grow her business.

"I hope to expand my business, especially after this big recognition from Vision Group and China," Cheptoris said after receiving her award.

The judges noted that Cheptoris was able to turn her profession into a business. She is an inspiration to the educated youth to turn their education into businesses and do away with job hunting.

Fred Nsubuga Bakka, 34, recived the award of the most daring Entrepreneur. Nsubuga who was born with physical disability is the proprietor of Ariston Designers located in Kisaasi, Kyanja. Each of his hands has only 2 fingers. However, this did not affect his resolve to prosper in business. Currently he has a booming metal and fabrication company where he employs nine people.

"I never knew my efforts would ever be recognized and appreciated by anyone so I feel overwhelmed by this and I want to thank Vision Group," Nsubuga said.

According to judges, Nsubuga won this category because despite being physically handicapped he has excelled in a sector that largely survives on hands on skills. He is also an inspiration to persons living with disabilities to take up hands on jobs.

More winners recognised
Apart from the top 5 winners, Vision Group also recognized and appreciated 10 entrepreneurs with certificates. These include Brenda Ssekabembe, Allan Ninsiima, Amon Bazira, Ivan Kutegyeka, Joan Nalubega, Ahmed Kayiwa, Kenneth Kamya, Nabila Mbogo, Uthman Kiwanuka and Bashir Katumba.