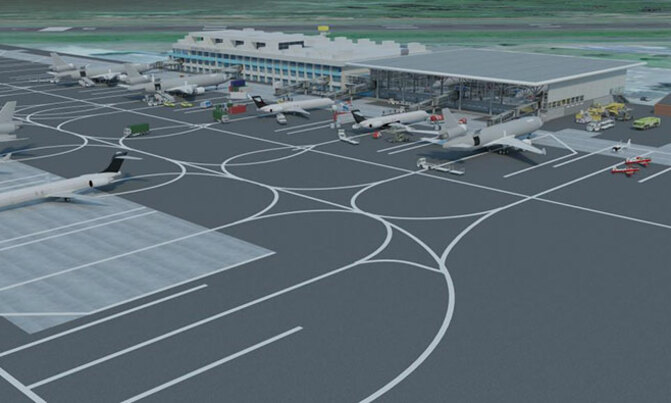 Works to upgrade the airport started in May 2016 and are expected to cost sh713b ($200m).
Visitors landing at Entebbe International Airport cannot help but notice the ongoing expansion works.
Trucks, workers in helmets and occasional groups of officials touring the expansion works dot the area.
During a recent visit by a team from the works ministry, Civil Aviation Authority (CAA) officials said the works were on track.
Fred Bamwesigye, the CAA deputy managing director, said since the start of the expansion work in early 2016, focus had been on building a new cargo center, an aircraft parking apron and access roads.
An artistic impression of the new cargo centre
Bamwesigye said one of the taxiways code, Alpha, was 75% complete and the rehabilitation of the second alternative runway was 35% complete.
He said the two projects are expected to be completed in 2021.
Works to upgrade the airport started in May 2016 and are expected to cost sh713b ($200m).
"The cargo center is expected to be completed early next year.
On completion of the center and its associated works, such as access roads and cargo aircraft parking apron, operations are expected to be relocated from the old cargo center to the new one," Bamwesigye said.
Vianney Luggya, the CAA manager of public affairs, said after relocation of cargo operations, works on a new terminal building connecting to the one are expected to commence.
He said the work will be undertaken by the same contractor — China Communications Construction Company, which also constructed the Entebbe Express Highway.
"The rehabilitation of the old runway is expected to end in February 2019, expansion of aircraft parking apron 1 in June 2019 and extension of taxiway Alpha ends early next year," he stated.
The interior of the new terminal building on completion in 2021
Expansion benefits
Luggya added: "While Entebbe handled 1.62 million international passengers in 2017, the capacity for the terminal building is not more than two million passengers a year, yet statistics show that the figures are steadily growing every year."
He noted that at the end of the first phase of the work in 2021, Entebbe should have capacity to handle at least 3.5 million passengers a year.
"The projects are aimed at reducing congestion, offering a better ambiance, enhanced passenger facilitation and improving revenue generation. Good infrastructure attracts international air operators, which translates into more visitors into the country," Luggya said.
He added that they were also working on automation of aviation services such as Air Traffic Services message handling system and flight procedure handling. He said the automation of air navigation services is being financed by a $9.5m grant from the government of Korea.
Under this project, Luggya said, a computerised maintenance management system and operational database system will be established.
Geoffrey Okot, CAA's manager air traffic management, said the expansion is aimed at increasing efficiency in aviation services by eliminating delays.