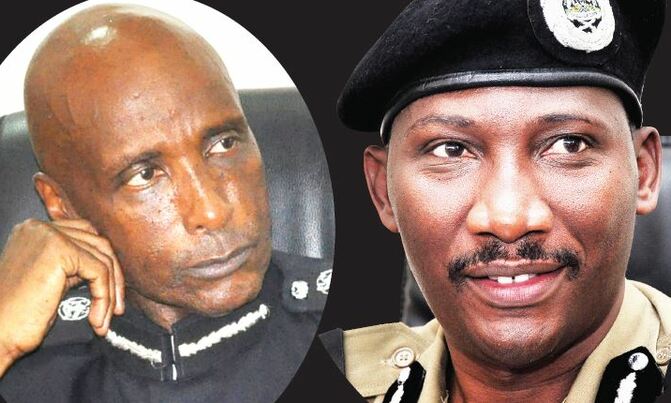 According to the recording, Kayihura asked Muhangi: "Is Andrew Felix Kaweesi dead?" and Muhangi allegedly answered: "Oh yes, yes". Kayihura then reportedly stated: "It is done. Thank you very much."
CRIME, MURDER, INVESTIGATION
The former Inspector General of Police, Gen. Kale Kayihura, and a number of Police officers were arrested after investigations by the Internal Security Organisation (ISO) implicated them in the murder of Assistant Inspector General of Police (AIGP) Andrew Felix Kaweesi.

Kayihura was arrested and detained at Makindye Military Police Barracks and later charged by the General Court Martial on three counts. Although he was arrested over Kaweesi's murder, Kayihura was subsequently charged over failure to protect war materials, aiding the kidnap and illegal repatriation of Rwandan nationals, before he was released on bail on August 28.


A new security report seen by New Vision titled: Report into allegations of involvement of security personnel into the murder of late AIGP Andrew Felix Kaweesi, his driver and bodyguard, has revealed why Kayihura and scores of Police officers were implicated in the murder, how they have defended themselves and the findings of the joint investigations team on the matter. In a three-part series, we bring you the findings of the joint security team.

Kaweesi was assassinated on March 17, 2017, at around 9:15am as he left his home in Kulambiro, Kawempe Division, Kampala, together with his bodyguard Corporal Kenneth Erau and driver Police Constable Godfrey Mambewa.
In the aftermath of the gruesome murder, investigations commenced immediately and a number of suspects were arrested, charged and committed to the High Court for trial, says the report.

"On June 13, 2018, the National Security Council (NSC) sub-committee commissioned a joint investigation to review fresh evidence presented by ISO on the murder of Kaweesi, Erau and Mambewa.

The information provided linked Gen. Kayihura and other suspects to the murder," the report says. "The director ISO presented to the sub- committee an audio recording of the conversation purportedly between Gen Kayihura and ACP Herbert Muhangi as part of the evidence.
The audio was presented by one Simon Peter Odongo. "ISO further informed the subcommittee that they had key witnesses to support the investigation among whom was one who claimed to have participated in the planning and murder of Kaweesi," the reports adds.

"A decision was made by the subcommittee that the evidence brought by the director ISO be investigated," says the report, adding that a team comprising officers drawn from the Police, ISO and Chieftaincy of Military Police (CMI) was consequently formed to scrutinise the evidence adduced by ISO on the Kaweesi murder.

Meanwhile, Kayihura and his colleagues were arrested following the presentation to the NSC subcommittee by the director general of ISO, Col Frank Kaka Bagyenda.

Evidence
ISO presented to NSC the evidence that included a voice recording of a purported conversation allegedly between Kayihura and Muhangi, the then Flying Squad Unit (FSU) commandant.

According to the recording, Kayihura asked Muhangi: "Is Andrew Felix Kaweesi dead?" and Muhangi allegedly answered: "Oh yes, yes". Kayihura then reportedly stated: "It is done. Thank you very much."

The audio was presented by Simon Peter Odongo, an ISO operative attached to the security agency's cyber unit. ISO reported they had key witnesses to support the investigation and that one witness claimed to have participated in planning and murder of Kaweesi.

ISO presented 16 witnesses to be interviewed by a joint team of officers from ISO, CMI and Police. The witnesses included Kizza Rwogamutyarize, (who claimed that he was the rider of the assassins), Frank Difas Nnyindo (a mechanic), Christine Umohooza Mbabazi (alleged Kaweesi mistress), Annah Ninsiima (bar attendant), Wilber Kiggundu (bodaboda cyclist), Moses Kintu Kavuma (defence secretary of Tuba LC1), Hope Ainomugisha (vendor), Lazio Mugerwa (garage owner/mechanic), Difas Kadaala (manager of the garage where Nnyindo worked) and Nalongo Nabawanuka (farmer).

Other witnesses interviewed by the joint security team were; AIGP Dr. Fred Yiga, who ordered the arrest of suspects carrying blood-soaked soil sent by Baroza, Inspector of Police Mary Mbabazi, the scene of crime officer Kampala Metropolitan Police (KMP), Col. Grant Mugabi (Special Forces Command), ASP Aggrey Owora, the officer in charge Nansana Police Station, Ahmed Kakonge and Micheal Mugabi.

The joint team conducted searches at the premises of each of the suspects and various exhibits were recovered pending analysis. They included firearms, telephones, computers and other electronic storage devices. The team visited scenes of crimes where the alleged meeting to execute Kaweesi were orchestrated.

The officers visited the scene, together with witnesses presented by ISO. Scenes of crime visited included Kati Kati Restaurant (Lugogo by-pass), where the final meeting allegedly took place, Agasiirwe 's alleged home in Kololo and a Ndeeba garage, where motorcycles allegedly used to transport Kaweesi killers were hired from.

The team also visited the scene of murder at Kulambiro for the witnesses to explain to officers what happened and to show different points of action.

The officers arrested and interrogated included Kayihura, Col. Ndahura Atwooki (former director Crime Intelligence), Lt. Col. Peter Musherure (formerly Kayihura's aide), ACP Herbert Muhangi (former Flying Squad Unit (FSU) commandant, Senior Superintendent of Police (SSP) Richard Ndaboine (former head cybercrime unit), Assistant Superintendent of Police (ASP) Patrick Muramira.

The other officers implicated by the ISO evidence and were arrested include Inspector of Police Peter Ayebare (manager digital forensics), Jonathan Ayebazibwe (Kayihura's personal assistant), detective constable Judas Tadeo Opendi (bodyguard to former Kayihura Aide-Jonathan Baroza), Special Police Constable Abbey Kitagenda (FSU), Martin Kimbowa (Witnesses Protection Unit), Moses Kasiba and a one Wilson Atekateka.

Others are SSP Nickson Agasiirwe, formerly head of special operations and surveillance in Police, Sargent Abel Tumukunde and SPC Faisal Katende (FSU). There were other officers who were also implicated by the witnesses and were interviewed, but were not detained. These include Commissioner of Police Frank Mwesigwa, Police spokesperson SSP Emilian Kayima and ASP Joseph Bakaleke. According to the report, the other suspect still at large and yet to be interviewed is Assistant Commissioner of Police Jonathan Baroza.