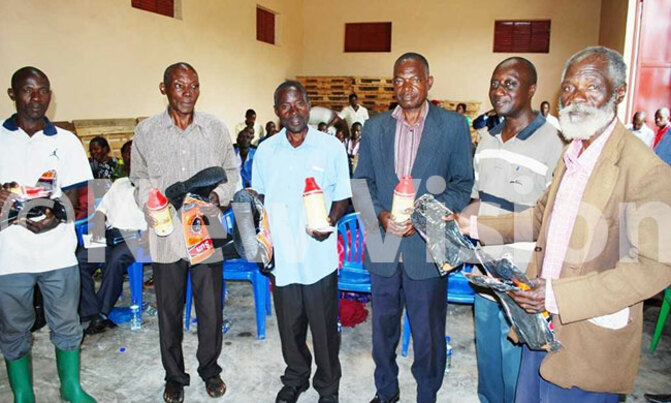 With knowledge and skills, farmers are able to produce good quality coffee that can compete favorably on the local and international markets.
More than 600 coffee farmers in Kyotera district were on Saturday given skills in high quality coffee production to boost farmers' livelihoods and the country's economy.
The farmers from 80 groups under Kasaali Farmers Cooperative Society were trained at their offices in Kasaali sub-county where they received various protective gears and farm inputs including masks, gloves, gumboots plus fertilisers and herbicides from the cooperative.
According to John Wasswa Kajjunge, the Cooperative Manager and lead instructor, the training was meant to prepare farmers encounter different challenges in the sector and improve their incomes.
Kajjunge explained that with knowledge and skills, farmers are able to produce good quality coffee that can compete favorably on the local and international markets.
He added that coffee production is faced with various challenges such as price fluctuation, over taxation, pests and diseases, and prolonged dry spell among others, but the cash crop is profitable if farmers are well informed of what to do.
He said that majority of the cooperative members grow coffee on 5 and 10 acres of land and above, and most of them decry loses due to lack of skill and knowledge on how to handle coffee.
"Apart from the trainings we give members, we offer low interest loans to help them buy inputs and other items. These initiatives have helped to realise great improvement since 2008 when we formed the cooperative," he said.
In addition, Kajjunge said the cooperative currently processes 120 tons of coffee beans every season adding that they anticipate an increase of at least 10 tons every season.
Male Kanyankore, one of the founder members, decried persistent price fluctuation which greatly hampers the coffee business.
He said that farmers are usually cheated by the 'so-called' middlemen given the fact that they are the ones with key information concerning local and international markets.
He explained that irregular and low power supply affects coffee hullers, value addition and production. "All those challenges have taught us how to survive and move on.
Vincent Makundu, another trainer, said that some farmers harvest premature coffee berries which affects the quality of exports on the international market.
"Poor quality coffee cannot compete on the international market hence affecting exportation. I advise farmers to always pay special attention to good coffee seedlings during the planting stage and harvest only ripe coffee berries," he said.
Other farmers
Charles Matovu (member), said that the cooperative farmers have benefitted from operation wealth creation, youth livelihood programmes, skilling Uganda and others but appealed to government to support them with a grading machine to sort the coffee.
Josephine Nakyanzi, also a member decried expensive farm inputs which affects production since farmers who can afford them are few.
Nakyanzi explained that she learnt how to minimise losses by processing coffee into different products such as coffee powder for beverage.
Concerning value addition she understood the importance of planting good quality seedlings and harvesting ripe berries as well as drying and putting them in good storage facilities.
Emmanuel Wamala, another member, said the training was relevant since he learnt different marketing skills including networking with farmers to share experiences and find solutions to address common problems.
"Through this strategy, we can alleviate poverty by transforming farmers' livelihoods as well as the economy," he said.
He said that they toured different factories, nurseries and demonstration farms to enhance their skills.
Climate change
To combat the climate change problem, Mukundu said they resorted to planting trees and digging own dams for irrigation but they are challenged with lack of irrigation tools.
According to Mukundu, they are lobbying for a grading machine and storage facilities which will help them process coffee into different products which they will pack and sell every season.
Although agriculture is the backbone of country's economy, he argued that majority of farmers have not looked at skilling as priority which affect agro-production.
However, the farmers appealed to government to avail farm inputs at a reasonable price.
Coffee is one of the major cash crops in Uganda after Cotton, Tobacco, tea and others. It is also one of the major sources of revenue for Kyotera district.