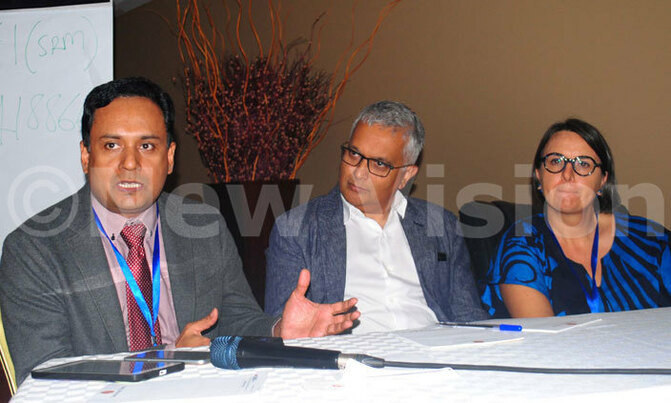 Out of 181 confirmed and 35 probable cases by October 15, 2018, 139 total deaths had occurred


World Health Organization (WHO) has heightened Ebola surveillance in the region as Uganda remains on alert.

WHO fears that the danger of the disease spreading out from the Democratic Republic of Congo (DRC) to neighboring countries remained imminent calling on governments to put place all preventive measures.
According to Dr. Shams Syed, coordinator quality systems and resilience universal health coverage and health systems, WHO is supporting regional efforts on intensified cross-border disease surveillance and emergency preparedness.
"All our prevention facilities in Congo have been strengthened and we are ready to stop the spread of the disease to other countries," Dr. Shams Syed said.
Syed remarked while addressing journalists shortly after an international conference on improving infection prevention and control (IPC) in Africa at the Munyonyo Common Wealth Resort.
Out of 181 confirmed and 35 probable cases by October 15, 2018, 139 total deaths had occurred of which 104 are confirmed while 35 are probable since the latest Ebola outbreak in May this year.
Ebola, a viral hemorrhagic fever of humans and other primates caused by Ebola viruses, presents with alert signs and symptoms that include; bleeding through the eyes, nose, gums, ears, and private parts.
Other signs are; sudden fever, feeling tired, muscle pains, headache, sore throat, vomiting blood, diarrhea and rash.
Ebola spreads through human-to-human transmission via direct contact, through broken skin or mucous membranes, blood, secretions such as urine, faeces, sweat of a person infected with Ebola, vomit, saliva and coming into contact with a person who has died of Ebola.
He added that WHO was also encouraging and supporting campaigns to promote practices of good hygiene to void infections.
"Practices of hygiene and infection prevention control should be in place all the time and not only when there is an outbreak declared," supplemented WHO Africa regional bureau representative, Dr. Ann Fortin.
Officiating at the closure of the conference, the commissioner for clinical services in the Ministry of Health Dr. Jackson Amone, said Uganda has put in place measures to prevent Ebola spreading into the country.
He disclosed that they have set up five emergency Ebola treatment centers and screening points for detection purposes along the border line with Congo.
"As Uganda we have an integrated disease surveillance response and is always running and we also have a national task force.
These are systems in place, when we have a problem in the country or with neighbors, what we do we strengthen and bring all the systems to be running," he said.
He added:" What we need to know for any preparedness, we need to have a strong national health system which is ready to respond to any epidemic that may come.
Because we have a threat with our DRC border, we have brought in our preparedness, when you move along the border, we have put at all border crossing points systems that screen whoever is coming from Congo to Uganda."
The Ministry of health has also trained personnel to manage any Ebola suspect and resources on top of things to use in prevention and control, according to Dr.Amone.
In 2012 between July and August, Ebola outbreak in Kibaale district, killed about 17 people, While Luweero district was declared Ebola free by the Ministry of Health and World Health organization (WHO) in January 2013.