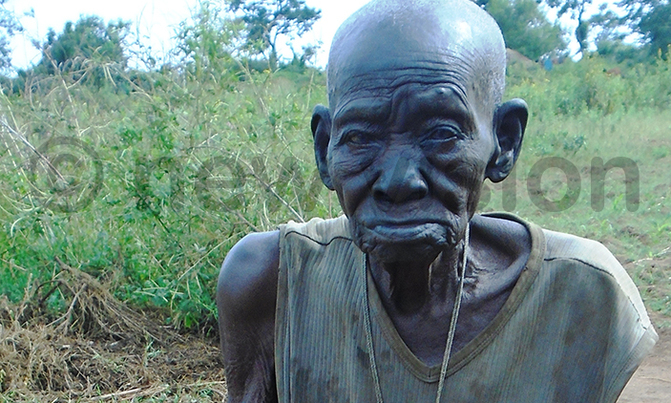 Kelementina Akullo's age if verified, could make her the world's oldest living person
An elderly woman who claims to be 130 years old, has missed out on benefiting from the Social Assistance Grant for Empowerment (SAGE) in Dokolo district after failing to have a national identity card for her verification.
Kelementina Akullo of Amuli Cell, Eastern ward in Dokolo Town Council is being cared for by her daughter-in-law, Beregita Adul, 95.
Akullo says she is waiting for district officials to intervene and offer to help her.
She says that she has been to National Identification and Registration Authority (NIRA) offices on three occasions to have her photo taken but claims the computer failed to recognise her face due to aging.
"We have tried several times to see that Akullo can have a national identity card but her features could not be recognised. This made us give up in processing for her the national identity card," Adul explained.
One of the conditions for enrolling for the SAGE program is the availing a national identity card which is used for verification. This was put in place after it was discovered that some individuals were altering their age in order to benefit from the program.
Adul says it is ironic that as a caretaker aged 95, she is a beneficiary of the SAGE program, while an older person has been locked out for lack of a national identity card.
"This is unique but I cannot help. I would be happy to see the district have my mother-in-law also benefit from this program as it will go a long way to improving the livelihood in our family," Adul narrated with difficulty.
Upon hearing about Akullo's predicament, the Dokolo district chief administrative officer, George William Omuge, ordered the acting Dokolo district community development officer, Judith Amuge, to ensure that Akullo is enrolled to become a beneficiary in the next phase.
Omuge said the failure of the computer to recognise Akullo's facial features not the subsequent lack of a national identity card should deter her from accessing the funds.
He said Akullo's case was unique that needs a humanitarian heart and a special attention.
Omuge said the list that was submitted by NIRA to the district did not have Akullo's name.
World's oldest?
The LC1 of Amuli village, Nelson Ayor Opige, who is also Akullo's neighbour and fellow member of the Okide clan, said information they have indicates that Akullo was born in 1888 at Anyomoli village.
Akullo's age if verified, could make her the world's oldest living person. That honour currently belongs to Kane Tanaka of Japan who is 115 years old while the all-time record belongs to France's Jeanne Calment who passed away in 1997 aged 122.
Another Ugandan, Yohana Ahuruma, can lay claim to those titles. Ahuruma of Bundibugyo district in western Uganda claims he was born in 1885 and that would make him 133 years old.
Opige expressed concern that people younger than Akullo had been enrolled in the SAGE program.
Amuge said she was informed about a 130-year-old woman missing from the program late, after they had finished with the verification of eligible beneficiaries. She said the list of beneficiaries had also already been submitted to other relevant authorities.
Amuge said they were going to enroll Akullo during the second phase where her photo will be submitted so that she can receive the money.
She revealed that the recent validation exercise in the district considered only people who had clocked 80 years and above to be eligible beneficiaries of SAGE. 1,037 beneficiaries have been enrolled from nine sub-counties and two town councils for the 2018/19 financial year.
Of the sub-counties verified, Kangai has 92 eligible beneficiaries, Adeknino 87, Okwalongwen 75, Okwongodul 97, Kwera 73, Dokolo 90, Amwoma 84, Agwata 106 and Adok has 116 recipients.
Of the town councils, Bata has 107 recipients while Dokolo has 1,110 beneficiaries enrolled.