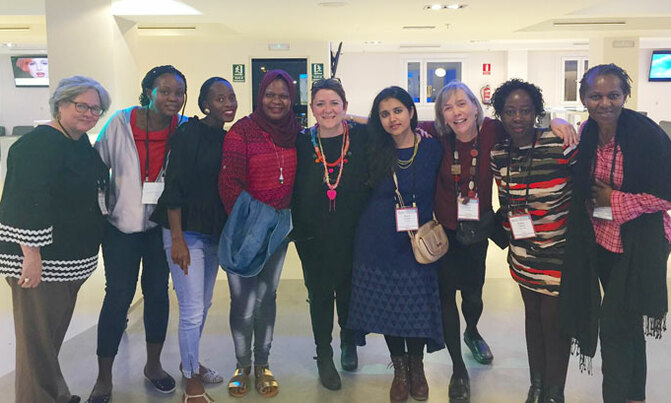 Uganda, which has about 1.6 million people living with HIV, is on course to achieve the 90-90-90 HIV global goal.
Participants at the conference. Picture by Vicky Wandawa
More than 1,400 researchers, policy makers, advocates and 25 outstanding journalists from around the world have gathered at the Madrid Marriott Auditorium Hotel in Madrid, Spain as HIVR4P, the only global scientific meeting dedicated exclusively to biomedical HIV prevention, is held in Europe for the first time.

More than 35 million people have died of HIV-related illnesses, and another 37 million people are now living with HIV worldwide. Yet today, a new generation of HIV prevention tools in development offer the greatest promise yet of significantly slowing the global toll of HIV and AIDS.
Journalists at the conference. Photo by HIVR4P/Leon Gutierrez
The latest research in every form of biomedical HIV prevention, including vaccines, rings, microbicides and other female-controlled forms of prevention, pre-exposure prophylaxis (PrEP) and long-acting delivery systems, will be explored at HIV Research for Prevention (HIVR4P 2018).

Across a five-day conference programme, HIVR4P looks not only at scientific advances, but also at the obstacles to developing safe, long-acting and user-friendly forms of HIV prevention, and at strategies to address the barriers to making effective prevention available to all.
The global conference features more than 1,000 scientific presentations, including oral and poster abstract sessions, plenaries by the world's leading HIV prevention researchers, symposia, workshops, satellites, meet-the-expert sessions and more.
Video by Vicky Wandawa
"HIVR4P takes place at an unprecedented moment in HIV prevention," said conference co-chair Georgia Tomaras of Duke University. "Extraordinary progress in prevention research has expanded our opportunities to control and ultimately stop this epidemic. The vibrancy of this field is demonstrated by the fact that research submissions to HIVR4P 2018 were up 20% over the previous HIVR4P conference."

Tomaras continues that as prevention science advances, the challenges of maintaining the political will and funding to support a global movement to end AIDS come into even sharper focus. These policy, funding and advocacy issues will also be an important part of HIVR4P 2018.
Participants. Photo by HIVR4P/Leon Gutierrez
Jose Alcamí of Madrid's Instituto de Salud Carlos III, a conference co-chair says that HIVR4P is part of a global movement to build the alliances and exchanges, across disciplines and countries, that can bring us closer to a world without AIDS.

"We are especially proud that Spain will host the first HIVR4P conference held in Europe."

"Spain's longstanding commitment to combatting this epidemic includes world-class research, support for domestic and international efforts to ensure HIV treatment and prevention for all, and a commitment the wellbeing, dignity and human rights of all people affected by HIV.
At the same time, several challenges remain in the fight against HIV in Spain, such as PrEP implementation. The celebration of HIVR4P in Madrid is an opportunity to draw attention to those needs as well."
Participants at the conference. Photo by HIVR4P/Leon Gutierrez.
Uganda, which has about 1.6 million people living with HIV, is on course to achieve the 90-90-90 HIV global goal.

According to Dr. Nelson Musoba, the acting director general of the Uganda Aids Commission, the goal seeks to ensure that by the year 2020, 90% of all people living with HIV know their status, 90% of those diagnosed HIV are on ART therapy and 90% of all people on ART therapy have viral suppression.

Prevention strategies such as medical male circumcision, prevention of mother-to child transmission, treatment as prevention, voluntary counselling and testing, and lately, pre-exposure prophylaxis, a strategy that relies on using drugs that treat HIV to prevent infections, have all collectively been successful in progressively bringing down the number of new HIV infections in Uganda.