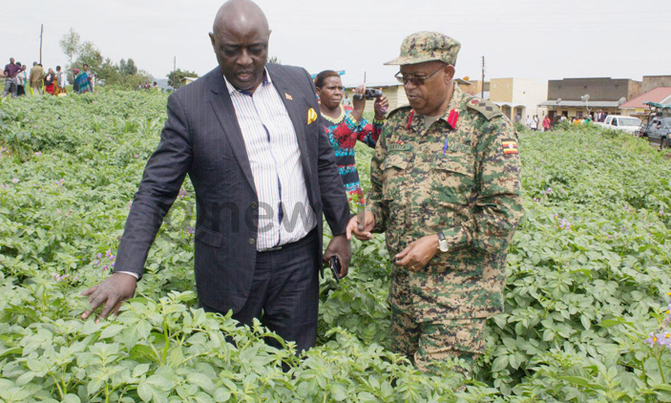 ​Sempijja encouraged farmers in the area to start growing Arabic coffee alongside other agricultural crops.
The National Agriculture Research Organisation (NAR0) plans to introduce new crop varieties in Kisoro district and the entire Kigezi region to promote commercial agriculture and to boost productivity to improve people's livelihood.

Government is also introducing Arabic coffee in Kisoro district to promote coffee tourism.

Kisoro district, like other districts in Kigezi region, is famed for Irish potatoe growing.

Last week, the minister of Agriculture, Vincent Bamulangaki Sempijja, led a team of stakeholders on a fact-finding mission in the district, to asses the situation on the varieties of which can be introduced in Kisoro.

He was accompanied by ministry officials and experts from NARO and National Agricultural Advisory Services (NAADS).

Sempijja encouraged farmers in the area to start growing Arabic coffee alongside other agricultural crops.

"Researchers in Canada have proven that coffee from Kisoro hills is the best in the world. Research indicates that this Gahinga mountain range and other parts of the districts, could be the best home for Arabic coffee. Arabic coffee is also very good on the uplands," he explained.

They also identified the land where they intend to establish a massive nursery field for coffee seedlings in Rwerere, where it will be developed and distributed to farmers.

"We want to increase coffee production and encourage coffee cooperative societies to form a Coffee Growers Cooperative Union and also establish coffee processing units," he noted.

The minister remarked that government intends to promote coffee tourism alongside other attractions in the area.

The team also visited, Peter Halerimana, 63, a famous coffee grower in Nyamagana Ward, Kisoro municipality, who is often visited by tourists to test his locally processed coffee.

"I harvest my coffee and use locally made machines to make coffee which I later pack and sell to tourists who come here at sh25, 000 per kilogram. Many tourists come here to test my coffee and always go with it," he noted.

Sempijja disclosed that government is conducting research on the Irish potatoes to have the best variety which meets the market demand.

"Many supermarkets are still importing Irish potatoes. We are doing the same on beans, apple and coffee. We also want to know the farmers involved to support them," he said.

The head of Kachwekano Zonal Agriculture Research Development Institutes (KAZARDI)-NARO, Dr. Alex Barekye, said they still have a challenge of providing the foundation seed to the farmers, due to lack of consistent power supply at the lab.

"Every time we are loadshed, we lose plants in the lab or get contaminated. Even the generator is costly, which limits our operations. It is also old and breaks down from time to time," he added.

He said they also have challenges in human resource to support them in tissue culture work and money to purchase the required consumables.