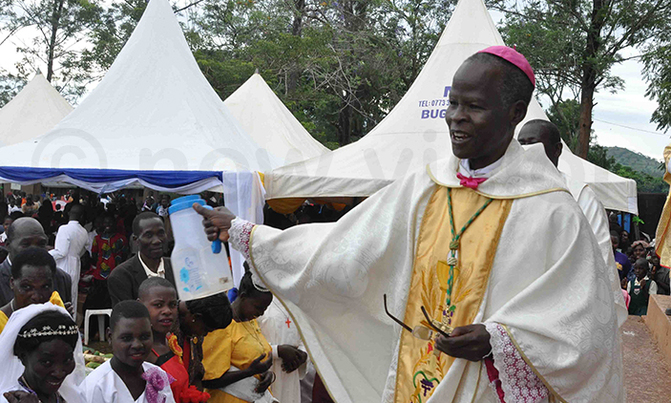 "These days, many people have come out to destroy the sacrament of Holy Matrimony"
Young couples have been advised to seek advice to be able to succeed in marriage.
The advice has been sounded by the Retired Bishop of Lugazi diocese, Matthias Ssekamaanya.
"Baganda say senior's eye (eriiso ly'omukulu). I know these couples have experiences and have been in marriage for many years than you, they face challenges but have survived and are still in their marriages," Ssekamaanya said.
He noted that because of their education status, young couples ignore old couples' counsel thinking they cannot offer much.
Ssekamaanya made the call on Friday at Our Lady of Assumption Church, Bbulo Parish in Mpigi district, during Holy Mass to commemorate parish day and one of the couples celebrated 46 years of marriage.
Ssekamaanya was assisted by Parish Priest, Fr Francis Xavier Mayinja Jr, his curate Fr John Mary Ssenfuka and Fr Sirus Kikulwe among others.
"Matrimony is the marriage contract between Christians raised by Christ to the dignity of a sacrament. But these days, many people have come out to destroy the sacrament of Holy Matrimony," he said.
He advised couples on the essence of prayer, with the reward of children, as it enhances the true meaning of Holy Matrimony.
He decried the action of some parents who instead of nurturing their children, end up neglecting them.
Ssekamaanya also rapped some men that abdicate their duties and are not caring for their children. He said it is a pity that the burden is left to mothers.
The prelate said that Catholic Church dedicates the months of May and October as months of the Holy Rosary and is a good time to commit to praying the Rosary every day.