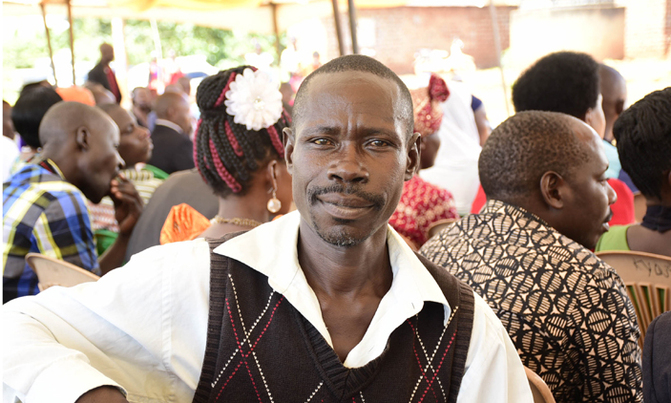 Cases of both gender-based violence and violence against children reduced after couples in Wakiso were trained in appropriate parenting skills and men sensitized on being more involved in the affairs of their homes
Wilberforce Semombwe, the LC1 chairman for Lukose, Bulwanyi parish in Wakiso district, used to believe that a man had no place in the daily running of a home. To him, running a home and taking care of children were a woman's work.

"I used to think that I only needed to look for money for salt, soap, paraffin or medical treatment. I expected my wife to grow the food we eat; ensure that we have water; enforce children's discipline and monitor their school performance. I would never even check their report forms," notes Semombwe.

Semombwe had also left the responsibility of rearing livestock such as cows, goats and pigs to his wife. "She had to look for feeds and water. And if anything went wrong (for example, a miscarriage), I would blame her for being negligent," he discloses.

However, all this changed after he went through a training programme where he learnt skills on how to be a good parent and husband.

Semombwe says he is now more involved in home affairs and shares chores with his wife such as looking for firewood, which used to be a woman's job when he was growing up.

He says his participation in home activities has resulted into several benefits, for example, they now produce enough food for the family, his wife is happier and the children are better behaved.

Semombwe's wife, Brenda Semombwe, who also underwent the training, says she learnt the importance of raising children well by parents first respecting each other and then respecting the children. Children are also required to respect each other and respect their parents.

Mrs. Semombwe notes that the programme has made it easy for her to discipline her children and relate with her spouse. She no longer beats the children; she talks to them and they hold discussions on the issues affecting them. As a result, the children are now more open and they talk to her as a friend.

Mrs. Semombwe discloses that sharing chores with her husband has made her life more enjoyable.

"These days, he goes to the children's school to check on their performance or pay fees, buys them clothes and takes them for treatment - activities he would never do in the past."

She explains that in the past, her husband was not involved in children's discipline. When a child misbehaved, for example, delay at the well, he would not show concern or he would blame her for not taking proper care. But with his involvement, it is now easier to instill discipline in the children.

She says she no longer gets as exhausted and stressed as she used to in the past. She can now afford to leave home and engage in activities that enrich her life since her husband can take care of the home in her absence. Mrs. Semombwe now has time to be more involved in the activities of her savings club and the church. As a result, she was recently elected chairperson of Mothers' Union for her parish.

Programme promotes stable homes in Wakiso

The Semombwes and over 600 residents of Wakiso district were able to improve their home life thanks to a programme codenamed Parenting for Respectability that was implemented by the Child Health and Development Centre at Makerere University.

Dr. Godfrey Siu, a lecturer and the principal investigator on the project, explains that this is a community-based parenting training programme that aims at teaching parents skills and attitudes to bring up children to be bright, happy, health and well-behaved.

He explains that the programme was designed by researchers at Makerere University after preliminary research showed that children who are well-behaved and successful are the hallmark of family respectability in many Ugandan societies. It had been noted that parents wanted to raise such children, but did not know how to do so.

In addition, they had noticed that there was a lack of an indigenous evidence-based parenting model in Uganda.

Siu noted that the four-year project, which started in 2014, set out to address violence against children and gender-based violence, which are known to hinder development in homes and prevent children from thriving.

He added that the programme targeted to address four main issues that that lead to child maltreatment and sexual/gender-based violence. These are:

- Poor attachment between a parent and a child (parental bonding)

- Harsh parenting, especially corporal punishment

- Inequitable gendered socialization (treating girls as inferior to boys)

- Conflict between parents especially violence and disrespect

Carolyne Namutebi Byekwaso, who was in charge of implementation, noted that the programme was piloted in parts of Wakiso district such as Kigungu Division B, Entebbe, Bweya and Ssisa sub-counties. Others are Kakiri and Katabi.

The training involved about 600 parents with children aged 17 years and below. Both couples and single parents (even guardians) were recruited and participants were organized in 32 groups.

Training involved 16 sessions and participants would meet once a week to cover a session in two to three hours.

Men specifically targeted

Siu noted that the programme put special focus on involving fathers because it was noted that they were not sufficiently involved in parenting and did not spend enough time with their children.

In addition, as Siu explained: "For a long time, parenting programmes implemented in Uganda have focused on women because it is generally assumed that men are not interested in parenting. This is not true because our research showed that men have a desire to improve their children's behavior."

Siu also noted that they put an emphasis on recruiting men because they experience social pressure to conform to societal norms around masculinity, which make them perpetuate violence against woman and children. In addition, such beliefs also constrain their involvement in the affairs of their homes/ families. For example, men who participated in the programme noted that neighbours laugh at them when they bath their children or go with their families to church.

Why fight violence

Violence against children, which the programme set out to fight, is widespread in Uganda. The recently launched National Violence Against Children Survey (2018) showed that violence against children occurs in homes and is perpetuated by people who interact with children, especially parents and guardians.

When it comes to physical violence 59% of girls and 68% of boys have experienced it. Sexual violence is experienced by 35% of girls and 17% of boys; while emotional violence is experienced by 34% of girls and 36% of boys.

Perpetuators of physical violence are mostly parents and caregivers, while perpetuators of sexual violence were mostly neighbours, friends and intimate partners.

Violence against children has many negative lifelong consequences on the children, families and government, noted youth and child affairs state minister Florence Nakiwala Kiyingi. She added that it is a major cause of physical and emotional complications such as low self-esteem, physical disability and even death.

Nakiwala's remarks were contained in a speech read by Shafik Butanda, the principal probation and welfare officer in the gender, labour and social development ministry, at the passing out of over 200 participants who had undergone the training in Ssisa sub-county.

Nakiwala noted that research shows that boys who experience violence are likely to be violent in adulthood, while girls are likely to tolerate violence.

Byekwaso added that such people continue with violence against their children because many people parent by instinct or the way they are parented.

In addition, Nakiwala noted that the government spends a lot of money in rehabilitating and treating victims of violence in hospitals and prosecuting the perpetrators in courts of law.

Benefits from programme

Semombwe noted that the programme helped to reduce gender-based violence and violence against children in their community. As the LC1 chairman, he discloses that, he used to spend a lot of time solving cases involving men who beat their wives or those who chase wives off the land. Semombwe, who has been chairman for 32 years, adds that there were also many cases of children not being fed and neglected or men abandoning their families, in addition to children running away from home over harsh treatment.

However, he noted, such cases have greatly reduced since men started spending quality time with their families.

The programme also contributed to better spousal relationships, thus fewer cases of conflicts between couples.

Vincent Muyingo, the councillor for Bulwanyi Ward, Kajjansi Town Council noted that homes are now peaceful since parents discuss issues with each other and their children. Children no longer loiter all over the village, playing Ludo and cards or delaying at the wells.

"Cases of drunkenness have also reduced as parents try to set good examples for their children."

Siu and Byekwaso also disclosed that several NGOs, such as the Mothers' Union, have expressed interest in the programme and want to scale it up to other parts of the country.

What more is needed

Many participants noted that the programme needed a session on income-generation and livelihood skills to help them implement what they are being taught. This is because many of the things they were trained to do, such as educating children and providing them with proper nutrition, need a stable income. "Lack of money is one of the issues that disorganizes homes," noted Muyingo.

They also highlighted the need to empower women with livelihood skills so that they do not have to depend on men which makes them vulnerable to violence.

Challenges faced in impelemtation

According to Byekwaso, the main challenge they faced while implementing the programme was absenteeism, especially with the fathers. Many regularly said they could not attend sessions because of their busy work schedules. Other challenges included; failure to start sessions on time; failure to do home activities and unrealistic expectations from participants. In addition some couples dropped out of the programme.

For example, in Ssisa sub-county, 42 couples registered at the beginning, but four of them did not attend the sessions, in addition for six of the remaining couples, only one partner attended the sessions. There were also three other couples where the partners dropped out after training had started.

Byekwaso says reasons for partners dropping out of the programme included the unfavourable time for the sessions, fear to discuss family challenges or fear to relate with other people when the family was going through serious challenges.

What others say

Paul Balikwa Tamale, resident of Nakonge in Sissa

The training is what I needed to change my ways since I used to overdrink and mistreat my wife and children. I would fail to provide and they would lack even salt. Whenever, I got drunk, my children would laugh at me, which showed that I was setting a bad example. I am now a better husband and cannot beat my wife, nor children. We talk through our issues.

Nalongo Irene Sentongo

I used to be tough with the children, in addition to sulking endlessly and subjecting my husband to silent treatment. I never thought of the implications of my behavior on our home. However, the training opened up my eyes. I have since started discussing issues with my husband and the children. As a result, our home life and marriage have become enjoyable. There is no more silent treatment.

Ssalongo James Sentongo (pastor and husband of Nalongo Irene Sentongo)

I learnt that being tough does not yield good results. I used to think children had to only be ordered around, but I learnt how to hold meaningful discussions with them. This has improved my relationship with them and are freer with me. In addition, my wife used to be tough and I also had esteem issues, which made us not respect each other. But now, we manage our egos and communication has improved.

In addition, as a pastor, the programme has made it easy for me when counseling couples. If a couple I am counseling attended the programme, I just refer to the training session that is linked to the issue at hand.