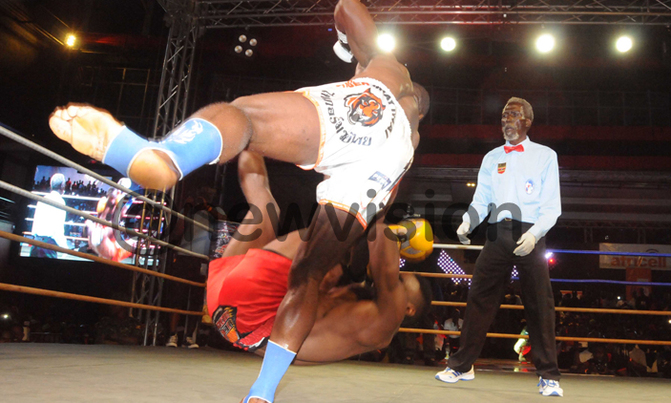 Jack Pempa has pledged to fund the rematch.
Main fight

Umar Semata (Ug) beats Moses Golola (Ug).

Under Cards Men:

James Odoch (Ug) bt Allan Muhahala (Ken) - retired 2nd round.

Amos Sempagala (Ug) bt James Amajon (S.Sudan) K.0 1st round.

Damulira Richard bt Muhamed Ntare - Points

Zubair Karim (Ug) bt Kennedy Rado (S.Sudan) KO 1st round.

Farouk Kimers bt Dan Okiror K.O 1st round.

Raymond Muganga bt Umar Muzafar KO 2nd round.

Lawrence Mukiibi bt Chris Mugweri K.O 1st round.

Ivan Koreta bt Khalifan Buduuda - Points

Joel Semanda bt - James Macho points.

Allan Cloud bt James James Christon - KO 2nd round.

Paul Angala bt Josina Lumunya - Pts

Women

Rebecca Among (Police) bt Brenda Masendi (Prisons) - points.
Moses Golala kicks Semata

Umar Semata beat Moses Golola on points in a non title kickboxing contest at Freedom City Sunday.
The win closes the debate that has stood for over 10 years on who is the best between the two Ugandan professional kickboxer.

They have both won world titles in the difference segments and styles of kickboxing. Meanwhile, Golola has asked for a rematch which sponsor Jack Pempa has pledged to fund.