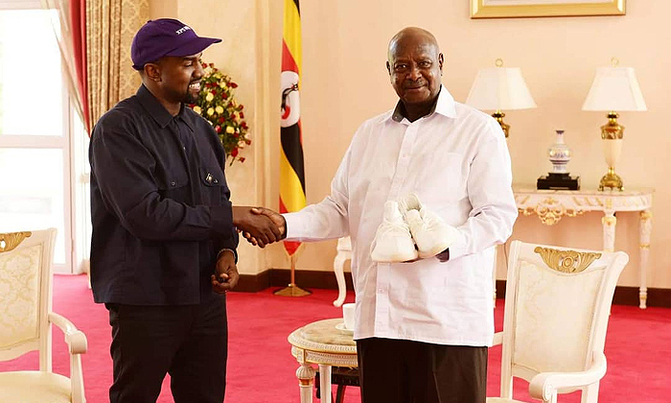 "I welcome American entertainment stars Kanye West and Kim Kardashian to Uganda."
VISIT

ENTEBBE - President Yoweri Museveni has an addition to his shoe wardrobe: a pair of white sneakers, which he has received as a gift from American celebrity entertainer Kanye West, also known as Ye.

The US rapper and fashion designer is in Uganda with his family for a visit.

Alongside his wife Kim Kardashian, Kanye West met with the President at State House Entebbe during which, according to Museveni, they held "fruitful discussions" on "how to promote Uganda's tourism and the arts".

Kim is an American reality TV personality, entrepreneur and socialite, best know for her show Keeping Up With the Kardashians.

The celebrity couple had a chat with Museveni three days after jetting into country.

"I welcome American entertainment stars Kanye West and @KimKardashian to Uganda. I held fruitful discussions with the duo on how to promote Uganda's tourism and the arts. I thank Kanye for the gift of white sneakers. Enjoy your time in Uganda. It is the true Pearl of Africa," tweeted the President Monday afternoon.

The President recieved a signed pair of sneakers from Kanye and in return, he gave him and wife Kim copies of his book Sowing the Mustard Seed.


Upon arriving in the country on Friday, Kanye and Kim were straight away flown by chopper to Chobe Safari Lodge located in Murchison Falls National Park in north-western Uganda.

West is reportedly in Uganda for a video shoot for his eponymous eighth studio album, even when, in a video clip shared on social media recently, he said he was coming to Africa for vacation, mentioning Uganda as part of his itinerary.

Sources within the lodge revealed that West has marveled at the scenery in Murchison Falls National Park and that "He loves the vibe in Uganda. Wants to show how beautiful Uganda is. Wants to do more for Africa and the world".

On Saturday, the Grammy award winner and his family embarked on game drives in the national park after having lunch at Paraa Safari Lodge.


Kanye, Kim, North and friends went on a tour at Murchison Falls National Park in Uganda. 🇺🇬 pic.twitter.com/MXIZrQkiRu

— TeamKanyeDaily (@TeamKanyeDaily) October 14, 2018
Also related to this story

Kanye West, Kim Kardashian thrilled by Uganda's beauty