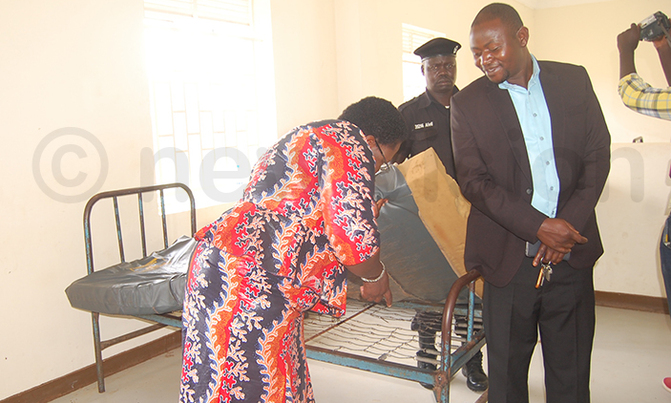 She was irked by the hospital's hygiene when she found used diapers dumped at the entrance of the maternity ward
The state in which the Lyantonde Hospital mortuary left Dr Joyce Kaducu Moriku, the state minister for primary health care in disbelief.
Moriku was at the hospital for the commissioning of structures put up using a sh500m primary health grant from the government.
She commissioned the sh90m administration block, the sh105m theatre, the male ward and the renovated maternity ward.
Moriku later decided to check on the conditions of other buildings and it was the state of the mortuary that left her shocked.
"Is this the mortuary of the hospital? How many bodies does it accommodate? The administration and leadership here you need to expedite the process of getting the money and ensure that a new mortuary is set up. Are our people safe?" she wondered.
Moriku was further irked by the hospital's hygiene when she found used diapers dumped at the entrance of the maternity ward.
She tasked the hospital administration to ensure that they allocate days for general cleanliness to so that patients who come to get treatment do not contract more diseases especially during the rainy season.
"It is absurd to find that the building is new but it has no beds and even the little mattresses that are there are very old. I think you can improvise and buy some mattresses with new covers and then paint these beds to give them a face lift. I think a patient can feel better when he is in an environment that is secured," the minister said.
Moriku said the ministry is going to support the hospital to put up a good mortuary.
While in the male ward, Moriku found there were beds that had no mattresses.
Muhammad Mwesigwa, the hospital administrator, noted that the hospital is overwhelmed by the inflow of patients from various districts. On the issue of sanitation, Mwesigwa said they try to ensure good sanitation but sometimes patients are adamant.
He further said the mortuary cannot house more than three bodies, noting that the district leadership is lobbying to ensure that they set up a new mortuary.
"We are now on the slab but we are stuck with money, if we can get more money, then we can finish this new mortuary faster," Mwesigwa said.