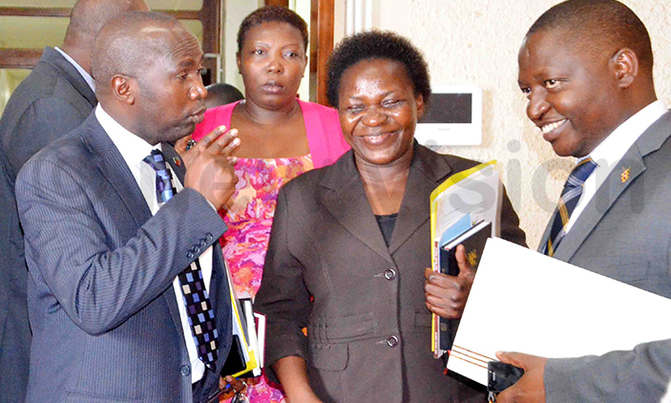 The ministers' submission angered the members who demanded whether it was right to continue discussing operationalisation of newly created town councils and sub counties
Finance state minister David Bahati and local government state minister Jennifer Namuyangu were On Thursday thrown out of Parliament's local government committee after they failed to present a financing strategy for the operationalisation of the newly created 204 town councils and 198 sub counties.
Both Ministers informed the Committee that although the institutions were planned to be operationalized in a phased manner, Government is still grappling with financial pressures.
According to Bahati, the government needs about sh151b to operationalize the district in addition to other associated costs for public administration such as creation of a police post, health education facilities in line with the current government policy all of which need additional funds.
He said after discussion in cabinet and parliament, it was agreed that their funding should be in a phased manner subject to the availability of additional resources.
"The Town Councils which were covered in the first phase were for the new districts that became operational in 2018/19 include Nabilatuk, Kapelebyong, Bugweri, Kasanda and Kakube. Its true even the budget for 2019/20 did not include funds for operationalization but that notwithstanding, a new plan will be developed in consultation with the Ministry of to operationalize the remaining districts," Bahati said.
Earlier, Namuyangu had informed the Committee that government since the financial year 2017/18 to date has provided sh4.5b to cater for startup activities for the 85 town councils.
"The created 196 sub-counties should have been operational by financial year 2018/19 but they have also not received operational funds from government," Namuyangu said.
The ministers' submission angered the members who demanded whether it was right to continue discussing the matter when government had no money to operationalize them.
MPs Theodore Ssekikubo (Lwemiyaga) and Raphael Magyezi (Igara West) blasted the MPs and wondered whether the Committee should go ahead to discuss a motion whose financial implication was not clear.
"This Committee should not accept lamentation from Finance and Local Government on funding for these institutions. You misled the House and the general public. How can you say there's no money for the last three financial years? Stop fooling us. You better withdrew these created districts if they cannot be operationalized," he said.
Magyezi, moved a motion that the ministers be sent back until they come up with a funding strategy.