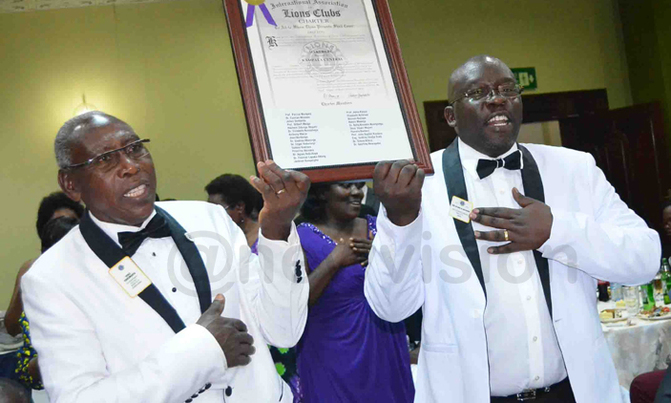 Makerere University is Africa's fifth best university, and top-most outside of South Africa, according to the latest world university rankings
Former district governor Lions Club Venie Tinkamanya and Dr. Dan Naturinda holding a new club charter for Lions Club Makerere. PHOTO: Violet Nabatanzi
The Lions Club of Makerere has earmarked sh360m for the constructing of more toilet facilities at Makerere University in order reduce on the congestion in the existing ones.

Prof. Patrick Magenyi, the new Charter president of the Lions club of Makerere while being inaugurated in Kampala recently said each year Makerere University sees an increase in the number of students, staff and visitors which makes it hard for the institute to keep proper hygiene.

Mangeyi further noted that "Makerere University is currently challenged with sanitation issues. We want to see that accessibility for places of convenience is solved within this financial year. This is our immediate focus for the university."

Makerere University is Africa's fifth best university, and top-most outside of South Africa, according to the latest world university rankings. The university trains at least 37,340 students, of which 9 percent are international students.

Mangeyi said the facilities will be situated in different spots of the University for better accessibility by the users.
Charter president Lions Club of Makerere, Prof. Patrick Mangeni (L) holding an instrument of power as governor Robert Munanura, a Commissioner of Prisons (C) and Israel Manzi, the president Lions Club Kampala look on
Israel Manzi, the Club President Kampala Central said they are partnering with this new club to help them realise some of the proposed projects this financial year.

"We are glad that the club has come up with this project and we think this is the right time to tackle such issues. Students and staffs' health is very important and we will be willing to see this come true," he said.

Ritah Namisango, the Principal Public Relations Officer Makerere University said the growing population at the campus for the same infrastructure has created an overload.

"We are spending sh1.3b on renovating the toilets in halls of residence and construction of a new public toilets in the Freedom Square."

Namisango added that the other consideration was the age of most of the water and sanitation infrastructure most of which is over 70 years old.

Bill Mwesigwa, a third year student at the College of Engineering, design, art and Technology noted that sanitation at the university is wanting.

"I sometimes don't use these toilets. They are always messed up. I use toilets at the hostel," he said

Simon Lutaaya, a master's student said he is irritated by the state of sanitation at his faculty.