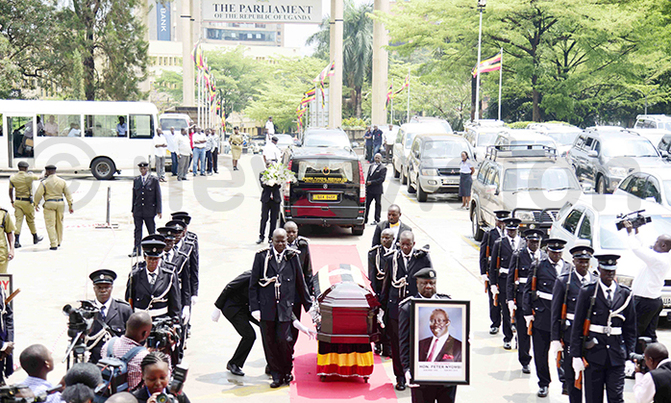 Although MPs had come to pay a special tribute to their former colleague, the sitting was cancelled on grounds that the House was in recess
Despite the challenges he faced while the Attorney General, the late Peter Nyombi was a man of integrity who stood by his decisions and also passionate about the welfare of children.
Although Members of Parliament were not given opportunity to officially pay tribute to their fallen former colleague during a special sitting, they said they would miss his legal advice, love for the country and family.
Nyombi, 64, succumbed to heart failure at SAS Clinic in Kampala on Sunday evening.
He was a Member of Parliament for Buruuli County in Nakasongola in the 9th Parliament.
Although MPs had come to pay a special tribute to Nyombi, the sitting was cancelled on grounds that the House was in recess. His remains were brought to Parliament and laid in state for about two hours.
The casket bearing Nyombi's remains was brought to Parliament at 1:42pm. It was accompanied by family members including the widow Juliana Nyombi, children and his siblings.
Unlike other fallen legislators whose bodies have been received at Parliament by the speaker or deputy speaker, Nyombi's casket was received by the Prime Minister Dr. Ruhakana Rugunda, government chief whip Ruth Nankabirwa, Jane Kibirige the Clerk to Parliament and Peter Ogwang one of the Parliamentary commissioners and a host of other cabinet ministers.
Both Speaker Rebecca Kadaga and her deputy Jacob Oulanyah were not present.
"I came here thinking the body will be taken to the chambers to allow us pay tribute to our former Attorney General, but on reaching Parliament, I got information that there was no special sitting. Imagine after leaving my constituency" one MP who spoke on condition of anonymity said.
Betty Aol Ocen, the leader of opposition in Parliament described the failure to hold a special sitting to honour Nyombi as strange.
"It is very unfortunate we have not had a special sitting to honour Nyombi. It is strange for his body to be brought here and not allow us to pay tribute," Aol said.
MP Nsaba Buturo remembered Nyombi as a kind, humble, generous man who fought to preserve his integrity.
Minister for Public Service Muruli Mukasa described the late Nyombi as a principled, dedicated and able lawyer who gave dedicated service while he was an advisor to government.
"He was really a man who stuck to his opinion especially when he knew that he was right. He would never say this and then change," Mukasa said.
State minister for housing and urban development Chris Baryomunsi described Nyombi as a very active, friendly, humble and dependable MP.
"He always gave honest legal guidance in Parliament even when people disagreed with it because of politics. He was a very down to earth person who related to everybody. We shall really miss him," Baryomunsi said.
State minister of education in charge of primary education Rose Sseninde remembered Nyombi as a dedicated, hardworking man who was simple and easy to deal with.
"We shall surely miss him. He loved his country and gave guidance whenever he was approached. We still needed him for that," she said.
Nyombi will be laid to rest on Thursday at his ancestral home in Nakasongola.