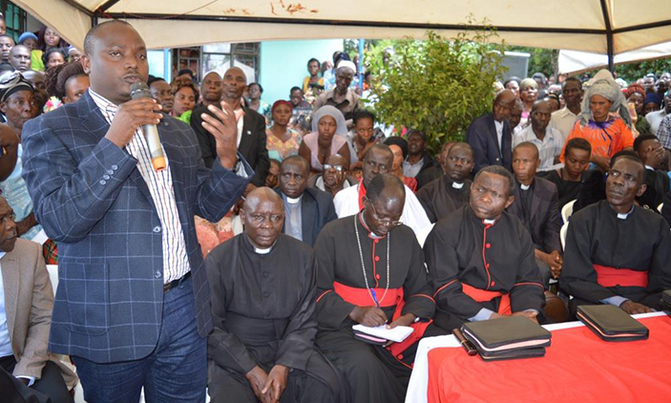 The President contributed sh20m towards burial arrangements
President Yoweri Museveni has mourned the five people from one family who perished in a motor accident at Wobulenzi in Luweero district on Sunday.
In Museveni's condolence message delivered by the state minister for water resources and Member of Parliament for Mukono North, Ronald Kibuule, Museveni said the deceased's death was a blow to the country since they were all at the age of the much needed human resource.
Richard Lule, 30, Isaac Mbogo, Florence Ndagire and Enoch Musoke all of Wantaayi village, Nagojje sub-county in Mukono district died in the accident.
The deceased were travelling in a Toyota Vitz registration number UAS 163D from Luweero where they had gone to visit a relative. Their car rammed into a Fuso, number UAR 162G that was heading the opposite direction.
Savannah police spokesperson Paul Kangave said the driver of the Vitz driver attempted to overtake a trailer in a sharp corner and collided with the Fuso.
Museveni contributed sh20m towards burial arrangements while First Son Maj. Gen. Muhoozi Kainerugaba contributed sh5m which was delivered by Maj. Chris Muwumba.
Kibuule told mourners that the President would soon spare time to pay a courtesy call to the bereaved family.
Kibuule implored mourners especially area residents take lessons from the deceased because they lived simple lives as a result of their upbringing.
Meanwhile the Provost, the Rev. Can. John Ssebudde who represented the Mukono diocesan Bishop James William Ssebaggala who is on leave in America, said the deceased loved the church and related with people of all walks of life.
Ssebudde who quoted John 16:33 said nobody would cure the wounds which had been inflicted on the parents' hearts apart from sticking to God for consolation because he knew their pain.
"There is sorrow in the world because everyone has to taste the pain of death, God has taken his flowers but we have to hide and keep our faith in him," he said.
He sent mourners into laughter when he said death was universal regardless of one's political party and warned against incidents of torture and instead promote humanity.
He urged the mourners to tackle poverty by working hard but to also to learn to be thankful to God by praising him in all situations.