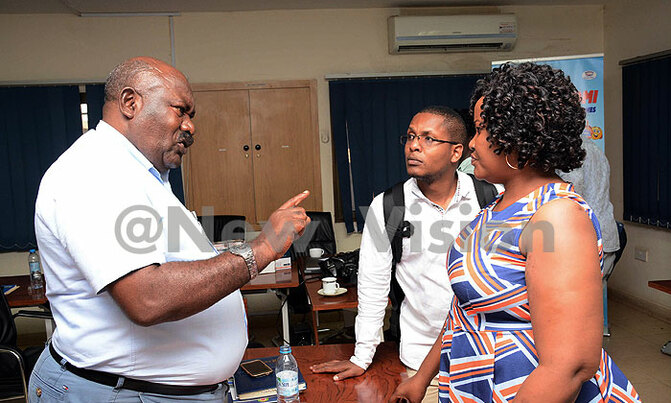 The system is credited for reducing paperwork and improving use of information technology.
PIC: B.W. Rwabwogo of Mukwano Group of Companies chatting with reporters during a visit to the company head office in Kampala. (Credit: Eddie Ssejjoba)

IndustrTRADING

The Single Customs Territory (SCT) has greatly improved trade and reduced the cost of doing business in the East African Community. Traders are saving a substantial amount of money and time, which has reduced final consumer prices.

But corruption and unmatching systems and breakdown have been cited as huge setbacks in the implementation of the EAC Single Customs Territory.

According to B.W. Rwabwogo, the general manager in charge operations, Mukwano Group of Companies, previously, importers would pay $200 (about sh740,000) for a clearing agent at Mombasa port.

At Malaba, the importer would again pay $40 (sh148,000) and meet another clearing agent in Kampala, where he would pay $150 (about sh555,000), totaling to $390 (about sh1, 443,000) for a single entry or consignment.

But with the introduction of the SCT, there is always one agent at the point of entry, who charges $150 (about sh555,000), which Rwabwogo said has turned around business in the region.

The EAC partner states adopted a destination model of clearance of imports whereby the assessment and collection of tax revenue on consignments is done at the first point of entry.

"As a result, we have seen freight costs dropping from $3,100 for truckload to $2,700, a margin of $400. This has enabled us to save on transport costs and increase our profit margins," Rwabwogo explained.

The system is credited for reducing paperwork and improving use of information technology.

Rwabwogo was recently briefing journalists from the EAC partner states during a media tour to assess the successes and challenges of doing business across the region.


Despite the positives, congestion at borders and ports where there is no one-stop border post remains a challenge, with traders still facing problems because some states have not adjusted fully to the SCT system.

Denis Nshimirimana, the secretary general of the Burundi National Chamber of Commerce, complained that the use of different software in the implementation of SCT remains a hurdle.
Denis Nshimirimana believes corruption and bribery is hurting the system. (Credit: Eddie Ssejjoba)


Nshimirimana said most traders demand a uniform system in clearing cargo instead of the four to facilitate a faster process.

While Uganda, Burundi and Rwanda were using the Asycuda World, Kenya was still using Simba and Tanzania using Tancis. The different systems were not matching and make running business difficult.

"After clearing under one system and you go to Tanzania, they will tell you they cannot see information in the system that you cleared your goods. It can take you days or weeks before this is sorted out," Nshimirimana said.

He gave an example at the Uganda-Rwanda Gatuna border post.

Here, Ugandan customs officials often claim they cannot access one's clearance in the system and the drivers are forced to use T1, where they are charged between $150 (sh555,000) and $200 (about sh740,000) to proceed.

He said traders suspect revenue officials in Kenya and Uganda connive to assume they cannot locate information in the system to force traders to pay money, which is never refunded "even when the problem is finally fixed".

Nshimirimana is appealing to the EAC to investigate the matter. He believes that corruption and bribery are at play in the alleged system clogging.

Other challenges include customs officials in Burundi operating for 12 hours instead of 24. "Drivers who arrive after the offices have been closed are forced to stay till the next day," he added.

The EAC has bee urged to help Burundi popularise English, especially among the business community, for the full attainment of the EAC Union.

Nshimirimana said traders in Burundi use mainly Dar-es-Salaam port for importing from outside the region and use Kampala as their regional market.

In Rwanda, the business community applauded the SCT system for reducing the days from 21 to five from Dar-es-Salaam port to Kigali and reducing roadblocks from 25 to 10 from Mombasa to Kigali.

Alex Mugibe, deputy commissioner and SCT co-ordinator, said most investors and industrialists have benefited from the system with reduced time spent in transporting cargo, and reduced costs per cargo from $5,000 to $3,000.
Alex Mugibe says because of the system, drivers make more trips. (Credit: Eddie Ssejjoba)


"Previously, a driver would make two trips in a month, but it has now doubled and encounter 10 weighbridges instead of the 25 before."

He, too, underlined challenges with the different clearing systems and information technology systems.

Mugibe said negotiations were ongoing to persuade Tanzania to use the regional electronic cargo tracking system funded by Trade Mark East Africa and leave the vendor-funded system, where traders buy each gadget at $50 or less.

He added that South Sudan is still operating from outside the SCT and asked the EAC secretariat to bring the country on board.