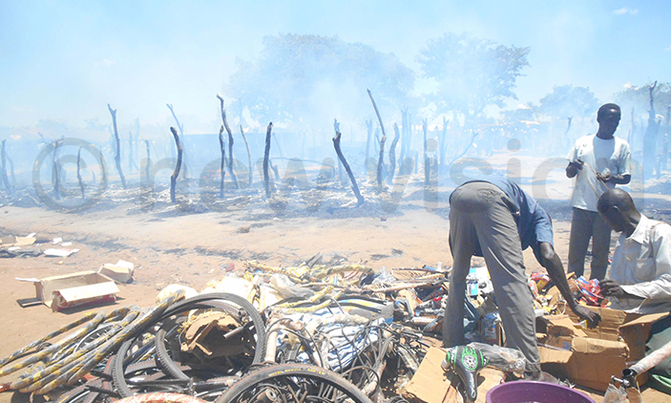 This is one of the biggest cattle markets in Teso sub region
Traders from mostly Teso and Bugisu sub regions are counting losses after Onyamigurok cattle market in Ogolai sub-county, Amuria aistrict was consumed by a fire.
The Friday blaze that broke out at about 11:30am damaged property worth over sh30m.
This is one of the biggest cattle markets in Teso sub region that attracts several traders within and outside Teso.
Eye witnesses said the fire started when an unattended phone battery that was being charged in a grass thatched shelter caught fire. Attempts to put out the flames were futile because it spread very fast but some few properties were rescued.
The chairperson of cattle traders in the market, Michael Ailong, said the fire was caused by an explosion of a phone battery which was connected to solar charger.
Ailong said the fire consumed shelters, meat from 10 heads of cattle and 16 goats as well as other commodities which were sold in the market.
"I heard an explosion and shortly after, fire broke out in the nearby shelters and spread very fast with the help of wind. Traders tried to rescue property and in the mix-up, looting took place," said Emmanuel Enyogu, a meat dealer in the market.
David Ejiku, one of the traders who lost over sh600,000 in the incident expressed worry that he may not be able to pay school fees for his six children.
The officer in-charge at Apeulai Police Station in Ogolai sub-county, John Peter Ekwaru, condemned the practice of charging phone batteries by connecting them directly to solar panels, saying rightful charging procedures should be followed.
Ekwaru said the person who was charging the phone battery handed himself to Police but that his identity was being kept secret.
"We are receiving statements from traders whose property was destroyed so as to establish the true value of property destroyed," said Ekwaru.
The district councillor for Ogolai sub-county, Beatrice Ayano, said similar incidents have become common in villages.