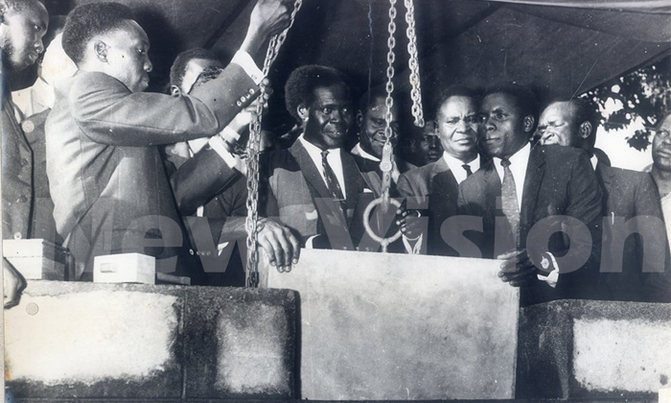 Independent Uganda turns 56 on Tuesday. Ahead of her anniversary, we have compiled what some of you are saying about your nation - the Pearl of Africa.
INDEPENDENT UGANDA TURNS 56

What's trending

On Tuesday, Uganda will celebrate her 56th independence anniversary. The main celebrations will take place in Kyotera district, in the sourthern part of the Central Region. In the buildup, Vision Group created the hash #MyUgandaAt56 and asked you to share photos, videos and stories of Uganda. Some of you emailed us your stories. Here is a selection of your interesting interactions:



On Twitter


'Okello deserves to be remembered'
A Ugandan peasant turned revolutionary, Field Marshal John Okello does not deserve to be forgotten by both his home country Uganda and the country he freed; current day Zanzibar. 1937, Lango District, Uganda - 1971#MyUgandaAt56 pic.twitter.com/7X0PKP4evC

— Kwiz Era (@kwiz_era) October 6, 2018

______________________
'Youth are the government'


The Youth should know that they're the Gov't. I think the person who started this slang "Tusaba gav't etuyambi" was wrong. Why wait for govt's help. Start something for yourself. - Isaac Ajum Balmoi #UrbanToday #MyUgandaAt56
Cc: @chief_kagyezi @willisDaily @VictoriaNamtebi pic.twitter.com/RCAfBDxzoX

— Urban Television (@UrbanTVUganda) October 8, 2018

______________________
'Dad was there'


9th Oct 1962 dad was there!
A young man with hope for an independent #Uganda. Hope for limitless possibilities and unbound potential.

Hoisting Black Yellow Red 🇺🇬was a dream come true for him.

Long live dad. Long live #MyUgandaAt56 pic.twitter.com/IwJXdAzCU4

— owen singura (@owensingura) October 7, 2018

______________________
Here's what the Entebbe-Kampala Road looked like then


#MyUgandaAt56 pic.twitter.com/yxGEzTvePJ

— Henry Lukwago (@henry_lukwago) October 7, 2018

______________________
'I will tell my Idi Amin story my way'

Idi Amin ruled Uganda from 1971 until 1979.
Everyone has a story to tell about Idi Amin. I will tell mine in MY way and how it looked through the eyes of my tender age at the time away from the politics and how it affects me now in the diaspora #MyUgandaAt56 #memoir https://t.co/gFIWyMhHMk

— Juliet Lubega (@ucragirl) October 7, 2018

______________________
Uganda should tap into women's potential - Matembe

Former ethics and integrity minister Miria Matembe was hosted on Urban TV.
Since we(women) took a place in politics, gender equality and empowerment started to change things, women empowerment is very important for our nation to tap into the woman's vital potential - Miria Matembe #MyUgandaAt56 #FamilyUnscripted pic.twitter.com/Q164IcRsG8

— Urban Television (@UrbanTVUganda) October 7, 2018

______________________
Lunch. Anyone?

Quick question to you reading this: When did you last eat your way back to your origins?
Lunch is served. Back to my roots.
#MyUgandaAt56 pic.twitter.com/pyaLHbKviO

— Pison Nagaba (@blessed_pison) October 7, 2018

______________________
Weddings then and now

Clearly, times have changed. Do you think today's wedding ceremonies are overhyped?
In the 90's, preparing for weddings was done communally, those who owned cars availed them to the brides at no cost, these days, it's no longer the case, all things are commercial #MyUgandaAt56

Cc. @newvisionwire @Magufuli3 pic.twitter.com/uaTJ9UoqLm

— Urban Television (@UrbanTVUganda) October 7, 2018

______________________
Humility?


#MyUgandaAt56 still have people who do this.. In the name of man emancipation, first with the skinny clothes and now this. What won't Ugandan men do?? pic.twitter.com/V1mt9DoI5p

— clintontumanye (@clintontumanye) October 6, 2018

______________________
Wonders of a smartphone

We are in era of phones and selfies, an era of digital manipulation. An era of so many possibilities.
One day, I will sit my kids down as we celebrate independence and tell them how @Snapchat filters were a thing for UGANDAN women bellow 35 in 2018. #MyUgandaAt56 - i google that pic pic.twitter.com/2WMseR87OI

— #WILLISDAILY© 🇺🇬 (@willisDaily) October 6, 2018

______________________
Piggy bank? No, wooden box

I still have one - a wooden box, I mean. Do you?
Saving Culture

My mum bought a wooden box for me and I would drop coins there, the first time I opened, I had raised 3 shillings, an equivalent of the current 300,000 UGX - Al HAJ Ssebagala#MyUgandaAt56 #LegistHustlers Cc. @kembenda @newvisionwire pic.twitter.com/l4UA69c8JA

— Urban Television (@UrbanTVUganda) October 6, 2018

______________________
Nostalgia at its best

Nothing beats visiting your folks every once in a while. You get to enjoy such sweet things as jackfruit and sugarcane . . . fresh from the garden/plantation!
#MyUgandaAt56
When I visit my mum's sugar plantation with my sister. pic.twitter.com/VenOloudd8

— Wambi Christopher (@MarsianChris) October 5, 2018

______________________
On email


From Ruth Kataike:

'I ate a lot of icecream'

l was about seven years at the time of independence and l remember fondly my visit to Kololo Airstrip. My father, the late Asa Nyanga, was among the lucky ones to be invited to Kololo Airstrip. He received a ticket allowing him and my mother into the enclosure. I and my older sibling attended too, but were outside the enclosure. We could hear the band playing the British anthem [God Save the Queen]. Thereafter, the current Uganda anthem was played as the Uganda flag was hoisted. Lots of people were in attendance. Many people climbed on tree tops to try to see inside the enclosure. Tree branches came down due to the weight of people trying to have a good view of the band playing. Lots of food was on sale outside and the one thing l remember was eating a lot of icecream. The following day, we watched the black and white TV of the whole celebration.


______________________
Do you, too, have a story about your Uganda, in the context of independence, that you would love to share with us? Get in touch with us:


Email: digital@newvision.co.ug


Twitter: @newvisionwire


Facebook: The New Vision
You might also be interested in this

'The day Uganda got independence, we danced kadodi all night'

#MyUgandaAt56: Arrested for wearing a short dress

Uganda's unifying events;The fall of Amin

Take a look at Uganda's history in pictures