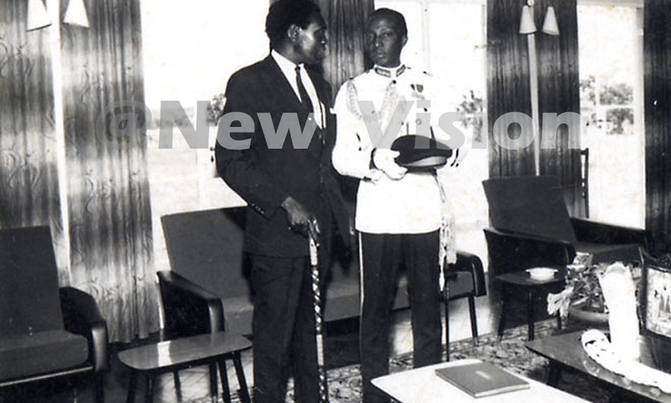 "We want to take Ugandans back into history."
INDEPENDENCE DAY: UGANDA TURNS 56


With only days remaining for Uganda to celebrate its 56th Independence anniversary, New Vision readers will get free reprinted versions of the Uganda Argus as independence souvenirs.

Uganda Argus was the leading newspaper at the time Uganda got independence in 1962.

The paper reported the fight for and process to independence. Different issues of Uganda Argus to be inserted in Saturday Vision, Sunday Vision and the Monday edition of New Vision, will contain stories of key events that shaped the country's history.

David Mukholi, the Vision Group managing editor in charge of special projects, said the Uganda Argus newpapers that captured major events have been reconstructed and will be available to persons who buy a copy of the three papers in which they will be inserted.

"We want to take Ugandans back into history, presenting the stories as they happened and published in the Uganda Argus in the 1960s, focusing on key events that shaped Uganda's history then," he said.

You might also like this >> Uganda's history in pictures
Kabaka Edward Muteesa II enagaged in a chat during Uganda's 2nd Independence Day anniversary in 1964


Stories in the reconstructed newspapers include the amendment of the Independence Constitution in 1963, the fallout between Kabaka Yekka and Uganda People's Congress (UPC) and the gold scandal related to the inquiries in which top government officials then were accused of stealing gold in the Congo.

Other events covered in the papers are the Lancaster Conference during which a decision was reached when Uganda was to be granted independence and when Kabaka Edward Mutesa and Kyabazinga William Nadiope were elected president and vice-president respectively.
Doing it again

Last year, the New Vision editorial team reconstructed a commemorative copy of the Uganda Argus newspaper that was published on October 9, 1962, when the British transferred the reins of power to Ugandans at independence.

The 72-page newspaper, which captured the mood marked by political hysteria as Ugandans took charge of the country's affairs, was republished in New Vision on October 6.


Mukholi said besides the Uganda Argus offer, all Vision Group platforms are marking Uganda's 56th independence anniversary with compelling content.

The October 9 New Vision issue will carry content with over 120 pages of well-researched stories.

Vision Group radios and TVs will air documentaries and features telling the story of Uganda at independence.

Urban TV is using the occasion to celebrate 55 years of the launch of TV in Uganda, with programmes including soaps and documentaries that were aired in the 1960s and 1970s.

There will also be a special package for online, including a photo gallery, showing pictures from the 1960s to-date for readers to have a sense of where Uganda has come from.

In addition, New Vision TV aired online will screen Uganda's journey since independence.

Here is a video we ran last year on the first reproduction . . .



Vision Group chief executive officer, Robert Kabushenga, said on Independence Day, New Vision will also have a special package which will carry content that will be full of analysis, commentaries, opinions, views from different personalities, projection of the future and the hope for Uganda.

Kabushenga was asked why New Vision had to reprint the publication.

"We did it last year and there was a lot of public demand. We also want our readers to know their history. Let everyone be ready for the reprint from Saturday to Monday."
Kabushenga says the public is interested in their history



Here's how you can get involved . . .


#UgAt56: CELEBRATING #UGANDA'S 56TH INDEPENDENCE

For the month of October, share your photos, videos and stories about your Uganda on #MyUgandaAt56 pic.twitter.com/WZXtrQkygC

— Vision Group Uganda (@VisionGrp) October 4, 2018
CLICK HERE to travel back in time through Uganda's journey since Independence Day.