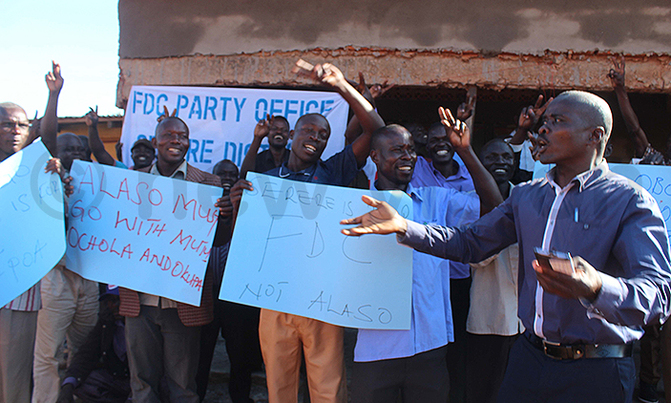 Since the departure of Mugisha Muntu and Alice Alaso, FDC party members in Teso have held two parties in celebration
Serere district which has been an opposition stronghold in the Teso region until the last general election, held celebrations to mark the departure of their former MPs Alice Alaso and Stephen Ochola from the Forum for Democratic Change (FDC) party.
The celebrations were convened by the party district chairman, David Otaala, who blamed Alaso for promoting segregation in the party.
"It is a shame that Alaso is leading a group of people who fought our own Patrick Amuriat Oboi from being elected the party president. We should celebrate her departure because it marks the beginning of our unity as FDC in Serere," Otaala said to cheers from party members.
Alaso was further accused of being a selfish leader in the party which led to its weak showing in the 2016 general elections where NRM won three seats, leaving FDC with only Kasilo County which Elijah Okupa represents.
"Alaso is a good leader but at the same time a dictator. For people to say that her departure from FDC will create a gap is a lie. Mugisha Muntu that she supports has done nothing and I want to wish them well wherever they go," Ocen an FDC supporter in Serere town said.
He claimed that the NRM won in Serere due to the confusion that Alaso caused by allegedly banning party primaries so not to face competition.
Dan Opolot who claims he was blocked from taking part in the Serere County MP primaries, urged the party members not to lose focus due to the departure of Alaso and Muntu.
"Alaso, Ochola and Muntu have quit FDC to form a new formation, whoever still believes in Alaso should follow her because she is not for us," Opolot said.
He demanded that Okupa return to the constituency to tell the people his position because he was also allegedly sighted at Hotel Africana when Muntu announced his departure.
Yellow wave
Hellen Adoa an educationist and NRM member trounced Alaso in the 2016 elections, while NRM's Bishop Patrick Okabe beat Ochola. NRM's Joseph Opit Okojo also retained the LC5 seat.
Alaso petitioned court to annul Adoa's win but she lost the case.
Party members on Monday claimed Alaso lost because of how she interacted with them.
"If Alaso and her colleagues still have dreams of returning to Serere politics, I think it is proper for them to go and contest elsewhere. We cannot work with a hypocrite," FDC supporter Joseph Okwerede said.
However Alaso has shot back at the claims, saying she does not regret leaving FDC and she has no apologies for party members who call her a dictator.
"I can only tell them to slaughter more bulls for celebrating my departure but you should also know that those who spoke like that were not voted by the people of Serere to speak on their behalf," Alaso told New Vision.
She said she cannot be moved by such remarks about her because she will return to the district at an appropriate time to speak to the people.
Ochola on his part said that people are free to criticise him explained that he quit FDC after figuring out that Amuriat had no chance of appearing on the ballot in 2021.
He challenged FDC to allow Amuriat carry the party flag in the 2021 general elections and that the move will persuade Muntu to return.
"I am tired of seeing one person contesting but if FDC accepts Amuriat to hold the flag for presidency of 2021, I will return in full gear and I will call on Muntu to back Amuriat as a joint opposition candidate," Ochola said.
Since the departure of Muntu and Alaso, FDC party members in Teso have held two parties in celebration.
On Thursday last week, Soroti district party members led by Soroti municipal speaker, Isaac Elakuna and Tom Julius Ekudo, slaughtered a ram to celebrate the duo's exit.