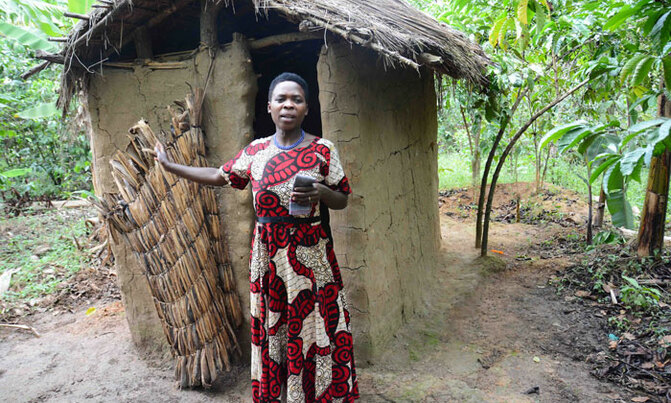 Nationally, a total number of the population without pit-latrine is summed as 3.5 million (2.47 million in rural areas and 970,227.342 in urban areas) Ugandans practice open defecation whereas the national pit-latrine coverage stands at 79%.
By Francis Emorut

Despite continuous sensitisation by different stakeholders, Uganda is still grappling with open defecation, a significant number of the population don't wash hands after visiting toilet and limited access to safe water.

The question is will Uganda eliminate open defecation come 2030 and achieve the sustainable development goals (SDGs) number six target 2?

SDG6 target 2 states that by 2030 achieve access to adequate and equitable sanitation and hygiene for all and end open defecation, paying special attention to the needs of women and girls and those in vulnerable situation.

Open defecation
Open defecation refers to disposal of human faeces in fields, forests, open water bodies, beaches, and other open spaces or with solid waste.

The Uganda Bureau of Statistics (UBOS) projected Uganda's population to be 38,667,810 persons by mid-year 2018 at an average growth of 3% with 80% (30,967,593) persons living in rural areas.

The percentage of population practicing open defecation in urban areas stands at 12.6% (970,227.342) out of the urban population of 7,700,217 people.

District reports show that 8% of the rural population, which is 2.47 million people is still practicing open defecation, down from 9% reported in the financial year 2016/2017

Nationally, a total number of the population without pit-latrine is summed as 3.5 million (2.47 million in rural areas and 970,227.342 in urban areas) Ugandans practice open defecation whereas the national pit-latrine coverage stands at 79%.

Highway sanitation
With average buses of 1,000 plying local routes and inter states operations to neighbouring countries Democratic Republic of Congo, Rwanda, Tanzania, South Sudan and Kenya access to public sanitation for travellers, along highways is still a big challenge forcing them to invade the villages and practice open defecation.

"This not only inconveniences travellers but continues to propagate the habit of open defecation with its associated health hazards," Eng Joseph Oriono Eyatu, commissioner rural water supply and sanitation at the ministry of water and environment points out.

He says the ministry plans to pilot construction of public highway sanitation facility at the junction of Nyakahita-Ibanda- Kamwenge Road in Kiruhura district during the FY2018/2019.

Eng Eyatu explains that the proposed highway sanitation facility shall be a complex offering a range of facilities/services including sanitary facilities, shopping area, restaurants, recreation area with ample parking space.

"The facility is envisioned to address the sanitation needs of travellers as well as provide a decent spot over where services can be enjoyed," he says.

However, the chairperson of Association of Bus Drivers Yunus Kiggundu disagrees saying that open defecation only occurs on special cases when a traveller is having a running stomach that is when the drivers make a stopover.

"Unless there is an emergency for example a passenger is having a running stomach, you can't avoid stopping and the person helps himself/herself on the bush," Kiggundu notes.

He says a few facilities existing in the major highways are sufficient and no need to construct more citing Migera and Kigumba in northern route Kampala Gulu highway.

What sector players are doing?
Paul Oyesigye, WASH manager of World Vision agreed with the commissioner saying open defecation is practiced by travellers on highways citing Busia the route joining Kenya and Uganda where there was a cholera outbreak.

Oyesigye observed that sanitation and hygiene are not given priority as less funds are invested in it.

"Can we start prioritising hygiene software part allocating more funds to realise balanced changes which are sustainable?" Oyesigye asked.

He notes that even where there have been some gains made in curbing open defecation in some communities there is a risk of them returning to the bad behaviour practice.

He says World Vision Uganda approach in constructing latrines is through school led total sanitation (SLETS).

Oyesigye explains that children are good agents of change once they see they are able to practice.

He said this approach is achieved through children hygiene and sanitation training (CHAST) where they are given practicals to observe personal hygiene for example bathing and washing which causes behaviour change.

To address open defecation challenges World Vision Uganda has designed programmes which are inclusive in the 48 districts it operates using approach referred to as community led total sanitation.

This model triggers three pillars first to create shame when one if found practicing open defecation. The second is when you do open defecation it will end up on food as it can be transported by animals and chicken and the third participatory hygiene and sanitation transformation(PHAST).

He stresses that cultural practices which prevent pregnant women to use latrine in the fear that a baby will fall in the pit should be fought and fearing the pit-latrine smell.

He says to achieve SDG6 target 2 requires a strong collaboration among the sector key players and private partnership.

Lydia Mirembe, the communications manager and knowledge advisor to International Rescue Committee (IRC) Uganda blamed the practice of open defecation to attitude of Ugandans for not prioritising on sanitation and hygiene at household level.

"A Person can spend money on airtime and can't pay for sanitation thinking that one can do without a toilet," Mirembe states.

She says IRC Uganda which is operating in Rwenzori region uses sensitisation approach to educate communities on the importance of good hygiene best practices.

The organisation is also involved in advocacy for increased financing in the WASH sector to address the funding gaps with increasing demands as the population is growing.

"The demands are growing and the population is growing yet the budget is stagnant," she states.

IRC Uganda also links communities with the contractors of latrines and service providers who empty latrines when they are filled.

Mirembe calls on district local governments to increase budget allocation towards water, sanitation and hygiene.

Dorah Egunyu communications officer at SNV Netherlands says open defecation is profound among the fishing communities as they defecate in the open around the lakes.

The organisation operates in West Nile and Rwenzori region empowering communities in using reinforced materials while constructing latrines.

"Members of the households don't have knowledge and skills of how to dig pitlatrines," Egunyu says.

According to the sector performance report 2018, UNICEF supported emergency intervention through the construction of motorized water supply systems in refugee settlement and host communities serving 115,000 persons at cost of sh7.15bn in the districts of Arua, Yumbe and Adjumani.

It provided WASH services to approximately 145,000 South Sudanese refugees in Kiryandongo, Arua, Adjumani and Lamwo districts.

Regarding sanitation and hygiene promotion, UNICEF supported promotion of sanitation activities using community led total sanitation (CLST) approach in 19 districts.

The districts include Kanungu, Ntungamo, Kabale, Nakapiripirit, Napak, Kabale, Agago, Kotido, Wakiso, Buvuuma, Rubirizi and Amudat.

Others are Pader, Kitgum, Gomba, Lamwo, Iganga and Kiryadongo through which 568 villages were triggered of, with 94 villages certified open defecation free (ODF).

The UN agency has also supported the ministry of water and environment in capacity building and strengthening the enabling environment.

Overall, UNICEF's support is estimated to benefit 380,930 refugees and host communities in provision of piped water, rehabilitation of boreholes and sanitation hygiene promotion as well as providing schools with latrine facilities.

In an advert placed in the media on Sept 19, UNICEF seeks competent companies/institutions to develop a roadmap to eliminate open defecation and accelerate basic sanitation in Uganda shows how grave the problem is.

Hand washing
Hand washing is the act of cleaning hands for purpose of removing soil, dirt and microorganisms. This practice is made effective with proper use of clean water and soap after visiting the toilet, before and after feed among other human activities which can lead to poor hygiene.

The New Vision visited communities in Rwenzori region, refugees' settlement camps in Bidibidi, Ayilo in Yumbe and Adjumani districts respectively among others and found that tippy-tap is being embraced by these communities but the biggest challenge is scarcity of safe water especially in Nakivale refugees' settlement.

Water and sanitation for refugees and host communities
Uganda has seen an influx of refugees over the last the 3 years with a total of 1.2 million refugees and asylum seekers of which about 70% are resettled in West Nile region.

According to Martha Naigaga the sanitation coordinator at the ministry of water and environment this has exacerbated the problem of sanitation and hygiene.

Percentage of population using improved water source
The population using an improved water source was at 70% meaning 27.1 million Ugandans access clean water while 30% (about 11.6miilion Ugandans) either drink polluted or contaminated water from unsafe sources, there was no change in coverage from that of June 2017. However, the analysis shows that 67% of the districts had a population using an improved water source compared to 65% of the districts in FY 2016/17.

Communities where ODF has been declared speak out
If you entered one of the pit-latrines of the model village in Kamwenge district you are struck by the cleanness and not welcomed by flies, thanks to the residents' commitment to improving good hygiene and sanitation practices after sensitization.

The model village approach was conceived by Water for People. According to country director Water for People Cate Nimanya all homesteads have adhered to the required hygiene and sanitation standards as stipulated in the health sector guidelines.

She says this was made possible through the joint concerted efforts of village health teams, Water for People officials, district and local leaders.

Some have made steps further to write on wall of the toilet with message otaruga omutooyi otanabiire engaro translated as don't leave the toilet without washing your hands.

The model village comprises of 18 villages where households have embraced Tip Tap simple technology washing their hands with soap after visiting the toilet, boil water for drinking, wash utensils on raised locally made table, have main house and kitchen well ventilated and a clean compound as well as latrines.

The villages are in Nyabbani, Ntara and Biguli sub-counties and they include Kaburisoke, Kemihoko, Kabale, Byantumo, Businge, Buhumuriro, Kaisunga, Bitojo, Kyotamusana and Rwebishahi and others.

Aisha Lubega a resident of Kaburisoke village says the model village approach on hygiene and sanitation has enabled the community to prevent diseases and save money for treatment and she has got used to washing her hands with the Tip Tap after visiting the toilet.

She said she could spend sh20, 000 to treat her children when they have diarrhea but since the introduction of the model village approach she is not spending on treatment.

"Some residents of this village used to go to the bushes to ease themselves but now with this model village approach everyone including children has stopped open defecation," Fred Musingunzi the LCI chairman of Kaburisoke village said.

A young girl Georgina Tusiime says washing hands with soap after visiting the toilet has become part of her life and family members which they used not to do.