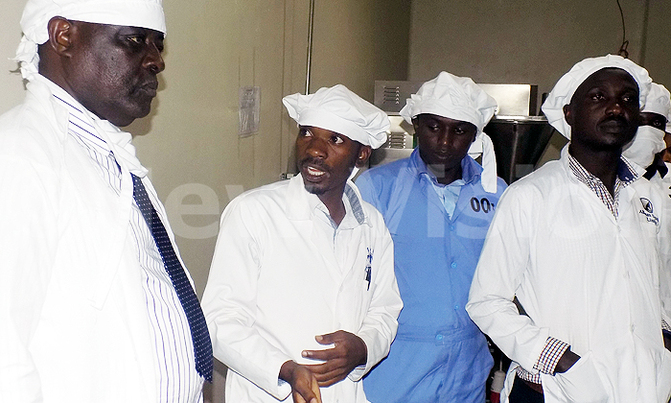 "This is a very wonderful development in our fight against rampant livestock diseases and pests."
AGRICULTURE

The Ministry of Agriculture Animal Industry and Fisheries (MAAIF) will combine efforts with Alfasan Uganda to fight off rampant livestock pests and diseases including ticks.

This was revealed by the Minister of Agriculture Vincent Bamulangaki Ssempijja when he paid a courtesy visit to Alfasan Uganda recently.

The factory, the first of its kind in Uganda, is located in Namanve Industrial park.

"This is a very wonderful development in our fight against rampant livestock diseases and pests," the minister said, explaining that there should now be no reason for importing all livestock drugs, since they can be produced in Uganda.

According to Stephen Birungi, the CEO of Alfasan Uganda and Farm Support Ltd, this venture was started as a need to control the quality and availability of livestock drugs in Uganda.

"I realized that the best way to control the quality of the drugs and medicines was to have a factory set up in Uganda."

Birungi said that because of this importation, the quality of the medicines was heavily affected and the quantities were not readily available. He had to find a way of having the drugs available.

"We should not just make the acaricides and other livestock drugs available, but the quality must also be of the best quality."

It is because of this that Birungi, through Farm Support Ltd, formed a partnership with Alfasan Netherlands International BV, a Dutch company to set up a veterinary medicine plant in Uganda.

Alfasan is a leading producer of veterinary drugs with branches in 120 countries.

Variety of drugs

According to Birungi, the production line will have a total of 36 veterinary medicines and will be operationised in three phases. "We have started with powders which include de-wormers, vitamins etc, and these are already on the market. We shall then start producing liquids, including antibiotics and the third phase will produce acaricides.

The opening of the factory here has got big advantages. "This will allow us to produce drugs at a lower price and to have a faster response time to sudden outbreaks of diseases."

"The rationale of local production is to reduce shipping costs, create flexibility in terms of product supply and pack size. Many small farmers do not use acaricides as the pack sizes are too large and expensive. I estimate that the product will be 40% cheaper than imported products," said Birungi. The packaging of the medicines has been formulated in such a way that they can be afforded by the small farmers.

Factory will reduce fake chemicals and prices

"Estimates indicate a 30-40% price decrease in imported European medicine," Birungi revealed.

Imported livestock medicine from Europe and elsewhere have a significant cost share of labour, import and export levies plus shipping costs. "Manufacturing these drugs in Uganda reduces the mentioned costs, thereby making the drugs cheaper and easily accessible."

It is hoped this will also reduce incidences of faking.

According to a report by the Uganda National Agro Dealers Association (UNADA), in Uganda, it is estimated that counterfeits and fake agro chemicals account for between 20% to 35% of the national agrochemicals in the market, which is a loss of around $6m (about sh23m) per year.

For livestock, faking runs across everything, from de-wormers to vaccines. When vaccines, which are supposed to protect animals from diseases, are faked, the animals are attacked and die.

"A vet used a fake vaccine against Newcastle disease for my chicken. I only got to know it after they were infected and they died," said Sarah Nabirumbi, farmer in Luwero. She had 1,000 layers in the barn.

"This was my third batch of chicken. The first two had performed well. However, the veterinary doctor who had been looking after my chicken was transferred to Mubende. I had to get a new one," she said.

The new vet had other ideas.

Each of the chicken is immunized at sh50, which means that Nabirumbi parted with sh50,000 for the fake vaccines. But that was the smaller of the losses. The bigger loss came when the chicken were affected and they died.

On average, a layer lays at least 300 eggs (10 trays) in its life.

Since the chicken never grew up to lay eggs, then that was sh70,000 lost on each of the 1,000 layers, making a loss of around sh70m. If the chicken had gone through the entire cycle, Nabirumbi would have sold them off as 'off-layers' at sh8,000 each. This would have earned her sh8m.

There are many farmers with similar stories.

On the health side, many of the active ingredients and substances used in illegal and counterfeit products are untested and unproven for human health and environmental safety.

"They may contain highly toxic impurities that can cause adverse effects to operators, standers and consumers by leaving a finite residue on the farm," says the UNADA report.

"The opening of this factory is a milestone for us as livestock farmers because it will cheapen the cost of the livestock drugs," said Godfrey Walusimbi, a poultry farmer.

"Now that these drugs are going to be made here, we know where we shall be taking our feedback."