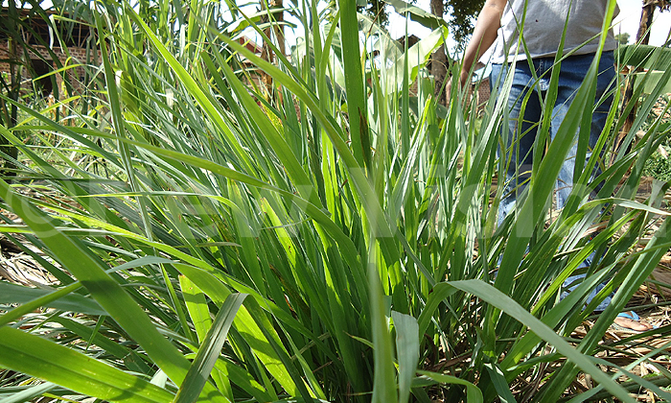 "Studies have shown that lemon grass has antibacterial and antifungal properties."
AGRIBUSINESS

By Joan Koburamuzi

For many years, Teddy Nakitende, a farmer in Lwedde village, Wakiso district, had one lemon grass plant in her backyard, from which she used to pick leaves to spice her tea.

However, when people started flocking her home to ask for some lemon grass for the same tea, she decided to go commercial.

Today, she has as many as 80 plants in her banana plantation from which she regularly harvests leaves for sale.

Some of her neighbours have followed suit, by inter-planting lemon grass with bananas and maize in their backyards.

Lemon grass is a tender perennial plant with a mild melony fragrance and a lemon-citrus type taste.

The stalks are too tough to eat, but they can be chopped and pounded to add flavour to fish or poultry sauces and stir fry.

Lemon grass has long, thin, sharp grass-like gray-green leaves, and a spring onion-like base.

Under ideal conditions, it can grow up to six feet.

Locally referred to as ekisubi (grass for tea), the bush aroma-emitting plant was in the past mainly grown for domestic use. Lately, however, a number of farmers have started growing it on commercial scale.

Doctor Twaha Kakooza is a lemon grass grower and, according to him, nothing treats a cold like lemon grass. "It also cures common health disorders," he weighs in.

"Aside from its sweet aroma, many people make use of lemon grass to alleviate health complications. Many homesteads in villages have the plant lodged somewhere in the compound. This grass has amazing medicinal properties and has been used time immemorial."

Lemon grass can also be included in diet in many ways. Many people make use of lemon grass oil to add flavour to food.


Benefits of lemon grass

Kakooza says lemon grass cures cough, a cold and fever.

"Studies have shown that lemon grass has antibacterial and antifungal properties. When mixed with pepper, it's a home therapy for menstrual troubles and nausea", he says.

He also says that lemon grass is a good cleanser that helps detoxify the liver, pancreas, kidney, bladder and the digestive tract.

"It cuts down uric acid, cholesterol, excess fats and other toxins in the body while stimulating digestion, blood circulation, and lactation," adds Kakooza.

It is said that lemon grass also helps improve the skin by reducing acne and pimples and acts as a muscle and tissue toner.

It can also reduce blood pressure.


Preparing homemade cough medicine

Take some strands of lemon grass, two or three cloves, a small piece of cinnamon stick and turmeric powder and boil with milk or water.

Drain and cool.

Drink the mixture to relieve cough and a cold.

Versatile

Lemon grass can be grown on almost any kind of soil countrywide.

After planting, it is ready for harvesting in eight months.

Nakitende explains that from her few plants, she earns at least sh1m a year, which is an average of sh80,000 per month.

"You must only harvest it during the dry season because during the wet season, the aroma becomes diluted," she advises.

Lemon grass tea is available in Uganda's supermarkets and also in big shops abroad.

So any challenges?

"The biggest challenge comes from dealers who counterfeit this product."