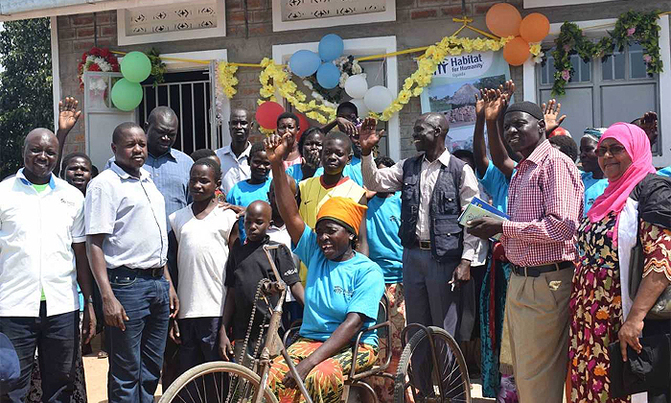 Stella Mary Apolot, a single mother living with disability, is one of the beneficiaries.
PIC: As many as 40 beneficiaries got houses

HOUSING

Today, Uganda continues to grapple with housing challenges, which has left many homeless or sleeping in indecent structures.

Many rural residents are faced with challenges, such as poor housing, education, feeding and lack of access to good health services.

It is against this background that Habitat for Humanity, a humanitarian non-profit organisation, opted to build descent homes for needy Kumi residents.

Stella Mary Apolot, a single mother living with disability and one of the beneficiaries, could not believe that after several years of sleeping in a termite-infested house, she will now have decent accommodation.

The Primary Seven drop-out recounts never having any privacy because she shared her grass-thatched house with her five children.

"Cleanliness was a challenge and whenever it rained, the house got flooded with water as it had a leaking roof," she said.

However, with the coming of the organisation, like for many others in her state, Apolot's hope of having a decent home was restored.

The organisation built her a three-roomed house with a pit-latrine and a tank of water. Hers was one of the 40 homes that were handed over to beneficiaries recently by Habitat for Humanity.
After completing their hands-on courses, beneficiaries were presented with certificates

Stephen Opolot, the vice chairperson of Kumi district, applauded the organisation's selection process of the beneficiaries since it was evident that all the benefitting families were best suited for the support.

He urged the people who got homes to ensure good sanitation in their new homes so that they could live healthy lives.

On the same occasion, 42 youth graduated with hands-on skills, which included welding, hairdressing, construction, catering, tailoring and motor vehicle mechanics.

The youths were former school dropouts. Habitat for Humanity officials worked with area local council members to identify them, before they were admitted to a vocational institute.

The ceremony that took place at Omatenga Primary School in Kumi sub-county also saw graduates receive equipment to help them carry out their work.

The organisation's acting national director, Laetitia Kiyingi, encouraged the youth to use their start-up kits as a source of income to support their families.

She dissuaded them from selling off the kits to get quick cash.

Kiyingi tipped the beneficiaries to keep their homes clean and in good condition.

Statistics from the National Housing and Construction Company show that the housing requirements in Kampala stand at 750,791 units, while those of other towns are at 1,092,318 units and rural areas at 8,482,889 units.

All this makes a total of 10,325,990 units, a figure that might increase in the next years.

As this figure increases, the cost of housing also hikes, increasing by between 10-15% per year, which calls for more interventions to curb this trend.