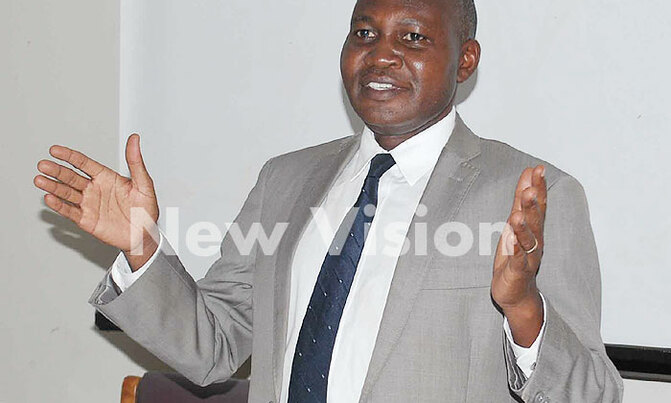 "This in one way answers the quest for Makerere to be a research-led university."
PIC: Prof. David Okello Owiny speaking during the meeting at Kabanyoro. (Credit: Agnes Nantambi)

RESEARCH

KAMPALA - The deputy director of the Directorate of Research and Graduate Training, Prof. David Okello Owiny, has called for the turning of Makerere University Agricultural Research Institute (MUARIK) into a graduate school.

"MUARIK has a good environment. Why not turn this research institute into a graduate school for all MSc and PhD programmes? MUBS has succeeded by creating such a school headed by the dean," he said.

Owiny explained that given the capacity of the institute to manage 500 graduate students, who cannot be handled at the main campus, with most of the research being done at Kabanyoro, this can easily increase on the number of students recruited and also strengthen the college.

He was speaking during the induction of the 6th batch of the Makerere Regional Centre for Crop Improvement (MaRCCI) graduate students at Kabanyoro.

It the second day of orientation, where over 40 students from 13 sub-Saharan African nations are being inducted.

He said turning MUARIK into a graduate institution will increase the research output in terms of publications and graduate students, which in turn would increase Makerere University's visibility.

"This in one way answers the quest for Makerere to be a research-led university," said the professor.

"What we need here are student hostels and university buses running in intervals to allow those moving for lectures plan accordingly and also make lives of international students easy."
Prof. Nabanoga (left) and Dr. Ernest Okello Ogwang chat in the foreground as NARO's Yona Baguma (blue suit) listens to a visiting professor from Zimbabwe in the background. (Credit: Agnes Nantambi)

Owiny implored students to avoid dirty politics and problem areas.

He, however, decried the delaying tactics by some supervisors who make it hard for students to complete in time and advocated for expansion of the scope of supervision to ensure timely graduation.

Owiny hailed MaRCCI centre director Dr. Richard Edema and his deputy Prof. Paul Gibson for the initiative and also congratulated students upon getting the award to study under MaRCCI.

Makerere's deputy vice chancellor for academic affairs, Dr. Ernest Okello Ogwang, hailed the programme for taking into account the gender aspect.

He described MaRCCI as an outgrowth of the Makerere Regional Graduate programmes in plant breeding initiated in the Department of Agricultural Production with support from RUFORUM IN 2008.

"Plant breeding is a discipline that has tremendous potential to improve the food and nutritional security and livelihoods of small-scale farmers who represent 70% of the population of Uganda and Sub-Saharan Africa" Ogwang said..

The principal of Makerere University College of Agricultural and Environmental Sciences (CAES), represented by his deputy, Dr. Gorettie Nabanoga, welcomed the students to CAES and Uganda.

"It is my privilege for having chosen Makerere to be part of the team developing the world in terms of food. This is the best place you can ever find. It is by design to be in Kabanyolo. You are a stone throw-away from a main campus. We are blessed to have the director general of NARO, a sign of our warm collaboration," he said.

NARO is National Agricultural Research Organisation.

Nabanoga applauded the program choice of 50% of men to women saying, any successful intervention must bring women at the forefront to realise success.

Yona Baguma, the deputy director general of NARO, stressed that in order to have a functional breeding programme, there must be a good human resource base with capacity to manage data and create a clear and functional breeding pipeline.

Baguma, who is also the board chair of MaRCCI, noted that the best functional breeding programme must have the capacity to design products suited to different industries for food, feeds and for non-food applications.