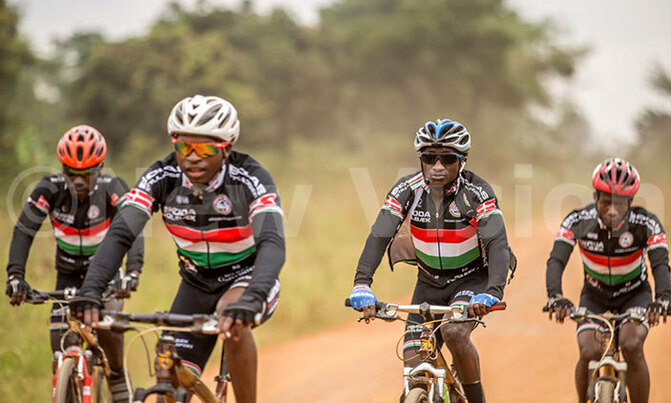 "The four day back breaking venture code named Boogali started September 15 and ended September 19, "Good enough this time around, we had a service van with a rack," revealed the organiser Noordin Kasoma.
Ten cyclists have completed their 580 ride, to mark the international Bamboo Day that started from the Equator at Kayabwe along the Kampala/Masaka highway and went all the way to the panoramic Kisoro district.
"The four day back breaking venture code named Boogali started September 15 and ended September 19, good enough this time around, we had a service van with a rack," said the organiser, Noordin Kasoma.
Last year the riders were ferried back to Kampala using public transport. Tyres burst on the tarmarked roads during the reeking day light and spared them from being hit by speeding trucks on the highway.
"This time round we used dirt trucks that snake through villages," revealed a delighted Kasoma. "This enabled us tour rural Uganda and reach potential benefactors from the miracle grass. It was another form of domestic tourism. We ate different local foods and learned more about different tribes found on the itinerary."
This time round there were seven participants laden with bamboo shoots which they planted in every place where they spent a night, dined or had a health break. They encouraged planting of bamboo grass to fight poverty.
"The tough team comprised of: Jonathan Musoke, Samuel Mwanje, Michael Kisejerwa, Medi Kulabako, Augustine Niyonzima and I the leader," narrated Kasoma. "Like France and Rwanda - biking is going to attract an exodus of participants in future. It is a source of income and is environment friendly."
This is the third time Boogali participants celebrate the annual day in the same style. Biking tourism has been steadily gaining popularity internationally.
"Unfortunately eight international participants pulled out of the ride," said Kasoma. "We had one German, four Danes and three Belgians who cancelled their participation. This has reduced the origin of participants to citizens only."
Worse still National Forest Authority (NFA) which was very morally and financially supportive last year also pulled out. Good enough the team secured abother funder Africa Plantations Capital (APC) has partnered with the cottage indutry to celebrate the day in style.
The APC managing director, Kelvin Kaloki said they are the leading agroforestry company operating in Sub Saharan Africa.
"Our headquarters are in Nairobi with a focus on sustainable bamboo plantation management and value addition," revealed Kaloki. "It is becoming a miracle bamboo grass."
Similar bicycles are being produced in Ghana and there is a ready market in Europe and Asia. Currently the frame made in Zana, on the out skirts of Kampala City goes for $400 but it is expected to drop given the economics of producing in big numbers.
Traditionally Bamboo is a delicacy called Malewa in Bugisu. Gorillas and chimpanzees also love eating it for medicinal purposes and tools to get what they can not physically.
The Batwa are the last gatherers and hunting community, in Uganda, use Bamboo as vessels for drawing,storing water and as cooking utensil. The grass grows wildly and is used either as poles or fencing material. Some use it for roofing, decoration and weaving crafts. But exhibitors during fairs have impressed visitors with: key holders, computer key boards, ceiling boards, charcoal, tumblers, body lotions and paper made from the miracle grass.
Disaster prone areas to: landslides and earthquakes could adapt Bamboo tree planting to combat themselves against effects of climate change. Untill recently it has been growing wildly but farmers in Masaka and Kisoro are picking the momentum to open up huge acres under it.
Kasoma hopes to relocate the Bamboo frame bicycle factory from Zana on the outskirts of Kampala to Kisoro where they have acquired 200 acres of land to crop in with the miracle grass.
"This will reduce our costs of ferrying the raw materials from there to Kampala and impact the current $400 price tag for a frame ordered in Europe or USA," said Kasoma.