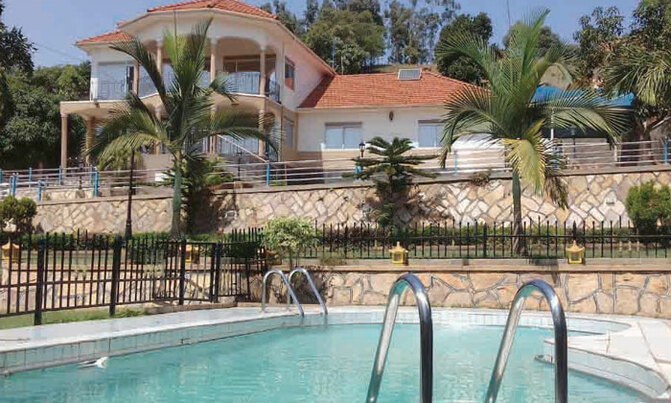 According to sources, Mugimu returned to Uganda very frustrated by banks and resolved never again to use banks. For the 11 months he was in Uganda, he always kept his money in the house or traveled with it.
Last week, Dr. David Livingstone Mugimu, who spent most of his working time on kyeyo in Namibia and returned to retire with a lot of wealth, was found dead at his home at Kikajjo in Makindye Ssabagabo, Wakiso district.

Kampala Metropolitan Police spokesman, Luke Owoyesigyire, said Mugimu is suspected to have committed suicide by consuming a poisonous substance. Thus, Mugimu's 56-year-old life came to an end with a series of misfortune that characterised the last days of his lucrative career away from home. Mugimu is said to have been one of the five top rich people in Namibia.
Luke Owoyesigire

Just before he retired in Oshakati, Namibia, government froze his bank accounts, claiming he had not been paying taxes. Later, the bank transferred all his Namibian dollars N$22m (sh5.8b) from his accounts at Bank Windhoek into a government account at the central bank.
He appealed to the Supreme Court in Windhoek and sued the minister of finance, the commissioner of inland revenue, the Bank of Namibia, Bank Windhoek and the prosecutor.

The Namibian Government insisted that for the years Mugimu had been working as a surgeon in the country, he had been under-declaring his income to evade tax. They said he owed the state N$17.7m (sh4.7b) in unpaid taxes, an additional N$17.7m (sh4.7b) in penalties and interest of more than N$2.5m (sh667m), a total tax bill of N$37.9m (sh10.1b).


When his appeal was dismissed, he returned to Uganda last year. But after hearing about his death, the Namibian government sent condolences and wrote to Interpol Uganda asking for his death certificate. The director, Fred Iga, said the Namibian government promised to protect his property in Namibia, which includes a house, clinic and chicken project.

BACK TO UGANDA
Together with his brother Gordon Sengoye and two drivers, Mugimu drove his three cars, two Land Cruisers and Fortuna, through Zambia to Uganda. However, he was arrested by police officers attached to the Directorate of International Police in Uganda at the Mutukula border on October 6, 2017. It is alleged that he lost sh300m to Police on bogus charges after being tipped off by his relatives.
Mugimu's vehicles

Mugimu was detained and threatened with a charge of money laundering to aid rebellion in Uganda. His three vehicles were also impounded. The charges were later found to be bogus after he complained to the Professional Standards Unit. The two officers, Edison Bukholi and Chris Musana, were arrested and, together with Elly Womanya, the deputy director of Interpol Uganda, suspended.
Mugimu

However, Bukholi has been reappointed to Wakiso, Musana to CID and Womanya to head the Special Investigations Division.

SUICIDE?
Mugimu is said to have committed suicide. Owoyesigyire says he left a note indicating he was frustrated by the robbery of his property and money by police officers. He added that a tin containing suspected poison was recovered from the deceased's bedroom. However, some family members are doubting the suicide story.

BETRAYED BY FAMILY
According to Mugimu's nephew, Bruce Katumba, who was staying with him, the late was betrayed by his own family. The possibility that his relatives connived with Police to fleece him of his wealth, caused him a lot of stress.
"He almost ran mad," Nakyondwa said. "When his situation deteriorated, he could not do without the injections Pethidine hydrochloride and ketamine injections, which work as pain killers and stress relievers.

He became very addictive and I decided to take him to Butabika Hospital to handle the addiction. I got him a private caretaker in a private room, who was instructed not to allow visitors to Mugimu's room. One of his girlfriends called Patience smuggled in a phone after which the deceased resumed contacting his family."

"His ex-wife and mother of his two children, Gorreti Asiimwe, allegedly helped him to escape from hospital. Mugimu jumped over the fence at night and broke his leg in the process. He had to be taken to Mulago Hospital," Nakyondwa said.

THE DAY HE DIED
On the fateful day, Police was told Mugimu sent Haani, who was hired to look after him, to buy him drugs and garden tools. But when Haani returned with only garden tools, Mugimu got pissed and took a bodaboda to get the drugs. He returned and went to his room. When food was ready, they called him to eat in vain, his room was locked and his phone was off.

Hamza, Mugimu's nephew, used a ladder to access his bedroom and found the doctor dead. Neighbours say they heard the first alarm at around 8:00pm, but when they went in, they saw the ladder at the balcony, but were told it was a family misunderstanding.
After about an hour, they heard another alarm and they went back, but this time the ladder had been removed. They were told that Mugimu had killed himself. The door was locked; it was Police which broke into the room to remove the body.

MUGIMU'S MONEY
According to sources, Mugimu returned to Uganda very frustrated by banks and resolved never again to use banks. For the 11 months he was in Uganda, he always kept his money in the house or traveled with it.
Was Mugimu killed?

Kampala Metropolitan Police spokesman, Luke Owoyesigyire, said the incident was reported to Police at around 3:00am and they proceeded to the scene immediately. "We found out that Mugimu had passed on at around 6:00pm, contrary to the 3:00am that Hamza reported. There was a handwritten suicide note saying he had left all his property in the hands of his relatives. We suspect suicide, but we are investigating," he said.

Owoyesigyire adds that Gorreti Asiimwe, the deceased's wife, the two caretakers, Hamza and Haani, his sister Nalwanga, among others, made statements at the CID in Katwe Police. Margaret Nakyondwa, the deceased's sister, believes his death was planned because of his wealth which now included his cars and

house, because the documents about them have since disappeared. When Sunday Vision visited, Hamza refused to come out of his room, claiming he was sleepy and tired and that he did not want to talk to anyone about Mugimu's death. Mugimu's Will was not read on the burial day as planned, Asiimwe did not eulogize as a widow and neither did the sons speak. Asiimwe said she was not staying with Mugimu. "We were not legally married and he had other women. I also came here in the morning, only to find he had died. But I have heard that there was a woman at the time of his death and she has since disappeared," she said. "I heard that someone had the Will and that it would be read on burial day. Why wasn't it read?" she asked.
That attracted to him family members and relatives who were always asking for assistance. But those he gave talked, attracting others to him and those he did not give started grudges.

"Our family became divided because of his money," the source said. In May, after six months of being treated as a criminal, the deceased recovered his three impounded vehicles, laptops, and phones after investigations found him innocent. However, he had not recovered his money.