Kyadondo East MP Robert Kyagulanyi, who returned on Thursday says he feels much better after treatment.
Bobi Wine addressing the media at his home in Magere. Photos by Kennedy Oryema
Kyadondo East MP Robert Kyagulanyi says he feels much better after treatment in the US.

On arrival at the Entebbe International Airport, Bobi Wine says he was confronted by policemen as he disembarked from the plane. The officers allegedly forced him into a tinted White Land Cruiser, which was already parked on the runway.

"Immediately I got off the plane, some of the policemen took away my luggage, passport and other documents and my walking stick. Others grabbed me and forced me into the car," he said.

He said he became worried as he did not know where they were taking him, but was pleasantly surprised when they drove up to his gate. "I am happy to be home. I did not know that I was being brought home to meet my lovely family and supporters," Bobi, who appeared exhausted, said.

Kyagulanyi, who accuses security of torturing him, had flown to the US to receive treatment. He told his supporters and the media that he was feeling better and would resume his duties soon.
A supporter waits for Bobi Wine at his home in Magere
He says he still feels weak.
Kyagulanyi, whose supporters and a section of opposition politicians had planned to receive, could not meet them because the Police had warned the politicians and the public not to hold any meeting or procession.
Bobi Wine supporters at his home
According to the Police spokesperson Emilian Kayima, Kyagulanyi co-operated with the Police and was escoted to his home.
Bobi Wine addressing his supporters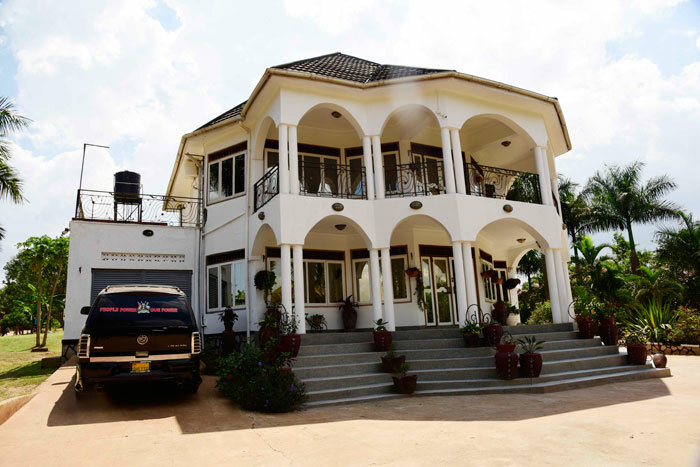 His house in Magere, Wakiso district
Who is Bobi Wine?
Robert Kyagulanyi Ssentamu, was born on 12 February, 1982 in what was then Mpigi district, but is now Gomba district. He grew up in the Kamwookya slum, Kampala.

He attended Makerere University in Kampala, where he studied music, dance, and drama, graduating with a Bachelor of Arts degree. In February 2018, Kyagulanyi enrolled for a course on Leadership for the 21st Century at the prestigious Harvard Kennedy School of Government alongside leaders from different nations.
Wine started making music in the early 2000s. His first singles were Akagoma, Funtula, and Sunda (featuring Ziggy D), which brought Wine into the limelight. He was the leader of the group Fire Base Crew. When that group disbanded, he started a new group, Ghetto Republic of Uganja.

Wine is also a movie actor, mainly starring in local movies. In 2010, Bobi Wine was cast in Cleopatra Koheirwe's drama film Yogera and in a lead role in the Twaweza-supported film Situka with Hellen Lukoma in 2015.

In April 2017, Wine announced his candidacy for Parliament in an upcoming by-election for the Kyaddondo East Constituency. His door-to-door walking campaign attracted a lot of attention both in Uganda and abroad.
He won that contest by a wide margin, beating two seasoned candidates: Sitenda Sebalu of the ruling National Resistance Movement party and Apollo Kantinti of the main opposition Forum for Democratic Change.
In 2018, Robert Kyagulanyi gained increasing fame, championing the victories in most of the by-elections by the candidates he campaigned for, thus beating out the candidates of the political party in power, the National Resistance Movement, as well as the major opposition party, the Forum for Democratic Change.

Wine met his wife while he was at Makerere University and she was a S6 student at Bweranyangi Girls' Senior Secondary School. Their wedding took place in August 2011. They have four children together: Solomon Kampala Nyanzi, Shalom Namagembe, Shadraq Shilling Mbogo, and Suubi Shine Nakaayi.
In 2013, after having shown a good example of caring for his children on his Ghetto President Reality TV Show, he was appointed parenting ambassador by Twaweza.
In May 2016, the U.S. Ambassador to Uganda invited Wine to a formal embassy event, and commented that he was a positive influence for local youth. It is therefore not surprising that he attracted a lot of media attention when he flew to the US recently.