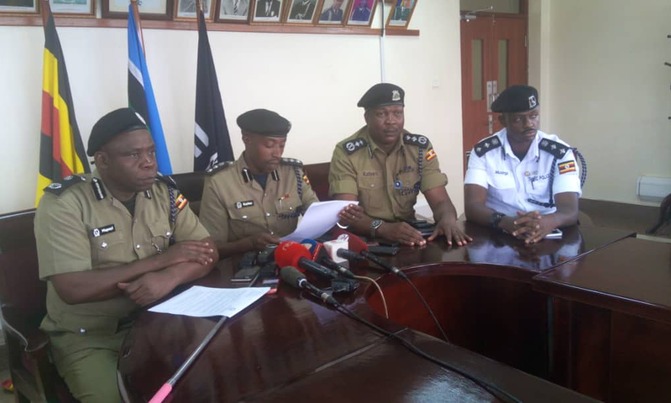 Kayima says the restrictions are in line with provisions of the Public Order Management Act (POMA) 2013, which bars public gatherings unless participants solicit Police permission.
SECURITY

KAMPALA - The Police have slapped restrictions on Thursday's homecoming of Kyadondo East Member of Parliament Robert Kyagulanyi.

Kyagulanyi, also known as Bobi Wine, is due to return to the country from US where he has been receiving medical care since August 31 following his alleged torture in the Arua elections fracas.
Kyagulanyi was arrested and taken to the court Martial on treason charges. He was later given bail after which he flew to the US.
Several groups, including politicians and musicians, have been urging well-wishers to turn up in big numbers to receive the singer-turned-politician.

But in a statement released by the Police no more than a dozen people will allowed at Entebbe Airport, with priority being reserved for family members. The Police say the move is to maintain "peace, law and order".
Entebbe International Airport
"The Police and other security agencies have intelligence of country wide mobilisation of different groups of people who are being distributed with Red T-Shirts and posters calling upon them to participate in processions and assemblies to receive the Hon. MP," said a statement released by Emilian Kayima, the police spokesperson.
Some of the T-shirts that have been produced. The Police has banned wearing such T-shirts
Kayima said the restrictions are in line with provisions of the Public Order Management Act (POMA) 2013, which bars public gatherings unless participants solicit Police permission.
The Public Order Management Act (POMA), passed in August 2013, grants the Inspector General of Police wide discretion to permit or disallow public meetings.


| | |
| --- | --- |
| | Extract from the Public Order Management Act 2013: |


"No member of his family has worked out a mechanism for the intended processions and assemblies as provided for in the law. As a result, they (processions) are unlawful and would disrupt normal business activities including movement of people to and from the airport. A section of parents and members of the public are very concerned at such unlawful, unregulated activities."

Kyagulanyi, who is currently on court bail after being charged with treason last month in Gulu, is accused together with 34 others of stoning President Museveni's motorcade.

The incident happened on August 13 in the build up to a parliamentary by-election in Arua where the president had been campaigning for NRM flag bearer Nusura Tiperu.
In the fracas that ensued, one person died while five were injured.
The election was eventually won by the Kyagulanyi's backed candidate Kasiano Wadri.
Kassiano Wadri
After the unfortunate event, President Yoweri Museveni issued a statement describing the event as shameful.
Shortly after the Police statement was released, Kyagulanyi, who was transiting through Amsterdam Airport en route to Uganda tweeted: "The Police has no business telling me who receives me and who cannot or where I go and where I cannot."

He added:" No single family member will receive me at the airport; I will find them home coz I know where home is. I will be received by friends, colleague leaders and artistes."

He said he hoped to visit his sick mother in Najjanakumbi after which he hopes to visit Kamwokya, before heading home in Magere. He said he hopes the Police will respect his itinerary and allow him go about his business as a free man.
Bobi Wine in Amsterdam. Courtsey photo