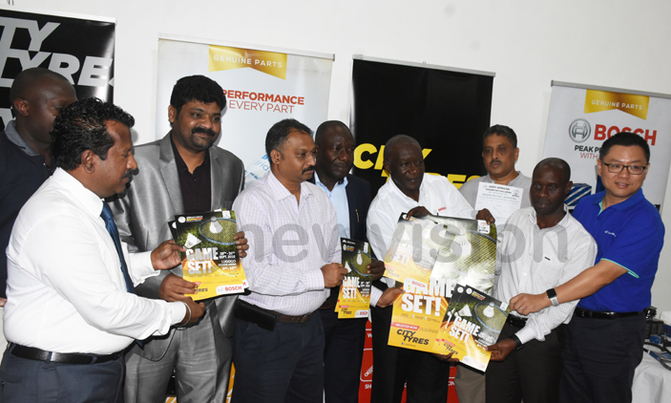 The three-day event funded has attracted participants from Kenya, Rwanda, Burundi and Uganda
From L-R: City Tyres' Venkatesh Kumar,Herbert Bashaasha, Indian Association in Uganda General secretary Mohamed Vaheed, Chairman Mohan Rao, Badminton chairman Shaban Nkutu, Bosch ambassador Eng: Richard Wandawa,Indian Association Uganda vice chairman Sanjiv Patel, Badminton CEO Simon Mugabi and Linglong tyres official launch the East Africa Badminton Challenge

The Indian Association of India executive member Sanjiv Patel has urged government to increase its financial support for sports.

Patel made the appeal in a speech at the launch of the East African Badminton Challenge due September 28 to 30 at Lugogo Indoor Arena in Kampala.

"I appeal to the government of Uganda to take sports seriously because it is no longer for leisure," Patel said.

"We as the Indian Association in Uganda have big plans for Ugandan sports. We are going to draw a plan that will have an exchange program for coaches and players to see that we uplift the standard of badminton in Uganda."

The three-day event has attracted participants from Kenya, Rwanda, Burundi and Uganda, according to UBA CEO Simon Mugabi.

Mugabi also explained that participants will compete in the different categories that include children (U-10, U-13, U-15, and U-19), universities, professionals, corporate challenge, Indian challenge and a national challenge between countries.

"We have got more than enough confirmation and we are ready to go. The Bosch and City Tyres support has added us confidence because, rackets, trophies, prizes are catered for," Mugabi noted.

UBA chairman Shaban Nkutu lauded City Tyres, Bosch and the Indian Association of Uganda for support and urged other organisations to emulate them.