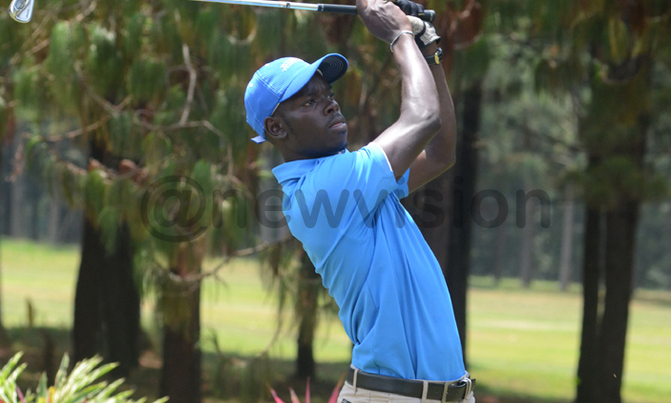 The 2015 and 2016 champion is up against a big field of 135 local and foreign golfers.
Two-time Uganda Open champion Ronald Otile is determined to bag his third title despite the competition that awaits in the Castle Lite Uganda Open that gets underway at Entebbe Club today.

The 2015 and 2016 champion is up against a big field of 135 local and foreign golfers who are registered for the 72-hole competition.

"The number of entries is not a big problem; it is about everyone playing their own game and waiting for what comes out. It is a tough field with Kenya, Rwanda, Tanzania and several local players so it is going to be a good challenge," Otile noted.

"My plan is to lead on the first day and get ready for the second and try to maintain the lead. The greens are rolling nice, the fairways are in good shape so I'm just waiting for tomorrow (today). My putting has improved a lot since yesterday and it is promising as I managed to put in a couple of putts; so it will even get better," Otile who played one-over par 72 during the practice round said.
Castle Lite Brand Manager Julian Ssentamu tees off the Uganda Open at Entebbe Club
This year's Uganda Open might go down as the most competitive going by the number of entries and established golfers that are in the event including Otile's school mate Daniel Baguma.

"I just focused on where to place the ball and from which positions I can get good scores," Baguma said.

Toro Golfer Joseph Cwinyai who returned 72 during practice is among the number local golfers including Joel Basalaine, Herman Mutebi, Dennis Asaba, Hassan Kiyemba, Aron Mugomola and Becca Mwanja among others who are also expected to put in a strong challenge.

"The course is in good shape, it is up to us to showcase what we have been practicing since the year started. I'm at my best right now and I promise to put up a good show in the next four days; I believe in myself, Entebbe used to be a challenge but it is one of my best courses now because I have mastered it and know where to place the ball," Cwinya-i who played level-par 71 during practice promised.

Others include Sydney Wemba from Zambia, Abraham Coetzee from South Africa, Victor Joseph from Tanzania as well as a big field from Rwanda and Kenya that include Emmanuel Rutayisire, Emmanuel Nkurunziza, Isaac Makokha, Edwin Mudanyi, John Karichu, John Kariuki, Zubair Khan, Mutahi Kibugu, Sam Njoroge, Robinson Owit and Paul Muchangi among others.
Castle Lite Brand Manager Julian Ssentamu (center), UGU president Innocent Kihika (6th right) and tournament director John Katto (7th left) pose with the different sponsors' representatives after the official tee off at Entebbe Club
Kibugu who grew up in Uganda, but is playing the Entebbe course for the second time following his Victoria Cup outing last year with team Kenya also promised to put up a good show following his level-par-71 during practice.

Castle Lite Brand Manager Julian Ssentamu officially teed off the tournament yesterday alongside other co-sponsors representatives from Ernest and Young, Annette Kiconco (Barclays Bank), David Odai (Kwese), Lare Namuleme (cba Bank), Serena Hotel and Derrick Ajina (AAR), Brenda Mutesi (Gems Cambridge).

"We shall continue to build the game of golf using the Castle Lite Brand. I call on all people to come and get inspired and be part of this event," Ssentamu stated.