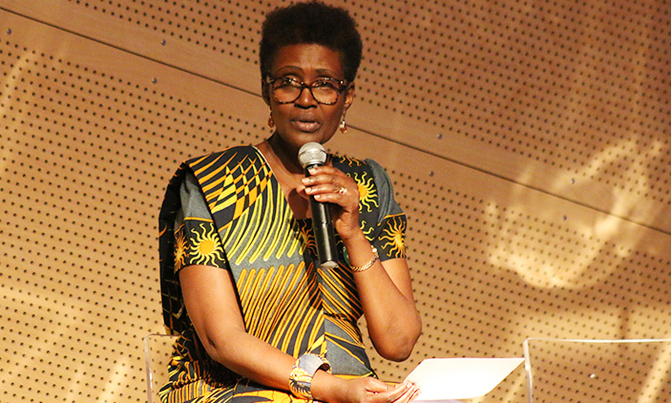 Uganda needs $2.9b to implement climate change mitigation measures
For Costance Okollet, a resident of Osukuru, a remote sub county of Tororo district in Uganda, the perils of climate change started one cloudy evening in 2007.
What came out of the dark clouds was unusual heavy rain that flooded her village and several other parts of eastern Uganda leaving 20,000 families affected and 58,000 people displaced.
Okollet fled her inundated home. She then lived with her distant sister.
Weeks later when she returned, her house was no more. Her gardens had been swept away by floods.
"Potatoes, maize, all were gone," narrates Okollet further pausing a question, "if you were the one, how would you feel?"
Like it did to Okollet, climate change is already forcing, millions of people around the world from their land and homes and putting many homes at risk of displacement according to a report by Oxfam International, a coalition of 20 charitable organizations working to alleviate global poverty.
"The loss of homes, livelihoods and ancestral lands through displacement epitomises the human cost (of climate change)," notes the report that further indicates that, "on average, 21.8 million people (worldwide) were reported newly internally displaced by sudden-onset extreme weather disasters each year between 2008 and 2016."
Okollet, who is now the chairperson of Osukuru United Women Network in her Osukuru sub county, is one of the hundreds of people attending the climate change action summit in San Francisco, California. She is there as to tell the story of climate change impacts and how her community-based organisation is enabling rural families overcome this challenge.
The 2018 global climate action summit officially kicked off Thursday. It brought together leaders from business, civil society, and local government from around the world to take climate ambition to the next level. It is also celebrating the extraordinary achievements of states, regions, cities, companies, investors and citizens with respect to climate action.
While speaking at climate journeys event, one of the several side events of this summit, Winnie Byanyima, the executive director of Oxfam International stressing that climate change is forcing poor people to make difficult discussion.
"Crops are failing. Water sources are drying up. Food is scarce. So people are moving to look for where they can secure their livelihoods," she told participants at the event organise by Oxfam international at the contemporary Jewish museum in San Francisco California.
And Byanyima warned this is not about to end.
"Scientists tell us that these trends will continue forcing more and more people to migrate in the future unless the world takes immediate bold actions," she noted.
Throughout the event, close to a dozen tales of displacement as a result of climate change in several communities across the world including Uganda, Ethiopia, Syria and United States of America among others were told.
Perhaps, the most touching tale was told by Shukri Haji Ismail, Somaliland's minister of environment and rural development.
Shukri narrated the story of a family of nine in Somaliland that lost all its 600 cows from 2015 to 2017 as a result of drought, a climate change related disaster. After failing to cope with the situation, the head this family committed suicide. He left behind his wives and children who are now facing a double tragedy: loss of a breadwinner and increasing harsh impacts of climate change.
To prevent such tragedies, Winnie said people must have all the resources they need to be resilient and adapt to climate change.
Uganda for example needs $2.9b to implement climate change mitigation measures including increasing renewable electricity generation by 3,200 MW; increasing forest cover by 21 percent and wetland cover by 12 percent by the year 2030.
To survive climate change, Byanyima tipped that political decision makers, business executives and financial institutions leaders, "must come together and renew the sense of urgency and offer new commitments for transformative change and action."
And Shukri argued that the, "solution lies in our hands," suggesting that everyone must play a reading role to safeguard the earth from the climate change challenge.
This story was supported by the 2018 Climate Change Media Partnership; a collaboration between Internews' Earth Journalism Network and the Stanley Foundation.