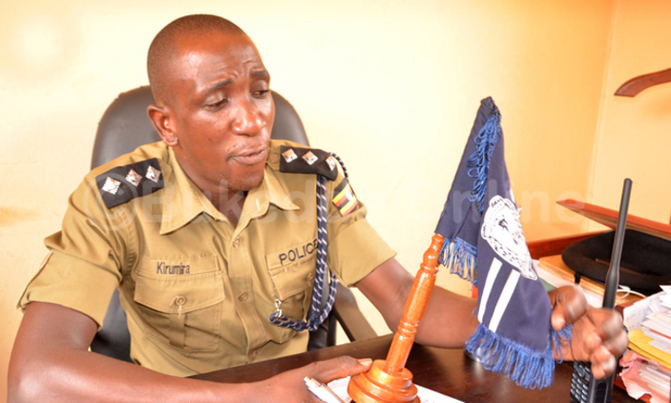 Family friends who exclusively spoke to Sunday Vision said the deceased had attempted to access President Yoweri Museveni for the second time and promised to share contents of his report
SECURITY

Former Buyende District Police Commander, Muhammad Kirumira, who was assassinated on September 8, had a dossier he wanted to take to the President.
It is said the document implicated senior Police officers, whom he accused of corruption and engaging in criminal activities. Kirumira, who described himself as a cop with reason and patriotism, had promised to bring the 'thieving officers to book', but that did not happen.

He was gunned down together with a female companion in Bulenga, Wakiso district. Family friends who exclusively spoke to Sunday Vision said the deceased had attempted to access President Yoweri Museveni for the second time and promised to share contents of his report. Instead, he had been blocked at different levels and he resorted to social media and radio talkshows to expose the officers.

Sunday Vision has obtained extracts of the purported dossier in which Kirumira documented issues about the senior officers, which he intended to pass on to the head of State. "Everything I highlighted was the truth, but instead I was blacklisted. What excites me is the fact that other highly placed sources join my voice," Kirumira notes.
Justice minister Kahinda Otafiire praised Kirumira for raising the issues that were affecting the smooth operations of the Police.
He notes that greed cuts across all sectors in the country and the demand to accumulate wealth and live a good life has dominated the entire public service and that Uganda needs cleansing. Kirumira, in his dossier, notes that crime in the country had been facilitated by that group and their associates for very many years while under protection.

"Criminals in the Police were the untouchable ones using the Police Standards Unit (PSU) to witch-hunt those whom they hated and protecting those whom they loved," he notes. The dossier lists names of some implicated officers, but Sunday Vision is unable to publish them due to legal reasons.

In his dossier, Kirumira again accuses senior Police officers from the Flying Squad of dealing in the circulation of counterfeit currency, both in the local and foreign currency as well as robbery and stealing motorcycles. Some of the officers implicated are now under detention by the Chieftaincy of Military Intelligence (CMI) and Internal Security Organisation (ISO).

"If you can recall properly, all those are the things I used to fight long time ago, but the Police family had consistently chosen to defend them until some of them were either killed by the very Police, by the mob or imprisoned by the military," Kirumira notes.

Kirumira, in his dossier, recalls some of the events implicating Flying Squad operatives in criminality, including when the then Police spokesperson, now Mityana Woman Member of Parliament, Judith Nabakooba, was assaulted, indicating that an officer attached to the unit was arrested and a gun recovered from his home. He also speaks of how criminal elements were recruited into the Flying Squad Unit.

"Imagine how security could recruit criminals and arm them, give them offices, cars and other official equipment like handcuffs, uniforms, batons, radio calls, among others," he wrote. Kirumira also notes that the engagement of criminals in Police work made it easy for crime to escalate and asked for immediate arrest and prosecution, insisting he had evidence pinning each of them.

He also noted that even with the disbandment and appointment of new heads of some of the units, "these criminals are still protected by their friends in the crime intelligence and flying squad."

On the issue of crime preventers, Kirumira warned that many of these were still attached to Police stations, even though they had been ordered to vacate and be in the reserve army and that, "many had vowed to disobey the command of the current Inspector General of Police through antagonising him".

Kirumira urged the President to intervene if things were to get any better. He penned a long dossier and also conducted a series of media interviews in which he stated that the Police was rotten from the top. Subsequently, an investigation by the ISO and CMI led to the arrest of several Police officers, including the former Inspector General of Police, Gen. Kale Kayihura.

Others arrested included Faisal Katende, Magada, Joel Aguma and Good Mwesigwa who was the head of PSU and are both commissioners of Police. Agasiirwe Nixon, the former commander Special Operations Unit; Muhangi Herbert, former Flying Squad commander; Richard Ndaboine, former commander of cyber-crime unit; Abel Kitagenda, former regional Flying Squad commander at Kawempe; assistant Inspector General of Police; Nduhura Atwooki, former crime intelligence director, among others. Jonathan Baroza, a former ADC to Gen. Kayihura, is currently on the run.

On boda boda 2010
On the issue of theft of motorbikes, Kirumira notes that bodaboda thefts reduced with the collapse of bodaboda 2010, a group led by Ibrahim Kitatta and company, now facing charges of unlawful possession of firearms in the Army Court Martial.

He explains that he personally tracked their cases right from 2010 up to 2016, but the influence Kitatta had in Police meant that none of his agents could ever be prosecuted under the laws of Uganda.

"As we talk now, his associates who are on the run, have over 100 cases to answer, registered around Nateete, Wandegeya, Kawempe, Old Kampala and Katwe stations. These cases involve murder, robbery, assault and malicious damage to property."

Kirumira also notes that some of the files had been sanctioned by the Directorate of Public Prosecutions, but no effort had been made to cause arrests. Kirumira notes that he had received threats from one of BodaBoda 2010 strongmen in Busega. He said he told him he was the one responsible for the collapse of their bodaboda business and that he would deal with him.

Traffic Police

On the issue of corruption in the traffic department, Kirumira exposed a senior officer, who was based at the Central Police Station Kampala, but has since been transferred to an upcountry station. He insisted that the officer should not have been merely transferred, but instead investigated for corruption and abuse of office.
The Police have been named as top on the list of most corrupt institutions.
"Imagine other traffic officers have always been arrested over a mere sh1,000. And this even reduced the strength of manpower for the department all over the country, but one (name withheld), who has caused alarm in the whole Kampala Metropolitan Police area and tarnished the image of the force, is just transferred elsewhere as if things are normal," Kirumira states.

He notes that the officer should have been sent to PSU to answer queries over his alleged misconduct. "Why is it that the law acts on some and leaves others untouched?" Kirumira wonders in his dossier.

He also accused the traffic Police departments of using the breakdown service vehicles to solicit a lot of money in pretext of paying for the same. "Imagine from Pride Theatre junction to Old Kampala, they would charge between sh100,000 to sh150,000, then from Clock Tower to CPS, it's sh200,000.
From Electoral Commission to Jinja Road Police Station, it is sh100,000. This is too much," Kirumira notes. It is 2.6km from Electoral Commission offices to CPS.
He also insisted that the head of traffic at a unit in the force must be a mechanical engineer with a bias in physics, but it is unfortunate that many of the ordinary traffic men cannot even drive a vehicle, let alone own driving permits.

They do not even know the basic mechanical problems in vehicles and that is why they cannot even understand whether an accident was caused by mechanical breakdown, fog, mist, rain, speed, reckless driving or drug and alcohol influence." Kirumira notes that if managing traffic was to improve, "deployment must change from being nepotismbased to technical-based.

He says the major problem is that senior men are as corrupt as young cadets". He also notes that some of the traffic officers connived with Kampala Capital City Authority guides to extort money from taxi drivers.

Kirumira also accused PSU officers of doing nothing apart from collecting files and heaping them in archives. "They selectively handle a few and the rest, they leave for godfathers to handle their children, who are connected," he notes.

He also accused some senior officers (names withheld) of getting involved in gold selling scandals in the country and protecting the conmen making a fortune. Kirumira also accuses another senior officer, who was among those heading traffic operations at the central Police stations, of being in possession of illicit wealth.

Kirumira woes
Kirumira's woes in the Police force started in 2015, when he was arrested while still serving as the officer in charge of Nansana Police Station. The state alleged that he removed two suspects from cells, undressed them, beat them and later cut off the right-hand thumb of one of them. He was also accused of soliciting a bribe. This was after a suspect claimed to have sent him money on his mobile phone.
Kirumira while OC at Nansana Police Station
He would later be recalled back to office by the late Andrew Felix Kaweesi, who was then Kampala Metropolitan Police Commander. Kirumira was then sent for training and later posted to Kasese.
The late Andrew Felix Kaweesi
Kirumira was so close to Kaweesi that he named his baby Afande Kaweesi. Unfortunately, he was murdered in the same style his mentor, Kaweesi, was killed, one and half years later.
He would later be brought to Kampala as the Old Kampala Division Police Commander, but later transferred to Buyende as District Police Commander. It was from here that he was suspended and sent to the disciplinary committee.