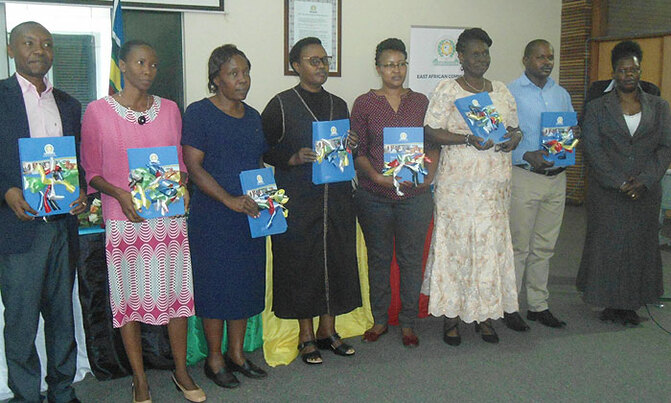 "Women and girls stand out most in the gender discussion because they are under-represented and thus need to be mainstreamed into decision-making positions."
PIC: Mary Mugyenyi launched the gender policy alongside conference delegates from the EAC countries. (Credit: Penlope Nankunda)

GENDER

By Penlope Nankunda

ARUSHA - The East African Community (EAC) Gender Policy has been launched, with a call to member states leaders and stakeholders to use it to deliver gender equity and equality to all East Africans.

Monday's launch of the policy in Arusha, Tanzania followed its adoption by the East African Legislative Assembly (EALA) in Kampala earlier this year.

Its aim is to mainstream gender in all aspects of the EAC integration process by promoting the different and complementary roles of men and women in all regional activities.

"As the EAC secretariat, we appreciate that despite these challenges, partner states have made tremendous advances in addressing the ensuring gender equality as a key principle of the EAC integration," said Christophe Bazivamo, the EAC deputy secretary general of productive and social sectors, whose speech was delivered by Mary Makoffu.

Makoffu is EAC's director of social sector.

"The policy will further strengthen the mainstreaming of gender concerns in the planning and budgetary processes of all sectors in the EAC organs, institutions and partner states," she said on behalf of Bazivamo.
Mary Makoffu spoke on behalf of Christophe Bazivamo

Ahead of the launch, Sheila Kawamara Mishambi, a former EALA member spoke passionately about gender matters.

"People do not realise how easy it is to ignore gender equality issues. I cannot count the number of times I have been invited to a programme where we had to reword entire programme documents last minute because gender equality issues were not considered," she said.

Mishambi said an active gender policy would ensure that such scenarios are reduced, at least in the EAC.

She is currently the executive director of the Eastern African Sub-Regional Support Initiative for the Advancement of Women (EASSI).

In August 2012, a meeting of the EAC Council of Ministers directed the secretariat to develop policies on gender equality, youth, children, social protection and community development.

Broad consultations with gender experts, civil societies, interest groups and all stakeholders have since been held on development of a responsive policy document to ensure that the rights of women and men, boys and girls are promoted, protected and realised on an equal basis.

'No-one should be left behind'

"Women and girls stand out most in the gender discussion because they are under-represented and thus need to be mainstreamed into decision-making positions," said Abdikadir Omar Aden, who chairs EALA's committee on general purpose.

"They also make up the largest part of the population.

"But interests should be mainstreamed across gender. No-one should be left behind. Special attention needs to be paid to the boy child, even as we push for the interests of women and girls," he weighed in.
Prof. Mary Nabachwa delivered the keynote address
A cross-section of delegates at the conference in Arusha


During the launch of the policy, Uganda was ably represented by her female EALA MPs Mary Mugyenyi and Rose Akol Okullu, Mishambi (former EALA MP) and the conference's keynote speaker Prof. Mary Nabachwa.

Ugandan officials from the gender ministry and civil society organisations also attended the conference.

'Making it relevant'

They welcomed the policy, saying it would add on the tools with which Ugandans and East Africans at large can hold the duty bearers accountable to deliver on the gender agenda.

"Uganda already has some of the best policies in the region. This EAC gender policy will only help us to improve on the good we are already doing," said Akol.

Explaining that EASSI is central to framing the new policy, Mishambi was glad for a new advocacy tool for East Africans.

"I cannot express how excited I am to see this policy come to light today. East Africans can now legally demand gender equity and equality from our respective governments. We now need to take it from paper and make it relevant to the ordinary citizens," she said.
The German Development Cooperation (GIZ), who funded the policy development process, noted the need to jointly investigate further where laws and regulatory environments facilitate or hinder gender equality and women's economic participation, and develop specific activities or interventions to remove the barriers.

"The best strategic way to hit the representation target of 50-50 by 2030 is to learn from the partner states and the community's history, respond to the main challenges, mobilise the different communities and partnerships, change methodology in action and focus on equity," said Dr. Kirsten Focken, GIZ programme manager.

His speech was read on his behalf by Joyce Abaro, GIZ senior advisor.

"Smallscale business women and underprivileged groups are highly entrepreneurial and are expected to be the biggest beneficiaries of the new EAC Gender Policy.


Delegates took a group photo in Arusha