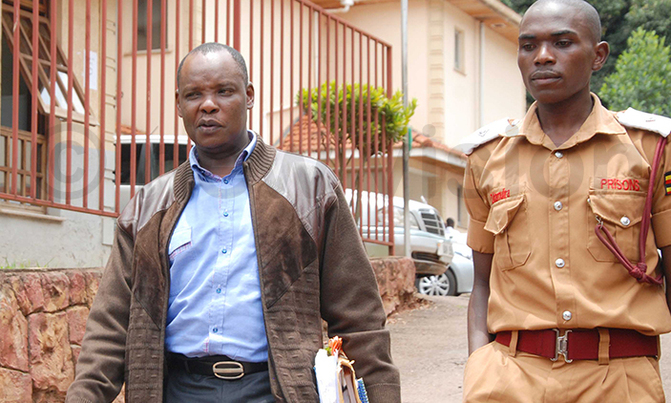 He is facing eight counts of theft, three counts of forgery of a judicial document, one count of conspiracy to defraud and one count of conspiracy to commit a felony
Josephine Namatovu, a state prosecutor in the sh15.4b pension case has narrated before court how city lawyer, Bob Kasango allegedly stole the money.
While making their final submissions in the over two year old case, Namatovu said Kasango was the architect of the fraudulent scheme through which government lost sh15.4b that was irregularly processed and paid to a defunct law firm Hall & Partner.
"He played a critical role in demanding for the payment of sh15.4b, falsifying court documents and receiving the stolen money," she noted in her opening remarks before an almost empty court on Thursday.
Kasango, a lawyer with the Marble Law firm who is currently in detention at the Murchison Bay prison in Luzira, and his three co-accused former ministry of Public Service bosses were appearing before Justice Margaret Tibulya of the Anti-corruption court.
His co-accused Jimmy Lwamafa, Permanent Secretary, Christopher Obey, Principal Accountant and Christopher Kiwanuka Kunsa, Commissioner Pensions, are currently serving jail term of 7, 10 and five years for defrauding government of sh88.2b that was meant for the payment of social security.
Kasango is facing eight counts of theft, three counts of forgery of a judicial document, one count of conspiracy to defraud and one count of conspiracy to commit a felony.
Yesterday, in their final bid to secure a conviction from the judge, Namatovu said that the sh15.4b payment to the defunct Hall & Partner account in Barclays bank was triggered by forged documents that Kasango allegedly presented as basis for payment.
She explained that the fraud stated right from the time when John Matovu, a Kampala based lawyer, representing the 6,339 retrenched service men in the taxation case at the civil court was advised to procure services of an NRM lawyer or one that knew the people that matter the most in government.
The taxation was to help the service men who had earlier won a case against government for irregularly retrenching them, to get their damages, costs and pension.
Namatovu said that Matovu heeded the advice and got Kasango, signed a Memorandum of Understanding with him and tasked him to collect his legal fee which was 15% of the sh4.5b that was to be paid to the pensioners as damages.
According to the state, Kasango was to get 1% from the 15% he was to collect. Matovu
The fraud
Three days after the taxation proceedings failed to take off, Kasango allegedly forged a notice of joint instruction which he back dated to July 29 2011, yet MOU he signed with Matovu was dated Aug 1, 2012.
Namatovu said he did not serve a copy to Matovu and only served it to the ministry of justice. Notice of joint instruction is required in court for purpose of enabling it establish which lawyer is authorized to handle a particular matter.
He also allegedly wrote to the Ministry of Public Service asking for the payment. In the letter, he allegedly copied it to the solicitor general but in reality, the letter never got served to the office.
Namatovu said that using the notice, Kasango forged a certificate for two counsels which he used to secure the money without telling Matovu about it.
"This was intentional and intended by A4 (Kasango) to stealthily pursue the costs without putting PW1 (Matovu) in the know," she said.
She said that later when Matovu confronted him with the facts that his defunct firm had received sh15.4b, he apologised and promised to pay him.
She alleged that Kasango also forged a certificate of order against government even before the taxation case could be heard.
She said Kasango further went ahead to secure e remuneration agreement with three of the ex-service men who were not leaders of the group, so as to justify his illegal actions.
"It was signed by only him and the three people who were not authorized to represent the 6,339 pensioners. Though it was notarised, there was nothing to show that it was registered by the Law Council. This type of agreement is unenforceable," she said.
she stated that in the forged certificate of order against government, Kasango was allegedly recorded on tape by Justice Eudes Keitirima, whose signatures was on the document, saying that the judge was duped into signing
She noted that in the documents, Kasango signed on behalf of the marble law firm but received the money on an account of a law firm that was deregistered in 2005
"He may lie but will never run away from the truth. His evidence is characterized with lies and afterthought," she said while dismissing Kasango's claims that all the documents were given to him by Matovu.
Justice Tibulya has adjourned the case to October 12 for further prosecution submissions.