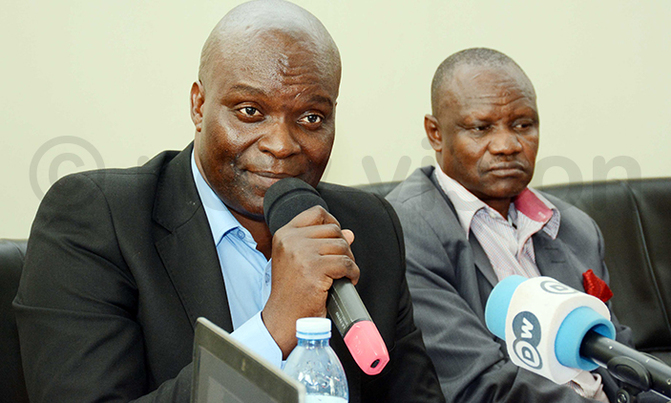 It was suggested that AMISOM changes tactics to include winning the hearts of Somali citizens as a strategy to end the insurgency
Despite still facing challenges in regard to the sophistication of the Al-Shabab improvised explosive devices (IEDs) and the lack of attack helicopters, the Uganda People's Defence Forces (UPDF) boasts of great success in its 11-year presence in Somalia.
Operating under the African Mission in Somalia (AMISOM), the UPDF maintains that it takes the pride in being the vanguard of the current peace and security in Somalia.
"Where no one else was coming up, we thought as a country and army we needed to take up the responsibility in the spirit of Pan Africanism because they are neighbours and brothers," said Col. Paddy Ankunda, the director strategic communications of the UPDF.
He was on Thursday speaking at a symposium on Uganda's role in stabilising Somalia, which was organized by the Makerere Law School, where he represented the Chief of Defence Forces, Gen. David Muhoozi.
According to Ankunda, the AMISOM forces still need partners to increase support to the forces to resolve the current challenges including acquiring counter IED capability, securing attack helicopters and protective gear to detonate the explosives before they kill anyone.
"There is no doubt that UPDF will exit Somalia because there is already a plan discussed at a high level, we should not leave to donate the nation to Al Shabaab " he stated, adding that there should a smooth handover.
The symposium held under the theme, 'Saving Somalia? UPDF Intervention, Pan-Africanism and the cost for Uganda', attracted students from the law school and academicians.
Five panellists; Col. Ankunda, Lydia Wanyoto, former legislator of the East African Legislative Assembly, Dr. Sallie Simba, the executive director of the Centre for Basic Research, David Pulkol, the executive director African Leadership Institute and Martha Tukahirwa from the Strategic Initiative for Women in the Horn of Africa.
They also discussed a paper titled, 'In the spirit of Pan-Africanism, what is Somalia after Al-Shabaab and without AMISOM', presented by Yusuf Sserunkuma Kajura, a PhD fellow at the Makerere Institute of Social Research (MISR).
Ankunda outlined several key factors at play in Somalia, including clans, which he said although their role and existence has been criticised by African intellectuals, he argued that they should instead be used to unite Somalia.
Others, according to him, are the Islamic fundamentalism, where citizens pray together in a Mosque but "come out and fight over issues they can agree on", which he said was still disturbing.
"We must tackle the issue of Islamic fundamentalism, we hope someone can talk to Al Shabaab militants to abandon it," he stressed.
Other issues, according to him, were piracy, although he said AMISOM forces had eliminated it, unity and coordination of national forces and return them to the barracks instead of staying with the different clans.
He suggested that the issue of Pan-Africanism should continue to reign in the pursuit of peace and security, arguing that Africa can only managed by Africans themselves.
Wanyoto regretted that the losses in human life Uganda incurred in Somalia recently would not have occurred if AMISOM had been well facilitated by its partners.
Simba suggested that AMISOM changes tactics to include winning the hearts of Somali citizens as a strategy to end the insurgency, which he said was hard to overcome with conventional warfare.
"We need in place a counter ideology against that of Al Shabab, otherwise AMISOM will continue to be viewed as an occupational force," he stated.
Simba suggested that the Uganda government should be aggressive in pursuing an economic line in Somalia so that it does not stop at fighting to create peace and leave other non-troop contributing countries to reap from her efforts.
Pulkol wondered whether Uganda was satisfied with the current situation in Somalia, saying 11 years later, he felt ashamed that the accomplished mission was still small.
He also wondered why majority of African states had left a few countries to take on the burden and ignored the spirit of Pan Africanism ideology.
"Why has Uganda failed to market the ideology of Pan-Africanism to the rest of the African states?" he inquired.
He however commended the UPDF for its role in ensuring regional stability but criticised it for its recent role in claims of torture of Members of Parliament during the Arua Municipality by-election, saying the actions had downgraded its achievements elsewhere.
"When we consider what the Special Forces Command did when they beat up legislators inside Parliament and in Arua, we wonder whether they are part of UPDF because they are spoiling the image of the entire force," he said, adding that those involved should be brought to book.
Several other contributors suggested for a peaceful approach to end insurgency and conflict in Somalia, in addition to the military approach.
The symposium was attended by Col. Ba-Hoku Barigye, the deputy chief political commissar of UPDF, Ret. Maj. Okwir Rwaboni, Prof. Mwambusya Ndebesa and Prof. Alfred Nuwagaba among others.