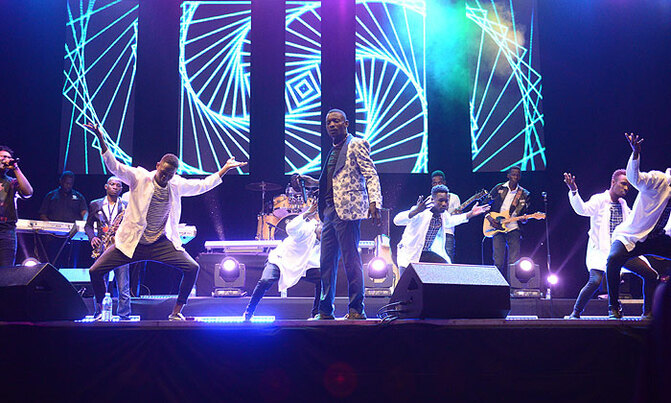 It is simply amazing that at just 38 years of age, gospel musician Martin Sseku boasts legendary status.
Martin Sseku performs at his 20th anniversay concert in Kampala. (Credit: Ronald Mugabe)

MUSIC

Last Saturday was a very special day in the life of one gospel minister.

To many a Christian, Martin Sseku is one of those young men that brought dance to church. He made sweat-inducing styles of dancing part of the Christian life in Uganda -- a practice that would later on spread beyond Uganda's borders.

And it was evident most of his fans that showed up for his 20th anniversary concert at the Kampala Serena Hotel were there to relive those precious two decades with him. He made the experience a lot greater by unveiling a 100-track MP3. This has both his newest music and the old-time hits he did when he started singing in 1998.

It is simply amazing that at just 38 years of age, Sseku boasts such legendary status.

And he is not done yet.

He says he is raring to another 20 years to his rich music career. Besides singing, Sseku is also an evangelist, music producer, songwriter and motivational speaker especially to the youth.

Starting out

Sseku and his siblings were born and raised in Namungoona, a Kampala suburb, by their parents Mpanga and Joyce Nabyonga. He went to three schools for his primary education -- Kawaala Parents School, Chwa-II Memorial College and then Namungoona Primary.

He later joined Kampala High School up to Senior Six and then moved to Chwa-II Memorial College where he completed his seconday schooling. His next academic chapter was at Makerere University, where he pursued an Arts in Arts degree in 2003.

"I started out in 1997 but I recorded my first song in 1998 after meeting Pr. George Okudi. We used to move with him to different places for ministry and that is when I began mastering the art of music. There was also someone called Denis Katooke (who is now based in London). Those two did much to enlighten me musically," Sseku recollects.

Since recording his first song titled Lord, we need to be with you, Sseku has never looked back.


'Music part of my life'

He has released a lot of music over time and boasts of over 100 songs as of today. He is keen to add that there is a whole lot more from where that came from.

"I have only reached halfway the journey. I believe I will still minister through music for the next 20 years. For as long as I live, I will sing for the Lord because it is the best I can do for Him and His people."

Celebrating 20 years in the music industry is such an accomplishment

It is a desire he has harboured from his early life.

"As a young boy, I loved engaging in music, dance and drama in school. This enabled me to learn how to play several musical instruments. And when I joined church after being born-again, music was already part of my life and I have lived on music since then," he says.

The song that propelled Sseku to fame was Silitya (translated directly as 'I will never fear').

"During one of our singing sessions, I was approached by a man called Rogers Jemba. He said he liked my singing abilities and took me to Dream Studio in Kamwokya. He gave me an opportunity to record my first solo full album. This was around 2002. It is on this album that I had the song Silitya and it became an instant hit."


Doors of opportunity

This song opened doors for him and he started going places; around the country.

"One of my most fond memories of the gifts the song earned me was a cell-phone. At the time, I did not have a phone and one day, I sang and someone in the audience got so excited and gifted me with a phone. You should have seen how ecstatic that got me. From then, life changed for the better and I realised God was going to bless me more if I served him more diligently," he says.

Sseku's rise from grass to grace was just at its junior stage with Silitya. He learnt this after releasing another hit single, Koona endongo ya Yesu in 2004.

"Those days, radio and TV stations were few but had nationwide coverage. This made it easy for good music to reach everyone on the countryside so quickly because they watched and listened to only those stations. With this song, many doors were opened for me and I resolved to do more good music," he elaborates.

According to Sseku, this is the time leading city pastors such as Robert Kayanja of Rubaga Miracle Centre, Jackson Senyonga of Christian Life Church and Kiwewesi of Kansanga Miracle Centre started inviting him to minister with them.

"I also started moving around many schools and universities and more people were pulled to my ministry."

Inspiration

"While I was still young, my dad used to play music a lot," recalls the musician.

"He had records by great musicians such as Lucky Dube, Dolly Parton, Don Williams, Kenny Rogers and Kirk Franklin. Every time I listened to their music, I fell in love with it. This inspired me so much that by the time I joined church to sing, I already had beautiful tunes playing in my mind almost all the time."

People such as Pastor Okudi and legendary gospel group Limit-X also did a lot to nurture his talent.

Handling fame

The gospel hits Sseku did in his prime undoubtedly made him one of the most popular acts of the early 2000s. He was a very young man, still in school, but worked with outstanding personalities in society.

This came with some money and fame.

It was easy for him to slip into that 'untouchable' mode but according to him, he never ever chose to see himself as that big.

"I looked at myself more as a minister than a celebrity. I looked at the music as more of a duty than a business.

"People would scream out my name and hold me in high regard but through regular prayer, I gained a lot of humility. Prayer taught me that I had a bigger name (Jesus) to elevate than mine. I learnt not to make the mistake of elevating myself more than the Lord that had called me to serve," he says.
Sseku oozes youthful vim every time he steps on the stage


Going international

Around 2007, Sseku seemed to disappear off the local music scene. According to him, this is the time he started making international trips to several countries including Denmark and Sweden.

"This gave me fresh things to learn," he reveals.

"The way music was handled and appreciated there was on another level. They paid a lot more money for music and appreciated the art more. This made me think of relocating there.

"This is the time I chose to do more international music and started doing more songs in English. More so, I stopped doing videos for my songs. This is what made me seem inactive in the local music industry."

But it was not rosy all through.

Some family issues also arose around that time and he was forced to dedicate more time to resolving them than doing music.

Returning to local scene

"After about three years, in 2010, I decided to re-establish myself locally. That is when I did my first concert at Watoto. It was titled Unplugging Sseku Martin," he says.

His reestablishment wasn't so much publicised and it therefore took some time for people to know he was back to singing music for the local audience. The slow progress forced him to move to the US because he thought it would offer better opportunities.

He soon returned and again did a local project in 2014. He has since been working hard to restore his footprint on the local gospel music scene.

Through this, he has helped many young gospel artistes including Levixone, Robinsan and Coopy Bly to form a strong backbone for their respective gospel music careers.

"I have done music with some of them such as Coopy Bly (Olwokano), Levixone (Ono) and Joy Tendo (Teli Akwenkana), among other songs."

Sseku has now ventured into live productions -- something he attributes to inspiration by Cece Winans.

His take on the local gospel industry

According to Sseku, the local gospel music industry is still not where it should be, but it is growing at a promising rate and standard.

"It is still hard for large companies to believe in local gospel stars, just like they do with the secular artistes. This is a huge challenge yet our audiences also have consumers of the products of these companies.

Sseku also says a huge number of pastors have not come out to support the ministry arm of gospel musicians.

"Most pastors still believe that gospel artistes should come to minister in their churches for free, yet producing that great music and videos is done expensively. This discourages some talented Christians from doing gospel music. Pastors should learn to facilitate musicians handsomely so they can also improve on their quality of work," he advises.

He also adds that a huge number of people that are used to secular music are reluctant to embrace the gospel musicians yet when you do some analysis, gospel musicians are a lot more talented and do "sweeter" music.

"I want to thank the young gospel musicians that have not been tempted to cross into the secular world by this. Singing gospel music is a calling and I have great respect for the youngsters that have remained true to the call. We can only hope for better in the future."

With him continuing to walk down his path as a Ugandan gospel music legend, Sseku only sees bright light at the end of the tunnel for the entire industry.