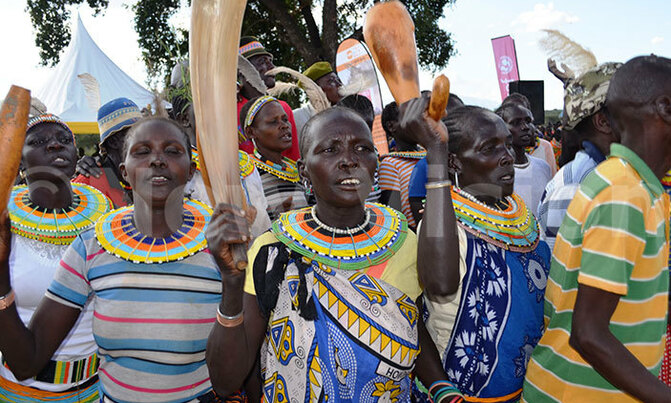 Rebecca Kwagala, the in charge UNICEF Moroto zonal office, said her agency will not rest till FGM, child marriages and other harmful practices against women and girls are wiped out.
KARAMOJA- The UN agency for children - United Nations Children's Fund (UNICEF) has asked local leaders in Moroto, Nakapiripirit and Amudat districts to commit to eradication of the archaic female genital mutilation (FGM).The act involves cutting of female genitalia.
Rebecca Kwagala, the in charge UNICEF Moroto zonal office made the remark at the Pokot cultural gala on Friday held at Looro Primary School, Looro sub-county in Amudat district.
"Personal commitment of individuals, political, cultural and religious leaders can increase understanding," she said adding that there is urgent need to stop FGM, child and early marriages within these districts.
Kwagala said it was essential for both leaders to honour declarations made in the recent past.
"We need to ensure that girls and women are effectively kept uncut not married off at an early age and taken to school," she said.
Kwagala said her agency will not rest till FGM, child marriages and other harmful practices against women and girls are wiped out.
She however, said, "It was inspiring to see a positive shift from harmful social norms that have held FGM for generations."
"Most notably 125 villages have collectively made public declarations for FGM abandonment," Kwagala noted adding that last year 30 villages were declared FGM free out of which six were from Looro sub-county in Amudat district.
She said as Amudat district commemorates the 10th Pokot culture day, "Government should accelerate the implementation of international and regional commitments. It is critical to ensure that the prohibition of FGM of 2010 and the children's act 2016 as amended are implemented."
The LC3 chairperson, Looro sub-county Francis K'ongole, decried the increased cases of FGM in his area.
"I would like to bring this matter to government that FGM is still rife within communities," he noted.
K'ongole attributed the increase on the porous Uganda - Kenya border adding that girls trek long distances to be cut in Kenya.
He however asked government to ensure roads are opened to ease intervention into these harmful practices.
The programme co-ordinator at the UN's population fund -UNFPA Dr. Bernadette Nalumansi Ssebaduka said FGM is still rampant in Karamoja.
She said the girls and women still run to the caves and rocks to be cut across the borders.
Ssebaduka was optimistic that with a good leadership voice against FGM the communities would embrace the abandonment of the practice.
"Leaders may appear silent but we need to build a momentum to slow down the practise," she added.
Ssebaduka said her organisation was working out a plan on how to handle their Pokot counterparts in Kenya noting that the threat is those who have taken it as secretive.
"FGM is against the rights of women and girls," she said asking the communities to abandon the vice.
The Chief Administrative Officer, Amudat district Seraphine Alia, also decried the increasing cases of FGM in the district.
He identified Naguliet village as one of the areas that have rejected the shift from harmful cultural practices.
Seraphine asked government law enforcers to treat FGM as a serious issue impacting on girls and women negatively.
"Once someone has been subjected to FGM there is a problem of recovery," he said.
The district boss, however, congratulated UNICEF for the tireless economic efforts to fight FGM.
The celebration held under the theme," Working together for abandonment of harmful traditional cultural practices" attracted several people from Kenya, religious leaders and leaders from the neighbouring districts.
Related Stories
Female Genital Mutilation must end
Female Genital Mutilation still a nightmare