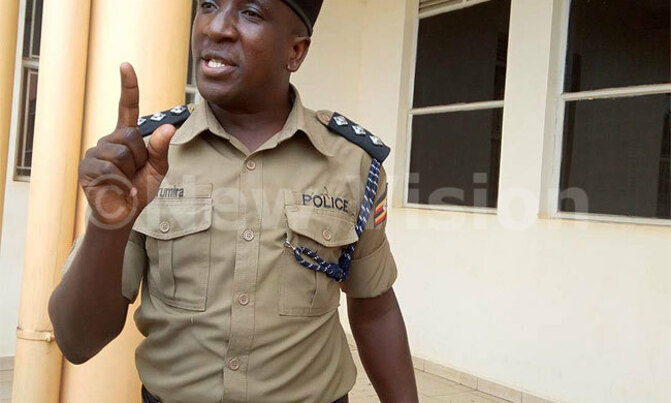 Internal affairs minister Gen. Jeje Odongo on Thursday told Saturday Vision that the joint investigation team had identified strong leads in the investigation of Kirumira's brutal murder.
Security operatives investigating the murder of former Buyende district Police commander, Muhammad Kirumira, have found vital clues as they hunt for the killers.
Kirumira was gunned down on Saturday last week as he returned to his home in Bulenga, Wakiso district from a function. He was shot dead together with a businesswoman, identified as Resty Mbabazi alias Nalinya.

Internal affairs minister Gen. Jeje Odongo on Thursday told Saturday Vision that the joint investigation team had identified strong leads in the investigation of Kirumira's brutal murder.
"There were preliminary indicators, which we are following up like the cartridges that were released, the nature of the motorcycles and the appearance of the individuals involved in this act. Those have provided us with very interesting leads. So we are going to make a faster case on this matter," the minister said.
The joint investigation comprises officers from the Chieftaincy of Military Intelligence (CMI), Internal Security Organisation (ISO) and the Uganda Police Force.

Six days after the murder of Kirumira, no arrests have been made, although some witnesses have recorded statements to help the investigating team, the State Minister for Internal Affairs, Obiga Kania, told Parliament on Thursday.

Kania said the assassins were travelling on two numberless motorcycles and were armed with two guns. He appealed to members of the public, who might have useful information concerning the case, to volunteer it to the nearest security agency.

Before his death, Kirumira reported that he was being trailed. Kirumira was shot dead shortly after attending a traditional wedding ceremony at his friend, Godfrey Musisi Galabuzi's home, on Entebbe Road.

Galabuzi, who was among the suspects arrested in connection with the murder of former Police spokesperson Andrew Kaweesi, told Saturday Vision that Kirumira had expressed fear for his life, especially after his woes in the Police, where he exposed rot within the institution.

"He personally told me that senior Police officers would either call him or send emissaries with threatening messages warning him to back off," Galabuzi said. He said Kirumira had, within a period of one week, changed his mobile phone numbers seven times to hide from his tormentors.

On Thursday, New Vision reported that fresh details had emerged indicating that the assassins were riding on a motorcycle believed to belong to the Police. However, it was not yet established how the Police bike got into the hands of criminals.

Flying squad pinned
Security sources revealed that preliminary investigations into the murders are pointing fingers at former operatives of the Flying Squad Unit (FSU), some of who are under investigation. Investigators are also probing reports that the motorcycle used in the killing of Kirumira belongs to the Police Force.

In 2014, Bukedde, a sister paper to Saturday Vision, published a list of 15 Police officers targeted by a criminal gang linked to FSU operatives, whose operation base and motive are still unknown. On the 15-man hit list so far, four senior Police officers have been gunned down in a similar fashion. The killers shoot at targets while riding on bodabodas and flee the scene of crime, while firing bullets in the air to foil attempts of follow up by residents or security.

Those killed so far include former Police spokesperson and Assistant Inspector general of Police, Felix Kaweesi; Abdul Ssebaggala, who was attached to FSU at the Central Police Station; David Kyambadde, the ex-FSU Kawempe Police station commandant and now Kirumira.

Other officers on the hit list include the director of Peace Support Operations, Grace Turyagumanawe, Sam Omala (attached to directorate of production and welfare), Herman Owomugisha (commandant of elite Very Important Person Protection Unit) and FSU operative Faisal Katende.

Meanwhile, two senior operatives attached to FSU are on the run after phone printouts obtained by investigators placed them at the murder scene of the slain Senior Principal State Attorney, Joan Kagezi. Kagezi was shot dead by two men riding on a motorcycle in Kiwatule, a Kampala suburb, on March 30, 2015 as she bought groceries on her way home.

Since her assassination, the key suspects have never been apprehended as there have been reports of disappearance of key intelligence information linking some security personnel to the murder. While addressing the nation last Sunday, President Yoweri Museveni said he knew the prime suspect, but he (the prime suspect) had fled the country. Museveni tasked the Police with liaising with Interpol to have the suspect arrested and prosecuted.