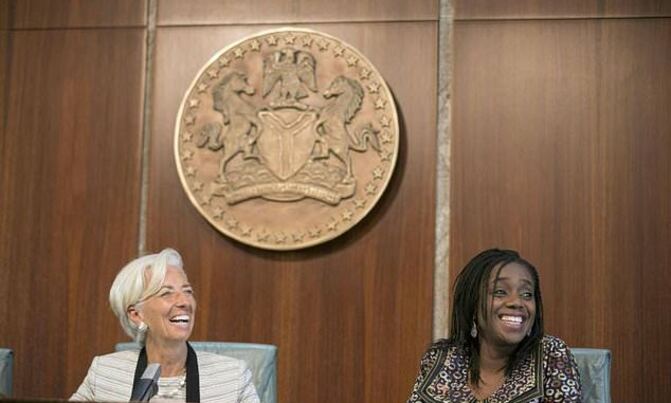 Adeosun, 51, said she was quitting to protect the integrity of the government.
POLITICS
Nigeria's finance minister Kemi Adeosun resigned in a letter to President Muhammadu Buhari Friday over the alleged forgery of a document exempting her from compulsory national service.
Adeosun, 51, said she was quitting to protect the integrity of the government.
"I have, today, become privy to the findings of the investigation into the allegation made in an online medium that the Certificate of Exemption from National Youth Service Corp (NYSC) that I had presented was not genuine," the embattled minister said in her letter.
"This has come as a shock to me and I believe that in line with this administration's focus on integrity, I must do the honourable thing and resign," said Adeosun, appointed by Buhari in 2015.
Adeosun is credited with helping Nigeria out of recession, plugging leakages in finances, and shoring up foreign reserves.
But she has come under pressure in recent weeks since an independent online newspaper, Premium Times, accused her of obtaining a fake exemption certificate from the NYSC.
Under the scheme introduced in the early 1970s to promote unity among Nigeria's multi-ethnic groups following a 30-month brutal civil war, graduates younger than 30 are expected to serve the nation for one year.
Adeosun who was schooled and graduated abroad at 22, did not return to Nigeria until she was 34 and did not serve the mandatory one year.
She instead allegedly procured a fake certificate of exemption from the NYSC to cover her tracks. The organisation denied exempting her.
Buhari accepted Adeosun's resignation.
"The President thanked the minister for her services to the nation and wished her well in her future pursuits," his office said, adding that deputy budget minister, Zainab Ahmed, would oversee her portfolio.
Buhari, who came to power in 2015 on his integrity and anti-graft platform, is seeking re-election and is facing a formidable challenge from an array of opposition candidates from the Peoples Democratic Party (PDP), the party he ousted from power.
Around a dozen of PDP candidates, including former vice president Atiku Abubakar and Senate president Bukola Saraki, are jostling for the country's top job.