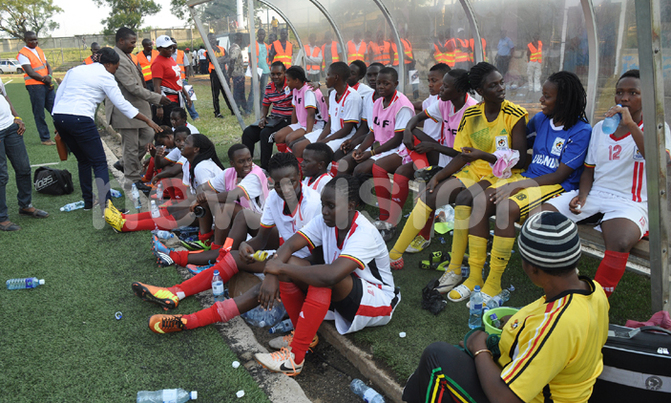 The Crested Cranes beat Swaziland 4-3 in their opening game in South Africa. Next up, they face Namibia on Saturday.
(File photo)

AFRICAN FOOTBALL

2018 COSAFA Women's Championship

Namibia v Uganda (Saturday)

Zimbabwe v Uganda (Monday)

Waves of confidence are rocking -- in a good way -- the Ugandan camp in South Africa.

After edging Swaziland, the Crested Cranes hope to build on their bright start when they face Namibia on Saturday in the 2018 COSAFA Women's Championship.

And the arrival of six more players in South Africa will have injected more belief in the Ugandan team, according to head coach Farida Bulega.

Uganda, a guest team at the competition, beat Swaziland 4-3 in their opening game on Wednesday.

They were without Lillian Mutuuzo, Juliet Nalukenge, Shadia Nankya, Grace Aluka, Aisha Namukisa and Shamirah Nalujja who had not travelled with the team on Monday due to a delay in processing of their visas.

But after the six reunited with the team, the Crested Cranes are oozing confidence.

After Saturday's clash with Namibia, Uganda's next opponents will be Zimbabwe on Monday in Group C.

"The performance (vs Swaziland) was not bad and I expected it since my team was not full," said Bulega.

"Six of my players had not arrived in the country. We are learning how teams are playing and we believe we shall add in more efforts. We are going back on the drawing board to see how we can handle the remaining games."

The competition, which got underway on Wednesday, will run until Saturday next week (September).

Group A has hosts South Africa, Botswana, Madagascar and Malawi. Group B features Zambia, Cameroon, Lesotho and Mozambique.

Uganda and Cameroon are the two guest teams. The other two East African nations to have featured as guests are Kenya (2017) and Tanzania (2011).