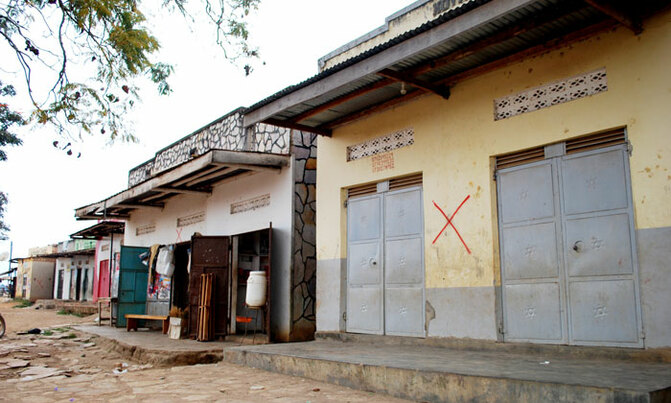 On 4th September, UNRA called a meeting of all affected residents from Rakai and Kyotera and officially declared it had suspended the project due to lack of funds.
A plan to reconstruct and expand a 28km-road from Kyotera town to Rakai town council as well as compensate affected residents has flopped.

The road is among those proposed by the ministry of energy ahead of the East African Oil Pipeline project ad was allocated Ugx43 billion.
As per the new arrangement in oil pipeline project, at least every district where the pipe is set to pass was granted one standard road.

Affected residents were registered and over 700 properties including land, commercial buildings, and others evaluated for compensation.

However, on 4th September, UNRA called a meeting of all affected residents from Rakai and Kyotera and officially declared it had suspended the project due to lack of funds.

Agitated residents protested the announcement with some threatening to lynch the authority officials.

A delegation led by Abdulakim Kalinaki, the Officer in Charge of Land Acquisition in the defunct authority, met hard time convincing the upset residents.

"The owners of the property, including land, buildings and others which were earlier mapped for destruction, are now free to use them as they would wish," he said. Kalinaki further appealed to the agitated residents to petition UNRA for consideration of their concerns.

Mark Xavier Luswaata, one of the affected residents of Lwanda trading centre wondered why the government embarked on a project when it was not prepared at all. "They should pay us for the time they wasted and the money lost in the course," he said.

He further claimed to have suspended further developments his land in order to pave way for the multi-million road project.

Patrice Lubega of Lumbugu village said those who had commercial buildings, could not get tenants, fearing that anytime the project would rollout.

Others argued that they would not even access bank loans for the fact that their properties had already been red-marked for destruction. Some had shifted and relocated to other places.

Local leaders in the affected communities said the project caused too much confusion in a way that it sparked off domestic disputes whereby couples and families disagreed on how much share each one would take after compensation.

Kintu Patrick Kisekulo, the Kyotera District Chairperson, expressed concern over what he called an unfair move by UNRA. He added that government through the line ministry should at least be considerate as far as this matter is concerned.

Project in Rakai
Initially, Rakai District Roads Committee and the area MPs, held a joint meeting with UNRA and Total Oil Company officials to discuss new developments concerning the Kyotera-Rakai road.

But Rakai representatives disagreed on a decision to upgrade the road, which was already tarmacked and still in a very good shape.

Boaz Ninsiima Kasirabo, the Kooki County Member of Parliament, explained that they did not see any relevance in upgrading it yet several others were still in a sorry state.

Amos Mandela, the district roads committee chairperson, appealed to the ministry of energy to revisit their decision and grant construction of another road instead of the insisting on the finished rod.

Robert Benon Mugabi, the District chairperson, said that it was the Ministry of Energy that identified the roads to be constructed in the oil pipeline project without giving the district chance to choose its own road.

Instead, district officials said they wanted roads including Lumbugu-Lwamagwa-Lyantonde, Lumbugu-Ntantamuki and Kyapa-Kasensero tarmacked.

Ronald Mukasa, the District Intelligence Security Officer (DISO), said that the residents were worried since UNRA officials red marked their homesteads and plantations without seeking permission or compensation.