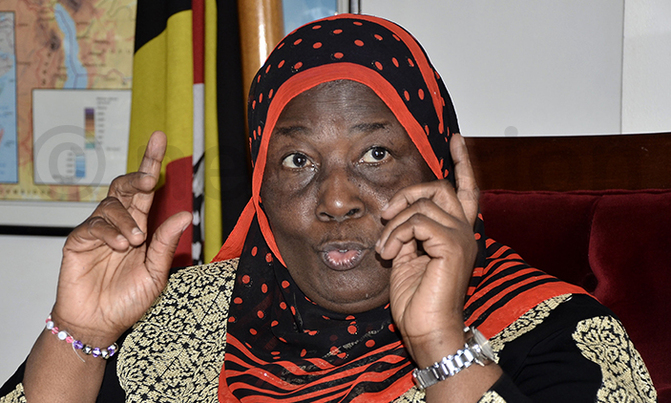 The minister in July suggested that all pupils and students in schools and higher institutions of learning be subjected to mandatory HIV/AIDS testing
The minister for gender, labour and social development, Janat Mukwaya, has denied proposing compulsory HIV/AIDS screening for pupils and students in schools, and enrolling all HIV positive learners on treatment.
On July 23, New Vision reported that Mukwaya suggested that all pupils and students in schools and higher institutions of learning be subjected to mandatory HIV/AIDS testing, and learners who will test positive for the disease get started on treatment.
The article was based on the comments the minister made at the Uganda Manufacturers Association health fair and business networking luncheon at UMA in Kampala on July 20.
Enforcing compulsory HIV/AIDS screening in schools, the minister was quoted as having said, would enable the young people know their status and help the country realise the fruits of its current treat and test campaign.
In the July 23 article, the minister for higher education, John Chrysostom Muyingo, who was asked to react to her counterpart's proposal, said HIV/AIDS testing is healthy, but voluntary.
In a statement to Mukwaya, the Uganda Network on Law, Ethics and HIV/AIDS, said the minister disclosed the government's intention to impose mandatory HIV testing for learners in schools.
Civil society organisations also claimed that Mukwaya suggested that mandatory testing would "make it easy to identify HIV positive children and send them away from schools in a bid to have an HIV free generation".
"...the statement you made has caused outrage from the public and different stakeholders……your remarks are unfortunate considering the fact that you are in charge of a ministry that is constitutionally mandated with the responsibility to respect, uphold, and promote human rights including those of children living with HIV," the statement read.
But, on Tuesday, following a petition from the coalition of civil society working on projects geared towards combating the AIDS epidemic, expressing dissatisfaction about the minister's July 20 remarks, Mukwaya said, she never suggested compulsory testing of all learners in training institutions.
"I did not say that compulsory HIV/AIDS testing should be introduced in schools. I did not even say that HIV positive students should be expelled from schools. But I said there is still a problem although we have made strides," Mukwaya told journalists at the gender, labour and social development ministry.
The minister met representatives of the civil society organisations, who petitioned her, before she addressed journalists. Mukwaya said that she was "quoted out of context" by the press and the civil society.
However, the minister said she made some remarks regarding HIV positive students in schools after a school proprietor said she is grappling with HIV (positive) students that do not know their sero status.
"The head teacher said there are parents who pack retroviral drugs for their children to school, and ask the teachers to ensure the children take the drugs, but the children do not know why they are taking drugs," she added.
The school proprietor, according to Mukwaya, said some HIV positive children were told by parents that they (children) suffer from hypertension and other ailments, and that the drugs are meant to cure the diseases.
"The school proprietor said the children get concerned and tell their counterparts and teachers that they were told by parents they are suffering from hypertension, but these kids also ask why they do not recover from those disease and stop taking drugs. Then, I realised we had a problem in schools, and said we need to do something,"