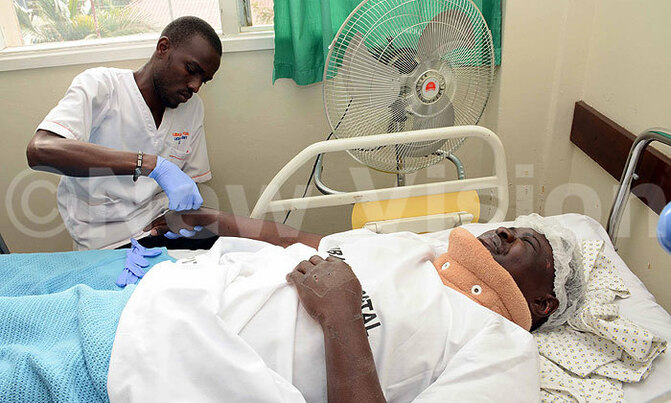 On arrival at Entebbe International Airport, the group is told by Ethiopian Airlines officials that they cannot not fly the stretchered legislator out of the country.
PIC: A medical worker attending to MP Francis Zaake at Rubaga Hospital on August 22. (Credit: Eddie Ssejjoba)

CHARGES

ENTEBBE - Moments before catching his flight to go for treatment abroad Thursday, legislator Francis Zaake was arrested by Police.

According to Police spokesperson Emilian Kayima, the Mityana Municipality MP was "found at Entebbe International Airport trying to flee the country and, accordingly, apprehended".

Kayima said Zaake was among the people who are suspected to have committed several offences during the recent Arua Municipality by-election.

The offences include treason, assault and malicious damage to property.

Zaake was driven to the airport aboard an ambulance Thursday morning. His wife Bridget Namirembe travelled along.

On arrival at Entebbe, the group was told by Ethiopian Airlines officials that they could not fly the stretchered legislator out of the country.

They said he did not have the 'fit to fly' permit, and that since he had to fly on a stretcher, he needed to book nine seats, instead of the two seats they had booked.

Zaake and co were also informed that the Police officer in charge at the airport, James Ruhweza, had told them that Zaake was a wanted man and therefore needed clearance from the director of Criminal Investigations Department, Grace Akullo.
Police spokesperson Emilian Kayima said Zaake was trying to flee the country


Meanwhile, Kayima said that at the time of Zaake's arrest on August 13, the MP "developed a condition which necessitated his being hospitalised".

The Police allowed medical personnel to attend to him "uninterrupted and in privacy, while maintaining guard outside". That was at Arua Hospital in northern Uganda.

"Zaake took advantage of the situation on his own and/or aided by some elements to escape from custody," said the Police spokesperson.

When Police later found out that he had been admitted at Rubaga Hospital in Kampala, they "refrained from interfering with his medical treatment, but kept a keen eye on him".

Zaake reported that he was still unwell. It is understood Police contacted and approached Rubaga Hospital to have his condition ascertained by government doctors at Mulago Hospital.

Such efforts hit a snag. "Regrettably, the hospital management declined," Kayima said.
Zaake had been scheduled to fly out for treatment. He did not


At Entebbe Airport on Thursday, Zaake's lawyer Asuman Basalirwa said they "tried to contact Akullo but she is not picking our calls".

He maintained that Zaake is not a wanted man.

The MP had been scheduled to depart at 2pm local time. He missed his flight.

Later, Civil Aviation Authority spokerperson Vianney Luggya told reporters that Zaake had fulfilled all the airline's requirements, but needed to be cleared by security to fly out.


(Check out related stories in Friday's New Vision newspaper HERE)