I am being persecuted, not prosecuted - Nambooze

"I am the only person being prosecuted over the death of Col. Ibrahim Abiriga, yet I even fear to slaughter a chicken." ... "I am the only person being prosecuted over the death of Col. Ibrahim Abiriga, yet I even fear to slaughter a chicken."
POLITICS

NAKAWA- Mukono Municipality Member of Parliament, Betty Nambooze Bakireke has said she was tortured and has been incapacitated, making her her unable to to walk or sit on her own.

She said the injuries she sustained after she was arrested during a fracas at Parliament had permanently affected her back bone and literally lost her womanhood.

"With a woman it is your back bone that matters a lot, now I no longer have it, I have lost my womanhood," she told journalists at Nakawa court after the chief magistrate, Noah Ssajjabbi granted her bail.

Nambooze was produced in court on charges of incitement to commit an offence. She had gone to the Criminal Investigations Directorate to answer her bond, but instead officials at the homicide department informed her that her file was ready and escorted her to court.

The legislator, moving in a wheelchair and driven in an ambulance, broke down in tears on several occasions both at the CID and at court in Nakawa.

She, however, said she was crying not because she was being prosecuted, but for being persecuted.

"I am the only person being prosecuted over the death of Col. Ibrahim Abiriga, yet I even fear slaughtering a chicken," she stated.

She denied the charges read to her and the magistrate granted her bail till September 27. Her sureties were Rubaga North MP, Moses Kasibante and Kalungu West's Gonzaga Ssewungu.
Nambooze being helped to get of the ambulance at court in Nakawa. (Credit: Eddie Ssejjoba)
Kampala Lord Mayor scrutinising Nambooze's injuries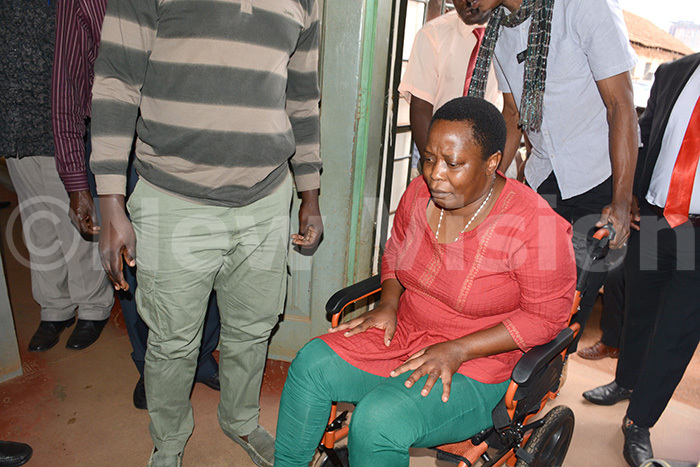 The legislator waiting to be attended to, but in pain
FDC president Patrick Oboi Amuriat reads through Nambooze's medical documents
PIC: Nambooze leaves the court premises after being granted bail


The charge sheet states that on June 9, 2018 Nambooze, 49, 'by utterings and postings in the media, incited the public to attack and murder public figures, however well-guarded, since the government could not secure them'.

The postings are in relation to the murder of the former Arua Municipality legislator, Ibrahim Abiriga.

While at court, Nambooze was in the company of her personal doctor, Dr. Henry Ngobi and her husband, Henry Bakireke.

At court, fellow legislators and FDC political leaders watched on in silence as Nambooze's doctor, Henry Ngobi and two other aides pushed her wheelchair and she on many times expressed great pain whenever it was adjusted.

Nambooze wept twice as MPs tried to comfort her.

"I am confident that we are not suffering in vain. Nelson Mandela was imprisoned for 27 years, but he was able to fight and win over apartheid in South Africa," she said.

Before court, FDC President, Patrick Oboi Amuriat, entered her ambulance and scrutinised some of her medical forms.

While applying for bail, her lawyer, the Lord Mayor Erias Lukwago, said Nambooze was sick and recently underwent surgery of the spinal cord, could not walk on her own and had developed other complications.

He informed the magistrate that Nambooze was supposed to go back for treatment and report to hospital on a daily basis.

The magistrate granted her a none-cash bail of sh5m and sh10m to each of her sureties and asked her to report back on September 27.

Nambooze told journalists that she was disappointed by Parliament's refusal to meet her medical bills while in India.

She said they only paid her $7,000 because the minister of health wrote to Parliament advising them against meeting her medical bills.

She said instead, former FDC President, Dr. Kizza Besigye gave her $10,000 and mobilised additional money from colleagues to raise over $30,000 she needed to clear the bills.

She told journalists that Dr. Besigye had offered to fly her to South Africa for further treatment.

Speaking to journalists after court adjourned, Lukwago referred to the charges as 'bogus' and hopeless.

He said Nambooze was charged in a wrong court because she has never lived or worked in the area of jurisdiction of Nakawa.

Other MPs who attended court included Ibrahim Ssemujju, Gerald Karuhanga, Robinah Ssentongo, FDC officials including Wasswa Biriggwa and Ingrid Turinawe.