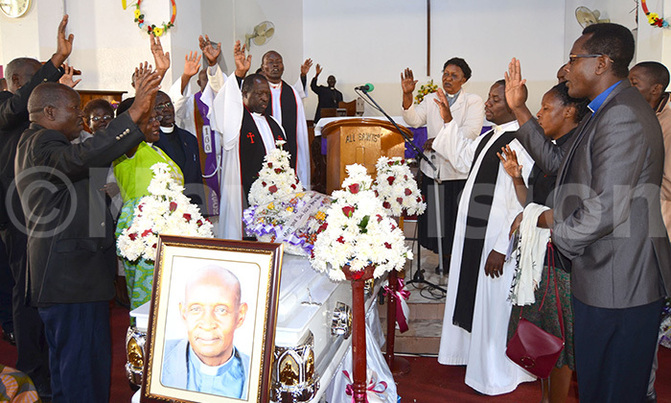 'He was always smiling as he interacted freely with people of all walks of life and age groups'
OBITUARY

Tributes have been paid to Rev Captain Francis Tumwine Isingoma, a former youth coordinator and assistant Vicar of All Saints Cathedral, Kampala, who died of cancer on Wednesday (August 29) at the age of 62.

Rev Isingoma's eulogies were given by his relatives, friends and clerics, during his funeral service at All Saints Cathedral, Kampala on Thursday (August 30).

Delivering his homily during the service, the Rev Canon John Awodi (the Kampala Diocesan Secretary) described Rev Isingoma as an exemplary priest of the Church of Uganda, who had done his work with dedication and zeal.

"He served the Church with humility, simplicity and dedication. He was always smiling as he interacted freely with people of all walks of life and age groups. He took his priestly calling very seriously and clung to it up to the end. Even when he had serious challenges, he remained committed to his calling."
PIC: Kampala Diocese Assistant Bishop, Dr Hannington Mutebi delivers his tribute message

Speaking on behalf of Rev Isingoma's students/mentees, Moses Mukundane said: "He was a very loving, jolly and compassionate cleric. He always assisted people even when he didn't have enough for himself. He helped many Christians to walk closely with Jesus. During his priestly ministry, he wed 789 couples. "

Rev Captain David Serunjogi also said: "Rev Isingoma planted Churches not only in Uganda but also in Kenya. He encouraged a number of us to do full time ministry. He was a wonderful mentor and counsellor."

The Chairman of the clergy of Kampala Diocese, Rev Canon Geoffrey Byarugaba spoke highly of Isingoma's open mindedness and honesty. "He was like an open book. He had no secret chambers. He always spoke what was on his mind without fear or favour. He was a multi-gifted teacher, preacher, counselor and gospel entrepreneur."


PIC: A cross-section of mourners during Rev Isingoma's funeral service at All Saints Cathedral, Kampala on Thursday
PIC: The widow, Elivaida Isingoma delivers the eulogy of her husband
Engineer Mercy Natukunda, a daughter, admired her dad's love and commitment to the family and also, his extra-ordinary passion for education. "As a priest, he didn't have much money, but he struggled and took all of us to good schools. On many occasions we would be sent back home to collect tuition. If he didn't have the money, he would borrow from somebody, or write a letter to the respective headteacher requesting for days of grace."

The Assistant Bishop of Kampala Diocese, Dr Hannington Mutebi also acknowledged the deep faith and clerical commitment of Isingoma.


PIC: Engineer Mercy Natukunda eulogises her dad on behalf of her siblings
PIC: Captain David Sserunjogi delivers the message from Church Army
PIC: Moses Tumukundane delivers the message of the former students and mentees of Rev Isingoma
Brief Factfile
The Rev Captain Francis Tumwine Isingoma was born on June 6, 1956 to the late George and Ednance Byandagara, who lived at Ahaibare, Rugando, Rwampara, in Mbarara District.

He attended St Henry's College, Kitovu (UCE and UACE) after which he joined Church Army College, Nairobi, where he did a Diploma in Church Army Evangelism. He later did a Degree in Theology at Bishop Tucker Theological College, Nairobi.

Rev Isingoma further did a Diploma in Education at Kakoba NTC (1989), a Master's Degree in Missions at International School of Theology in Nairobi (2004) and a Master's Degree in Development Studies at Bishop Stuart University.

As a priest, Isingoma served as Vicar at the Church of the Resurrection, Bugoloobi (1991-93), Kampala Diocesan Education Secretary and Youth Coordinator (1995-2007) and Assistant Vicar at All Saints Cathedral, Kampala (2007-2008). Prior to his death, he was the Planning and Development Officer of Ankole Diocese.